Episode 7
Topic: Dressed to Kill
Hosts: Tom Blain (tomblain@jackasscritics.com or JackassTom) and Matt Fuerst (fuerstma@jackasscritics.com or JackassMatt)
Once again, we have broke the show into 2 parts. During our first section, we do our usual Bullets in the Chamber segment, talking movies and news. Our focus film, Dressed to Kill is dissected in depth in our second half.
During this weeks Bullets in the Chamber, we talk:
Brad Pitt and Moneyball
Matt paying up on the Summer Blockbuster bet, watching and reporting on Tiptoes
Tom's preview of DVD release of Season 2 of The League
Netflix deciding that whole Qwikster idea wasn't so hot, after all.
Our focus this podcast is the Brian DePalma vehicle, Dressed to Kill.
Both Tom and Matt are DePalma fans, but will Dressed be one of his better flicks, or will DePalma fall victim to his own tendencies?
Segment A Length: 37:22
Download Segment A: MP3 (18 Megs)
Segment B Length: 79:39
Download Segment B: MP3 (38 Megs)
Show Links:
blog comments powered by

Disqus

Podcast Feed
Dressed to Kill
---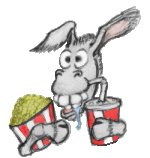 ---