Scrubs: The Complete Third Season review by Mike Long
Any television show that has any kind of longevity (and these days that means lasting more than one season) will go through some sort of changes. Whether this stems from changes in cast, aging of the cast, changes in staff, network decisions, or cultural shifts, there will be some kind of adjustment. (And how many sitcoms have brought in a baby to shake things up? Too many...) However,
Scrubs
seems to be the exception to this rule. While the show remains consistently funny, changes are rare. This point is brought home by the release of
Scrubs: The Complete Third Season
.
Season 2 of Scrubs didn't end with any major cliffhangers, so Season 3 simply continues the story of the doctors and nurses who work in Sacred Heart Hospital. J.D. (Zach Braff) is proud to be entering his third year of residency and attempts to keep a positive outlook. Turk (Donald Faison), J.D.'s best friend and roommate, is continuing his career as a surgeon, but is mostly focused on his upcoming wedding to nurse Carla (Judy Reyes). Elliot (Sarah Chalke) rekindles a relationship with Sean (Scott Foley) (whom she'd met in Season One). The ever-grumpy Dr. Cox (John C. McGinley) actually begins to mellow out some due to his renewed relationship with his ex-wife Jordan (Christa Miller), and their baby.
So everything seems to be going fine in the hospital, right? No, not exactly. Seeing Elliot with Sean make J.D. realize that he's truly attracted to her and he hates the fact that they were never able to make their relationship work. The easy-going and fun-loving Turk finds the prospect of marriage more intimidating then he'd expected. Dr. Cox finds that he must balance his new life as a parent with his old ways of being cantankerous and humiliating chief of staff Dr. Kelso (Ken Jenkins) at every opportunity.
In my review for Season Two of Scrubs, I pointed out that I felt that it was far too similar to Season One . While both seasons were quite enjoyable, the attempts to create a strong continuity also resulted in a show which didn't change very much. There is some change in Season Three, but I'm sad to say that it isn't for the better. On the surface, everything seems to be the same, as the show continues to focus on the lives of the hospital staff and their relationships. And the show's unique style of humor hasn't changed (more on that in a moment).
But, there are some difference which effect the show. For starters, there's less of an emphasis on drama in Season Three. One of the must surprising things (for me at least) about the first two seasons of Scrubs was the way in which the show could mix very poignant drama with outrageous comedy. This was typically done by showing the characters connecting with a patient who was going through a tragic event. And these stories happened with much frequency. In Season Three however, this kind of drama was hard to find and this made the show feel disconnected somehow. (But, it made be stated that the episode "My Screwup" pulls a devastating sucker-punch on the viewer and is very emotional). The other difference has to do with the characters. Yes, characters should change and grow as a show progresses, but to see Dr. Cox being civil or J.D. mooning over Elliot for the entire season is betray what Scrubs is about.
Those changes do effect the overall presence of the show, but one thing hasn't changed -- Scrubs is still a very funny show. The jokes come very quickly on the show and range from outlandish slapstick to very subtle to the "can you say that on TV?" variety. The program also continues to offer the hilarious daydreams and flashbacks from J.D. (and others) with my favorite being the time that J.D. and Turk went to see Michael Jordan play. And while J.D. gets the bulk of the laughs, the entire cast proves that they are adept at being funny. Scrubs also continues to be a unique show in the way that it plays with and breaks down racial stereotypes. J.D. and Turk have a very special relationship and the way that the interact will shock some and delight most. The show also continues its tradition of having great guest stars, such as Brendan Fraser, Michael J. Fox, Freddy Rodriguez, and George Takei.
I must admit that I enjoyed Season Three of Scrubs and found myself laughing quite a bit. But, I also found that the episodes ran together at times and without the change from funny to dramatic and then back to funny, the show lost some of its emotional punch. The program is still impressive, but Season Three felt very pedestrian at times.
Scrubs: The Complete Third Season is admitted to DVD courtesy of Touchstone Home Entertainment. The 3-disc set contains all 22 episode from Season Three. The shows are presented in their original 1.33:1 aspect ratio. The images look good, as the picture is sharp and clear. There is very little grain here and no defects from the source material. The colors are stable and the image is never too dark. There is some noticeable video noise at times, and I noticed some jagged lines around the actors as well. The DVD carries a Dolby Digital 5.1 audio track. This track provides clear dialogue and sound effects. The stereo and surround sound effects are very effective, most notably during musical cues, or when a character is speaking from off-screen. However, I didn't notice much use of the LFE channel.
The Scrubs: The Complete Third Season set has several extras, all of which are contained on Disc 3. Two episodes contain audio commentaries. "His Story II" has a commentary from actor Donald Faison and writer Mark Stegemann. "My Self-Examination" has a talk by Faison, actress Judy Reyes and series creator Randall Winston. Both of these chats are entertaining, as the speakers are very candid about the show, their characters, and their co-workers, but they are also oddly brief, as both stop half-way through the episodes. "Scrubbed Out: Deleted Scenes" (5 minutes) contains 7 deleted scenes from various episodes. The same goes for "Alternate Lines: A Second Opinion" (3 minutes) which is simply alternate takes of 8scenes from various episodes. The 4-minute "Gag Reel" has some nice moments. The rest of the extras are brief featurettes. "Twist and Shout" (7 minutes) examines how the show hires directors from within and interviews 3 such directors. "Don't Try This at Home" (6 minutes) looks at the physical comedy and stunts of the show. The many guest-stars are profiled in "Long-term Residents" (7 minutes). "What up Dawg?" (6 minutes) is a humorous piece which shows how the cast and crew bring their dogs to work. The cast and crew have their own version of Fear Factor called "Scrubs Factor" (5 minutes). "Robert Keeps Talking" (5 minutes) is an interview with actor Robert Maschio. Sarah Chalke's mid-season makeover is discussed in "The New Elliot" (6 minutes). And finally, the relationship between J.D. and Elliot is examined in "Is There a Doctor in the House?" (4 minutes).










7 out of 10 Jackasses
blog comments powered by

Disqus
Search
Scrubs: The Complete Third Season

IMDB Link: Scrubs: The Complete Third Season
DVD Relase Date: 2006-05-09
DVD Aspect Ratio: 1.33:1
DVD Extras: Audio Commentaries, Deleted Scenes, Gag Reel, Featurettes
DVD Producer: Touchstone Home Entertainment

Related Reviews
---
---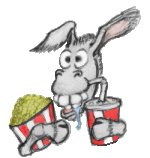 ---
---
Interested in writing for Jackass Critics?
E-mail Matt