Clean, Shaven review by The Grim Ringler
So, in the course of my film-watching career, something that began when I was, jeepers, not even ten, I have seen a lot of disturbing movies. Hell, it's no wonder I am wanted in nine states and still have nightmares of that night, er, nevermind that part. Uh, where was I? Oh yeah, disturbing movies. I have seen more than my fair share. I am still drawn to them though because there are truths in these films. Too often we cling to the bright and shining sun without giving due homage to the things that reside in the places the sun cannot reach. Without this appreciation for the dark we are apt to lose sight of what makes the light so rare and special. So, while I don't necessarily enjoy a film like Clean, Shaven, I can't say I regret watching it. Sometimes you have to yell into the well to make sure you get your own echo back.
Recently released from an institution (whether one for the mind or body we will never know, though I suspect it was a psychiatric hospital), Peter is a man adrift. With no money and a tenuous grasp on his sanity, he heads to the only place he feels safe – home. In a stolen car, no less. Even at home with his mother on the island he grew up on he cannot escape the voices in his head. Voices he believes are the result of transmitters planted inside his head and a finger. With a mother who seems to see him as a stranger, almost a monster, he feels no security. He is plagued by voices, by memories, and by ghosts that haunt his mind. What he wants, more than anything, is to re-connect with the daughter he left behind, an angry girl staying with an adopted mother. The girl is a loner and seems, like Peter, to have no connection to the world. On Peter's trail though is a detective looking for a child murderer, and Peter, a man obsessed with children, is his prime suspect. Hoping this re-connection with his daughter will bring more peace to his mind, Peter finds her and takes her to the beach, where they can spend time together, alone. But what Peter wants to do with her alone is something the detective can't bear to imagine as he tracks the father and daughter, in the hopes of bringing to justice this child-killer. But has he found the right man?
An at times sickening and alienating film, the power of Clean, Shaven lies with the unwillingness of the filmmakers to give you an easy out or easy answer. This is a film that will challenge you and, at times, almost dare you to continue watching. And in the end you'll be left with more questions than answer. Sadly similar to real life.
But if you're willing to take the journey, you'll find a very well made thriller. The acting, though stark, is very good. You'll find nary a likable character, but, again, that's the way of the world. The direction is sure and borders on the experimental, the director working to represent the mind of Peter as much as possible. What you have with Clean is a very dark look into a life we rarely see depicted.
This isn't a film that will give you the warm fuzzies, save for maybe the kind that make you want to toss your cookies, but it's a chilling film that seems to have been forgotten. Grab some chocolate cookies, a nice beverage, get a comfy blanket, and enter the mind of a madman.
It's fun!
…c…







7 out of 10 Jackasses
blog comments powered by

Disqus
Search
Clean, Shaven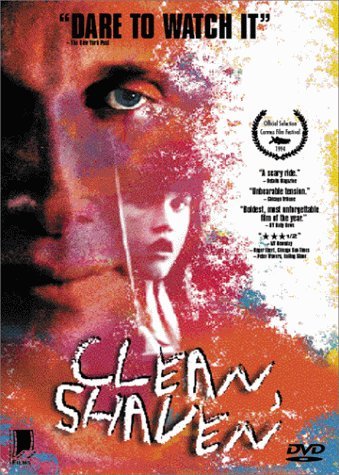 IMDB Link: Clean, Shaven
DVD Aspect Ratio: 1.85:1