Stuart Little 3: Call of the Wild review by Mike Long
Sequels have existed for decades, but the way in which they are produced and distributed has changed over the years. For a long time, the only way to have a sequel seen was to get it into theaters. With the advent of home video, the direct-to-video sequel was born (and spawned out of control). With
Stuart Little 3
we have a sequel which has not only gone straight to video, following the theatrical releases of the first two films, but we also have a movie which has changed mediums. Whereas the first two films were live-action, with CGI mixed in, the latest entry is fully animated, and takes the series in a new direction.
Stuart Little 3: Call of the Wild picks up some time after Stuart Little 2, although the events of that film are never referenced. The Little family, Mom (voiced by Geena Davis), Dad (voiced by Hugh Laurie), George (voiced by Corey Padnos), Martha (no voice) and Stuart (voiced by Michael J. Fox), head for a cabin in the wilderness for a summer vacation. Also in tow is Snowbell (voiced by Kevin Schon). Dad tells George and Stuart all about the Lake Scouts Troop, and while Stuart is very interested in joining, George is aloof until he meet fellow Scout, Brooke (voiced by Tara Strong). But, Stuart's high hopes for the Lake Scouts are soon dashed when he can't keep up with the other (human) kids. While wandering through the woods, Stuart meets a skunk named Reeko (voiced by Wayne Brady). Reeko is a con-man and convinces Stuart that he'll train him to be a Scout in exchange for food. What Stuart doesn't know is that a mountain lion, referred to as "The Beast" (voiced by Virginia Madsen), has been terrorizing the forest animals and that Reeko needs the food as an offering to The Beast. When The Beast sets its sights on a member of the Little family, the ever plucky Stuart summons his courage to battle the dangerous cat.
As noted above, Stuart Little and Stuart Little 2 were live-action films which featured a CGI Stuart. When that second film failed to perform at the box office (which is just nuts, as Stuart Little 2 is a very good movie with amazing CGI effects), it looked as if the series was dead. However, it was resurrected with the newly released direct-to-video Stuart Little 3: Call of the Wild. This movie is completely computer animated, courtesy of the good folks at Mainframe, who previously brought us such memorable televisions products as ReBoot and Spider-Man: The New Animated Series. The animation here is done in a cel-shaded style, which really enhances the 3-D quality of the image.
The switch to an entirely animated medium allows for the film to have a more "cartoony" feel, and now Stuart can interact with many more animals and his adventures are even more unrealistic. However, the movie lacks some of the charm of the previous entries. One of the more interesting aspects of the first two films was the integration of the small Stuart into the Little household. This gave us gags such as Stuart driving George's remote control car, flying a model airplane, or viewing a TV as a drive-in movie. In Stuart Little 3: Call of the Wild we get very little of this, save for the fact that Stuart sleeps in a sock. Also, in the other films, Stuart struggled with being different from his family. Aside from his trouble completing the Scout tasks, this film contains none of that pathos, and there isn't much interaction between Stuart and the Littles. The story has some bright spots, but it's also very predictable.
In other words, things have been dummied down for this sequel. While the first two Stuart Little films are certainly classified as family films, the third one falls more in line with children's programming. This isn't to say that there's nothing positive about the movie. There are some funny moments, such as Stuart's struggle with a fish when he's trying to canoe across the lake. It was great that Fox, Davis, and Laurie returned to provide voices for the movie. I would love to say that Nathan Lane was missed as Snowbell, but Kevin Schon sounds exactly like him and takes nothing away from Snowbell's great one-liners. The Reeko character is somewhat annoying and the juxtaposition of a "hip, urban" character living in the woods is odd and feels like a cheap ploy. Nitpicking aside, Stuart Little 3: Call of the Wild is much more watchable than most of Disney's direct-to-video sequels and will delight youngsters who enjoyed the first two movies.
Stuart Little 3: Call of the Wild gets animated on DVD courtesy of Sony Pictures Home Entertainment. The film has been letterboxed at 1.78:1 and the transfer is enhanced for 16 x 9 TVs. As the DVD was mastered in high definition and this is a CGI movie, I'm going to assume that the DVD has a digital-to-digital transfer. I can say that the image is incredibly sharp and clear. The colors are outstanding and the cel-shading effect makes the bright reds and greens really stand out. The animation is always stable, showing no jagged lines or flaws. The DVD contains a Dolby Digital 5.1 audio track. This track brings us clear dialogue and sound effects. The stereo effects are quite good. The track contains a nice sampling of surround sound effects, mostly coming from musical cues or ambient forest sounds. Aside from a few moments during the finale, I didn't notice much subwoofer action.
Being a children's film, the Stuart Little 3: Call of the Wild DVD contains the expected types of extras. There are two set-top games, "Help Stuart Escape!" and "Monty's Monstrous Appetite!" (why all of the exclamation points?). "Stuart's Summer Journal" can either be a read-along, or a narrator can read it to the viewer. "Learn to Draw" teaches the viewer to draw either Stuart, Snowbell, or Reeko. And finally, we have a "Music Video" for the song "Reeko's Funk", performed by Wayne Brady.








5 out of 10 Jackasses
blog comments powered by

Disqus
Search
Stuart Little 3: Call of the Wild

IMDB Link: Stuart Little 3: Call of the Wild
DVD Relase Date: 2006-02-21
DVD Aspect Ratio: 1.78:1
DVD Extras: Set-top Games, Music Video
DVD Producer: Sony Pictures Home Entertainment

Related Reviews
---
---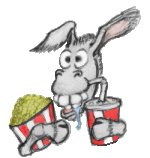 ---
---
Interested in writing for Jackass Critics?
E-mail Matt