Asylum review by Mike Long
When people ask me what my favorite movie is, I often give them a puzzling answer by first naming my favorite movie and then naming what I consider to be the best movie ever made. (I'm not prepared to reveal those answers at the moment.) Yes, I do consider those to be two separate categories. A favorite movie is a film that you enjoy for your own personal reasons. But, a well-made movie is another animal altogether, as this is a film which exhibits true cinematic style and demonstrates that those working behind the camera truly knew what they were doing. There are many times today when I often forget what true talented filmmaking looks like. The movie
Asylum
reminded me of what a well-constructed movie can be. Unfortunately, the film itself isn't very good.
Asylum takes place sometime in the 1950s (late 1940s?) in the British country-side. Dr. Max Raphael (Hugh Bonneville) has arrived at a hospital for the criminally insane to begin a new job. With his is his wife, Stella (Natasha Richardson), and their son, Charlie (Gus Lewis). The Raphael's meet the hospital staff, including Dr. Peter Cleave (Sir Ian McKellen). As the Raphael's settle in, Stella soon realizes that her life at the hospital is very boring. Max spends all of his time working, and Stella doesn't relate to the other staff wives, so she spends much of her day chain-smoking and sitting in her garden. One day, she notices a patient named Edgar (Marton Csokas), who is repairing a greenhouse. Stella is immediately attracted to this handsome man, and soon they begin a torrid affair. Even after learning that Edgar was incarcerated for brutally murdering his wife, Stella continues to find the man irresistible. As their passion grows, Stella begins to entertain ideas of running off with Edgar. However, she will soon learn that her unbridled desire can lead to nothing but tragedy and heartache.
As noted above, Asylum is one of the most meticulously crafted films that I've seen in quite some time. Director David Mackenzie doesn't waste a single frame of film while telling the story and allows the visual information in the film to be just as important, if not moreso, than the dialogue. The movie is full of foreshadowing and symbolism. During the final act of the film, a tragic event occurs. Astute viewers will immediately know what is going to happen, as the scene recalls a seemingly innocuous moment from earlier in the film. Mackenzie uses a great deal of glass as symbolism in the film. When Stella and Edgar first speak to one another, it is through the broken glass of the greenhouse. As their relationship blossoms, the glass in the greenhouse is slowly repaired, symbolizing the solidification of their union. Well, just let me say that more glass breaks after that. Mackenzie also beautifully captures the British and Irish countryside, wonderfully photographing the amazing landscapes.
But, for all of Asylum's great artistry, the film itself is difficult to watch and not very entertaining. Put simply, Asylum is one of the bleakest films that I've ever seen. Every character in the film is damaged and unlikable and there isn't a moment of levity in the entire production. We know why Stella is attracted to Edgar at first, but as her decision-making becomes more disjointed, it's hard to sympathize with her character. During the second half of the movie, Asylum piles on one tragedy after another and the whole ordeal is quite depressing. Also, the movie wasn't exactly what I expected it to be. The film has been described in many resources as a "thriller". This is hardly the truth. This is first-and-foremost a tragic love story. I honestly expected some more twists and turns from the film (I was convinced that the entire story was being manipulated by one of the characters), but they never surface. That's not to say that the movie is necessarily boring, but it simply gets more and more depressing and doesn't change. It's similar to watching a boxing match where one fighter is taking a beating, and although we expect him to get his second-wind and retaliate, this never happens. The acting in Asylum is top-notch, and Natasha Richardson (who's credited as an executive producer) does a fine job carrying the film.
After watching Asylum, my wife summed it up perfectly; Watching the movie is like reading an AP English novel. You can admire the artistry of the work, but it was a chore to get through and not very entertaining.
Asylum goes crazy on DVD courtesy of Paramount Home Entertainment. The film has been letterboxed at 2.35:1. The image is fairly sharp and clear, but it is somewhat soft at times. The picture is relatively free from grain. There are no significant defects from the source material, such as scratches or spots, but I did notice that the image "jumped" within the frame several times during the movie. The colors are excellent, as Mackenzie has mixed the drab greys of the asylum with vivid green pastures. The DVD carries a Dolby Digital 5.1 audio track. This track provides clear dialogue with no hissing. The stereo effects here are among some of the best that I've heard lately, as the on-screen action to speaker-placement of sounds is very well done. As for surround sound, it's used mainly for musical cues, and there isn't very much in the way of bass response.
There are no extra features on the Asylum DVD.








5 out of 10 Jackasses
blog comments powered by

Disqus
Search
Asylum

IMDB Link: Asylum
DVD Relase Date: 2005-01-17
DVD Aspect Ratio: 2.35:1
DVD Producer: Paramount Home Entertainment

Related Reviews
---
---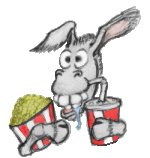 ---
---
Interested in writing for Jackass Critics?
E-mail Matt