The Family Stone review by Jackass Tom
Every December, the movie-going public is hit with a couple assembly line Christmas movies streamlined to kick start that Christmas spirit in all of us. Family Stone is a sly drama, disguised as a feel good Christmas movie. Sure the movie occurs around Christmas, but the movie really is about a man proposing to a girl that his family disapproves of; Christmas is merely a backdrop. If you are entering the movie theatre in hopes of a goofy screwy comedy, or a feel good movie like Love Actually you arent going to get it. What you will get is an interesting mix of characters that starts off promising, but fails in the end.
Everett Stone (Dermot Mulroney) is one of four Stone children, and from the looks of it is the favorite son of the family. He is good looking, polished, successful, and shows little to no flaws. His current girlfriend is the cold and career-oriented Meredith Morton (Sarah Jessica Parker). The bun in her hair is pulled so tight that it seems to contract all the muscles in her face and body, making the rest of her movements rigid and calculated. She is setup to meet his entire family for Christmas at their home for the first time. As you can imagine she is a bit nervous.
The family she is getting into is a highly liberal, free-thinking Massachusetts family. Sort of the opposite of the situation in Meet the Parents where the parents are more conservative. Mother (Diane Keaton) and Father (Craig T. Nelson) talk openly about their kids sex life, welcome their deaf sons gay black boyfriend into the family openly, and dont care that their son smokes pot just as long as he doesnt keep it in the house. Kind of like the Kennedy's. They think that Meredith is not right for their best son. Sister Amy (Rachel McAdams), the young and bitchy one, couldn't agree more. She hates Meredith with every fiber and sets her up to fail on multiple occasions. The laid back, carefree brother Ben (Luke Wilson) is probably the only guy that likes her and he likes her a bit too much. Their pregnant daughter is not worth mentioning. The gay deaf brother Thad (Tyrone Giordano) and his boyfriend (Brian White) are slightly more congenial (helping her prepare breakfast) but they don't go out of their way to make her feel comfortable.
So there she is corporate, tight wad and socially awkward Meredith being watched under a microscope in a judgmental household. And at the heart of it all is Everetts Grandmothers engagement ring; the ring which Everett wants to propose to Meredith with on Christmas morning. The stage is set for some screwball antics but instead of light hearted jokes, we are treated to vicious tricks and back talk. Meredith is outright rejected by the family (save good ole Ben, of course).
SPOILER
I have seen many reviews on other websites and newspapers calling this a paint-by-numbers movie that goes step by step through the holiday formula. I found that to be clearly not the case. In a movie like this, the expectation is for the leading man and leading lady (Mulroney and Parker) to come together at the end. That is the biggest part of any formulaic screwball comedy. In this movie, that does NOT happen. What I liked was that these two people probably did not belong together and by the end they broke up as they probably should have. Deep down, Everetts reasons for wanting to marry Meredith were not out of love. Most importantly the two characters never helped each other. When Meredith was dying of embarrassment in the Stone house, Everetts brother Ben actually did the most to help her feel better. Everett in turn reveals that he had other dreams and desires that he put on hold because of Meredith. So these two should *NOT* come together, and they dont.
END SPOILER
One area that is over-done is how politically correct the characters are. As soon as the gay-deaf son with the African American boyfriend is introduced you get the feeling that they are just trying to fill some sort of quota. Eventually their roles work nicely into the film as do all the characters really. The characters within the movie acted and re-acted to each other properly. The actors did a great job of properly fulfilling the character roles. Most of the fun comes from the loose Luke Wilson, who seems to generate a serious laugh everytime he speaks. If I watch the movie again, it will probably be because of his role as Ben.
But towards the end too many loose ends are neatly tied to the point of sappy, impossibilities. One thing I liked about Love Actually (the last great Christmas movie) was that not every character had a happy ending. Thats the way I would have preferred The Family Stone to end. With the characters provided in this movie, that sort of ending makes sense, but some how they decided to give it the neat little Hollywood wrapping, with an extra large bow on top for everyone to enjoy.
Its a shame because the rest of the movie had great promise.





5 out of 10 Jackasses
blog comments powered by

Disqus
Search
The Family Stone

IMDB Link: The Family Stone

Related Reviews
---
---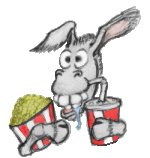 ---
---
Interested in writing for Jackass Critics?
E-mail Matt