Sky High review by Mike Long
There's a dish that I make called "taco surprise" (the surprising part is that it's edible!) which is loved by my family and friends. The recipe takes parts from other existing dishes to make something which is not original, but is still satisfying. The same can be said for the Disney superhero film
Sky High
. Nothing in the film feels novel, but the overall package is quite nice.
Sky High takes place in a comic-bookesque world where superheroes are quite common. Two of the most beloved heroes are Commander (Kurt Russell) and Jetstream (Kelly Preston), who, went they aren't saving the world, live as husband and wife under the assumed identities of real estate agents. Their son, Will (Micheal Angarano) has reached the age when he can attend Sky High, the training academy for superheroes. As the son of the world's two greatest champions, it's assumed that Will will carry on the family name. There's only one problem, Will doesn't have any superpowers. So, on his first day at Sky High, Will is placed in the sidekick (or "Hero Support") class, and dreads telling his parents about this. But, things aren't all bad at school. Will is with his best friend, Layla (Danielle Panabaker), who has the ability to control plants, and he catches the eye of beautiful senior, Gwen (Mary Elizabeth Winstead). Will is also noticed by Warren Peace (Steven Strait), a trouble young man whose villainous father was captured by Commander. While Will is dealing with his new school and facing his parents with the truth about his lack of powers, a supervillain is plotting their revenge on Commander, Jetstream, and all of Sky High.
As noted above, Sky High isn't a very original movie and even the most casual movie-goer will be able to spot the movies which inspired it. The two most obvious reference points are the Harry Potter series and The Incredibles, with dashes of X-Men, Mean Girls, and most any John Hughes high school movie. In fact, if one were so inclined, it would be very easy to qualify Sky High as a shameless rip-off, as the class assignment and "Save the Citizen" competition scenes are obviously Harry Potter scenes with superpowers standing in for magic. And the family interaction scenes may not have the same tragi-comic tones as those in The Incredibles, but they're similar. (And for those who are really keeping score, Commander's trophies taken from the villains that he's defeated is a nod to Batman.)
Despite the fact that Sky High is obviously plundered from other places, it's still a fun and charming film, mostly due to the spirited cast who are clearly having fun with the clever dialogue in the film. Kurt Russell can be very unpredictable, but he is a blast here, as he chews the scenery and hams it up. Cult favorite Bruce Campbell has a small role as Coach Boomer, and has some good lines. All of the young actors in the film are very good, and none seem awkward or uncomfortable in front of the camera. Michael Angarano is asked to carry the film and his goofy likability makes him endearing to the audience. But it's Kids in the Hall alums Dave Foley and Kevin McDonald who steal the film as two truly odd teachers at Sky High. Oh, and it's nice to see Farva himself, Kevin Heffernan of Broken Lizard in a small role.
Director Mike Mitchell keeps things light and moving along nicely in Sky High and kudos must also go to costume designer Michael Wilkinson, who does a nice job of subtlety keeping each character in their own unique colors. The movie is good for families, although it does have an extended fight scene at the end and may send the message that violence solves problems. Nonetheless, Sky High is an unassuming movie which isn't groundbreaking, but is fun and exciting.
Sky High flies onto DVD courtesy of Disney DVD. The film is being made available in both widescreen and full-frame releases. For the purposes of this review, only the widescreen version was viewed. The film has been letterboxed at 2.35:1 and the transfer is enhanced for 16 x 9 TVs. This transfer looks very good, as the image is very sharp and clear, showing no grain nor any defects from the source material. The movie has a bright and cheery look, and the colors on this transfer are outstanding. I did notice some mild artifacting issues, but otherwise the transfer looks fine. The DVD carries a Dolby Digital 5.1 audio track which provides clear dialogue and sound effects. The stereo and surround sound effects are very good, and with all of the superhero shenanigans in the film, there are ample opportunities for the audio to fill the speakers. However, as with some other Disney family DVDs, the bass effects are somewhat muted and nowhere near as strong as one would expect.
The Sky High DVD contains a handful of special features. "Welcome to Sky High" (15 minutes) is a making-of featurette which examines the actors, characters, and stunts. There is lots of behind-the-scenes footage, as well as comments from the cast and crew. "Breaking Down the Walls: The Stunts of Sky High" (7 minutes) allows stunt coordinator Scott Rogers to explaining how the daring feats in the film were accomplished. The DVD contains a 3-minute "Alternate Opening" which gives away far too much of the plot. The extras are rounded out by "Super Bloopers" (4 minutes) and a music video for the song "I Melt With You" by Bowling for Soup.










7 out of 10 Jackasses
blog comments powered by

Disqus
Search
Sky High

IMDB Link: Sky High
DVD Relase Date: 2005-11-29
DVD Aspect Ratio: 2.35:1
DVD Extras: Featurettes, Bloopers, Alternate Opening, Music Video
DVD Producer: Disney DVD

Related Reviews
---
---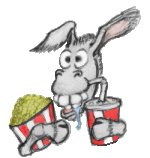 ---
---
Interested in writing for Jackass Critics?
E-mail Matt