Scrubs: The Complete Second Season review by Mike Long
Those who know anything about television are aware of the notion that it can be quite challenging to get a show on the air. Many shows never make it past the "pilot" phase, and out of those who do, a fairly high percentage are canceled. And the fact that a show makes it to TV doesn't guarantee that it's any good. So, if a quality show gets aired, it should be applauded. From there, the next challenge (and a true rarity) is the find a show which is consistently good.
Scrubs
is that rare show which maintains its quality throughout the recently released Season 2 DVD set.
Season 1 of Scrubs dealt with three young doctors, John "J.D." Dorian (Zach Braff), Elliot Reid (Sarah Chalke), and Christopher Turk (Donald Faison), who had begun their first year of residency at a bust city hospital. J.D. is hopeful, but insecure; Eliot is neurotic and lacks confidence; Turk is a cocky surgeon. They work with the brilliant but abrasive Dr. Perry Cox (John C. McGinley) and the evil chief of staff Dr. Kelso (Ken Jenkins). During their first year, we watched these young doctors learn and grow, while they encountered many odd and funny situations. J.D. and Eliot explored romance, with each other and elsewhere, while Turk began dating a nurse named Carla (Judy Reyes).
Season 2 sees our main characters entering their second year of residency. Now, having had some experience, they have a bit more confidence, but it's clear that they all have a lot to learn about not only medicine, but life as well. Although J.D. is still attracted to Eliot, he dates a seemingly never-ending parade of attractive women, but has little luck in love. Eliot also has some romantic adventures, but finds that men don't deal with her neurotic nature very well. Turk and Carla grow even closer and begin to talk about marriage. Dr. Cox continues his on-again/off-again relationship with his callous ex-wife Jordan (Christa Miller), who is pregnant. Despite that fact that he's told the baby isn't his, Cox decides to step up and aid Jordan in her time of need. During all of this, J.D. is still trying desperately to win the approval of Dr. Cox.
I was unfamiliar with Scrubs when I watched the first season on DVD, but I quickly came to admire the show. And everything that I liked about Season 1 can readily be found in Season 2. The humor on the show continues to be very fast-paced and wide-ranging. One scene could contain a pratfall, a low-brow joke, a broad joke, and a very dry joke. The writers of Scrubs keeps the comedy coming at break-neck speed and the jokes are successful more times than not. Much of the humor is risky -- not in a bawdy sense, but in the sense that many members of the audience may not get a majority of the jokes. The show also maintains one of its most unique factors, the fantasies. J.D. and the others (but mostly J.D.) share their inner-most thoughts with the viewer and the results are often hilarious. (And for some reason, J.D. likes to think about TV stars from the 70s.) The comedy is often paired with heart-wrenching drama as we watch the characters deal with their own foibles and the life and death situations which they face on a daily basis in the hospital. The show apparently has some kind of magical power over the viewer, because on the rare occasion that Cox compliments J.D., it's invigorating.
My only big complaint about Season 2 of Scrubs is that it's a bit too similar to the show's freshman season. Season 1 ended with a great cliffhanger which is quickly resolved at the outset of Season 2 and suddenly it's business as usual. It's not unusual for a show to have recurring themes, but the relationships between J.D. & Eliot, Carla & Turk, and Cox & Jordan feel like leftovers from Season 1 at times. The comedy still feels very fresh in each episode, but the stories are too familiar at times. The only other problem that I had was that there was too much of The Janitor (Neil Flynn) who torments J.D. In Season 1, his appearances were surprises and thus much funnier. In Season 2, it becomes clear that he's going to pop up in every show and the suspense is dulled. The ups and downs in the show's writing are handled with great ease by the show's fantastic cast. Would someone please tell me why John C. McGinley hasn't won an award of any kind for his performance on this show. The man gives 100% in every scene and there's no doubt at all about Dr. Cox's emotions. Zach Braff continues to hone his comedy chops in Season 2 and his quirky, goofy nature informs much of the shows comedy.
Ive never understood why there are so many shows on TV about doctors and they often blur together at times. Scrubs is a true original, as it takes a crazily comedic view of the world of medicine. Season 2 of the show isnt perfect, but there are many laughs in each episode, along with a few tears, and thats more than most shows deliver.
Scrubs: The Complete Second Season hits DVD STAT courtesy of Buena Vista Home Entertainment. This 3-disc set contains all 22 episodes from the shows second season. The episodes are presented in their original 1.33:1 aspect ratio. The shows on this Season 2 set look somewhat better than those found on the Season 1 set. The image still shows a bit of grain at times, but the picture is much sharper and clearer. The colors look very good and the image always maintains the appropriate brightness. There is some minor artifacting to be had here, but its not distracting. The DVD contains a Dolby Digital 5.1 track for each episode. These tracks provide clear dialogue and sound effects. The music in the shows sounds great and often fills the speakers. The surround sound effects also show through with the odd sound effects used in the show. Theres not much in the way of bass response, save for some musical cues.
There are many extras to be hand on this DVD set. Audio commentaries are provided for the following episodes; Disc 1 -- My Overkill, series creator Bill Lawrence, Zach Braff, & Donald Faison; My Case Study, Lawrence and Ken Jenkins; My First Step, Lawrence & Faison; Disc 2 -- My Sex Buddy, Lawrence & Sarah Chalke; His Story, Lwarence & John C. McGinley; Disc 3 -- My T.C.W., Lawrence & Judy Reyes. All of these chats are very entertaining and quite funny, as the speakers give us some information about the shows production, but spend more time pointing out how the same extras keep walking by in the background and they also constantly make fun of Braffs hair. Disc 1 features A Rare Condition (15 minutes), a featurette which focuses on the unique fact that Scrubs is shot in a defunct hospital and that all of the sets are located there. In Johnny C. Keeps Talking (5 minutes), the actor discusses how he got the part of Dr. Cox and relates some details about his working style. Disc 2 has Alternate Lines, A Second Opinion (5 minutes), which is simply alternate takes of existing scenes. The shows many guest stars are examined in Stunt Casting (3 minutes). Disc 3 offers Musical Stylings (7 minutes) which looks at the role that music plays on the show. (It doesnt address the fact that some music was reportedly replaced for the Season 1 DVD release.) Many anecdotes about the show and the cast are shared in Secrets and Lies (10 minutes). Scrubbed Out: Deleted Scenes contains 9 minutes worth of excised scenes from 8 different episodes. Practice, Practice, Malpractice is 4-minutes blooper reel. The fact that there was a lot of sex in Season 2 is discussed in J.D.s Mojo (4 minutes). And finally, Imagination Gone Wild (8 minutes) looks at the fantasy sequences in the show.











8 out of 10 Jackasses
blog comments powered by

Disqus
Search
Scrubs: The Complete Second Season

IMDB Link: Scrubs: The Complete Second Season
DVD Relase Date: 2005-11-15
DVD Aspect Ratio: 1.33:1
DVD Extras: Audio Commentaries, Featurettes, Deleted Scenes, Bloopers
DVD Producer: Buena Vista Home Entertainment

Related Reviews
---
---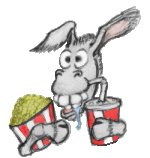 ---
---
Interested in writing for Jackass Critics?
E-mail Matt