Ned and Stacey: The Complete First Season review by Mike Long
Before the home video revolution, if you wanted to see an old movie again, you were basically screwed. Unless the movie was on TV or playing at a revival house, the odds of seeing an old favorite again weren't very high. Television shows, on the other hand, are a different story. For decades, TV shows have gone into syndication and re-runs and thus, one could watch a show over and over again. Thanks to this practice, many shows which weren't very successful in their initial run found their audience in re-runs. One such example is
Ned and Stacey
.
Ned and Stacey premiered on Fox in September, 1995 and ran for two seasons. While the show had a moderate run, it wasn't very successful. It wasn't until a few years later when the show begin to air on the USA cable network that it began to find an audience. This is where I discovered the show and found it to be charming and quirky.
Ned (Thomas Haden Church) is a happy-go-lucky advertising executive who hopes to get a promotion. He's very focused on his career and doesn't put much credence in relationships. Stacey (Debra Messing) is a idealistic journalist who is tired of living with her annoying parents. This pair are set up on a blind-date by Ned's co-worker Eric (Greg Germann) who is married to Stacey's sister, Amanda (Nadia Dajani). Having such different views on the world, Ned and Stacey don't click and it appears that they'll never see one another again. But, Ned learns that his firm wants to promote a married employee in order to display a family image. Stacey can't find an apartment and is desperate to leave her parent's home. Ned "proposes" that he and Stacey have a fake marriage so that he can get his promotion and she can share his upscale apartment. As appalled as she is by the idea, Stacey agrees, and so these two people who hate each other get married and move in together.
Let's face it, the premise of Ned and Stacey is very hokey and screams "bad sitcom idea". And, it is. But, the show is able to transcend the boundaries of its main storyline for several reasons. For starters, the show has a very good cast. Church had just come off his successful run on Wings and was tackling a very different character. This was Messing's first series, but she, of course, would later become a huge star on Will & Grace. Likewise, Greg Germann went from Ned and Stacey to Ally McBeal, where he created one of that show's most memorable characters. These actors bring a great deal of spark and life to their characters, helping the show to be very accessible. Of the cast, Church is the stand out, as he plays Ned as a nearly insane person who doesn't care what others think of him or his actions. He can go from (nearly) serious to giddy in seconds and the unpredictability of the character makes him very fun to watch.
The overall scope of the show follows a somewhat predictable pattern, but it is still fairly pleasing. As stated above, Ned and Stacey don't really like each other when they get "married". Their plan is to continue seeing other people on the side and that they will end their relationship in two years. But, of course, as the show progresses, the two find themselves attracted to one another. At times, this idea works and their is a nice amount of sexual tension on the show. At other times, it feels very contrived and convenient, and one can't help but wonder why Ned would like Stacey. During the times when Ned and Stacey really don't like each other, the show gets a lot of mileage out of the poor suckers whom they see on the side.
Ned and Stacey is a good example of a show which deserves a second chance, and DVD is the perfect medium for this, as The Complete First Season of the show has just been released. While I remember preferring the episodes from the second season, Season 1 contains some gems and those who like screwball romantic comedy shows with a sly twist with certainly find Ned and Stacey worth a rental.
Ned and Stacey: The Complete First Season comes to DVD courtesy of Sony Pictures Home Entertainment. This 3-disc set contains all 24 episodes from the first season of the show. The episodes are presented in their original 1.33:1 aspect ratio. The shows look pretty good, with only the "Pilot" showing any real grain. Otherwise the episodes look very sharp and clear, showing no major defects from the source material. The colors look especially good on these transfers. There is some mild video noise at times, but otherwise, this rivals digital broadcast quality. The shows carry a Dolby Digital stereo audio track which provides clear dialogue and music which is never overtaken by the audience's laughter.
Unfortunately, this set is light on extras. Disc 1 contains a 22-minute retrospective entitled "Strings Attached: Ned and Stacey". Series creator Michael Weithorn, plus Church, Messing, Germann, and Dajani share their memories of the show. Weithron also provides a nice audio commentary on the "Pilot" episode.









6 out of 10 Jackasses
blog comments powered by

Disqus
Search
Ned and Stacey: The Complete First Season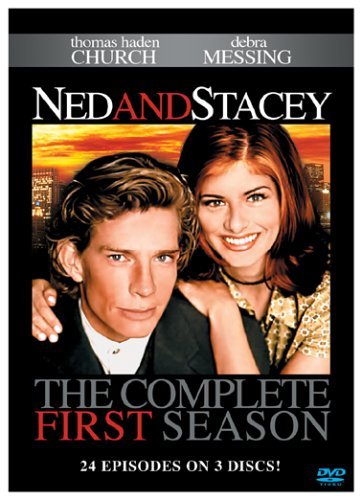 IMDB Link: Ned and Stacey: The Complete First Season
DVD Relase Date: 2005-09-20
DVD Aspect Ratio: 1.33:1
DVD Extras: Featurette, Audio Commentary
DVD Producer: Sony Pictures Home Entertainment

---
---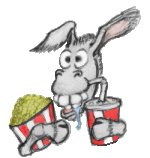 ---
---
Interested in writing for Jackass Critics?
E-mail Matt