Tommy Boy review by Mike Long
While I'm quite happy with my role as an on-line DVD reviewer, I, as I imagine many of my brethren do, daydream about being a powerful film critic for a major metropolitan newspaper, reviewing new theatrical releases. While it would be great to have that kind of clout and name recognition, there is one part of that job of which I'm not envious. For many reviews, the critic sees the film at a special screening and then must have the review written within a day. With movies, first impressions aren't always accurate and it can often take some time to fully digest a movie. Or, it may take multiple viewings to appreciate a film. I wasn't very impressed with
Tommy Boy
the first time that I saw it, but upon subsequent viewings the film revealed itself to be a fun, quotable comedy.
Chris Farley stars in Tommy Boy as Tommy Callahan III, a young man who has just graduated from college (after 7 years) and returns to his hometown of Sandusky, Ohio to work for his father, "Big" Tom Callahan (Brian Dennehy), in his auto part factory. Tommy is a slovenly, hyperactive guy who often finds himself in embarrassing situations. Tommy is paired with employee Richard Hayden (David Spade), an uptight man who resents the fact that Tommy gets by simply based on who his dad is. When "Big" Tom announces that he's marrying Beverly (Bo Derek), and Tommy is delighted that he'll have a "brother" in Beverly's son Paul (Rob Lowe). However, tragedy strikes when "Big" Tom dies after the wedding. Due to the loss of the well-known owner, the future of Callahan Auto is in jeopardy. Tommy volunteers to go on the road to sell the company's new line of brake pads, and he decides to take Richard with him. So, this mis-matched pair hits the road to try and save the company and not kill each other in the process.
Tommy Boy is one of those films where the plot is incidental and the real draw is the stars. Once the premise is established during the first 30 minutes of the film, Tommy Boy then becomes a road-movie. Despite a few cuts to the happenings in Sandusky, the vast remainder of the film is simply Farley and Spade going from place-to-place trying to sell the auto parts. This leads to many episodic scenes in which Tommy wreaks havoc and Richard must do what he can to retain his composure. The movie does have some mild plot twists, but once again, these aren't very important, as we're here to see Farley and Spade.
At the time of Tommy Boy's release, Chris Farley and David Spade were coming to the end of their run on Saturday Night Live, and their popularity and personalities there translated well onto the big screen. In the tradition of Laurel & Hardy and Abbot & Costello, Farley & Spade continue the comedic institution of pairing a big guy with a little guy and allowing them to play off of each other. In addition to the visual differences in the two actors, their personalities clash as well. Tommy is a spastic man-child, while Richard is an anal-retentive, bitter man. (It would be very easy to say that both actors are playing themselves, but we won't go that route.) Their constant bickering leads to some great lines and Spade's insults may seem harsh to some, but his acerbic wit is hilarious.
Tommy Boy is a funny movie, but for those who haven't seen it, be warned: it's no brain-buster. Much of the humor is very low-brow, as Farley runs into windows while Spade makes insulting wise-cracks. Given that fact, it's not surprising that I was disappointed in the film the first time that I saw it. Put simply, the movie is so stupid that it's hard to accept it upon first viewing. But, upon further reflection, one realizes that this is simply a good-natured buddy-movie, which, when compared to the gross-out comedies which have appeared since its release, seems quite wholesome and tame today. While it would be hard to call Tommy Boy a classic, it is certainly a movie which has aged well and the jokes seem to be more quotable as time goes on. Yes, it's very sad that Chris Farley left us at such a young age, but at least we have Tommy Boy to remember him by.
Tommy Boy falls onto DVD courtesy of Paramount Home Entertainment in a new 2-disc special edition. The film has been letterboxed at 1.85:1 and the transfer is enhanced for 16 x 9 TVs. This new release sports a transfer which is somewhat better than the previous DVD release of the film. The image is fairly sharp and clear, showing only a small amount of grain. The colors look fine and the screen is never too bright or too dark. Overall, this is a nicely balanced transfer. The DVD has a Dolby Digital 5.1 audio track which provides clear dialogue and very nice musical reproduction, especially the rock songs. The stereo effects are noticeably good, as there are numerous shots of the car moving across the screen with the audio going from one front channel to the other. The surround sound and subwoofer effects aren't overwhelming, but they're present when necessary.
The newly released "Holy Schnike Edition" of Tommy Boy contains numerous extra features. Disc 1 features an audio commentary from director Peter Segal. Segal speaks consistently throughout the film, although he does pause during the really wild sequences. He talks about the hectic schedule involved in the film and how much of the comedy was derived directly from Farley and Spade's real-life interactions. Segal never gets overly emotional, but it's clear that he's touched while watching the film again. The remainder of the extras can be found on Disc 2. This disc contains four featurettes. "Tommy Boy: Behind the Laughter" is a 29-minute making of which contains modern day interviews with Segal, Spade, Dennehy, Lowe, Derek, and many more. This segment explores the making of the film and contains a lot of behind-the-scenes footage. Here we learn that the script was written as the film was being shot and that Spade and Farley were flying back and forth to New York during the filming. "Stories from the Side of the Road" (14 minutes) explores the specific scenes with Segal and uncredited writer Fred Wolf came up with while shooting was in progress. The relationship between Farley and Spade is examined in "Just the Two of Us" (10 minutes), where several of those involved in the film mention how Farley would chug cappuccinos before each scene. Chris Farley's brother Kevin and John reminisce about Chris in "Growing up Farley" (7 minutes). There are "Storyboard Comparisons" for 7 scenes. The DVD contains many "Additional Scenes" including: 5 "Deleted Scenes" (6 minutes) with introductions by Segal; 15 "Extended Scenes" (22 minutes); and 6 "Alternate Takes" (4 minutes). There are 19 "TV Spots" which run 8 minutes and the "Theatrical Trailer" for Tommy Boy , which is presented full-frame. The extras are rounded out by a "Gag Reel" (4 minutes) and a "Photo Gallery".










7 out of 10 Jackasses
blog comments powered by

Disqus
Search
Tommy Boy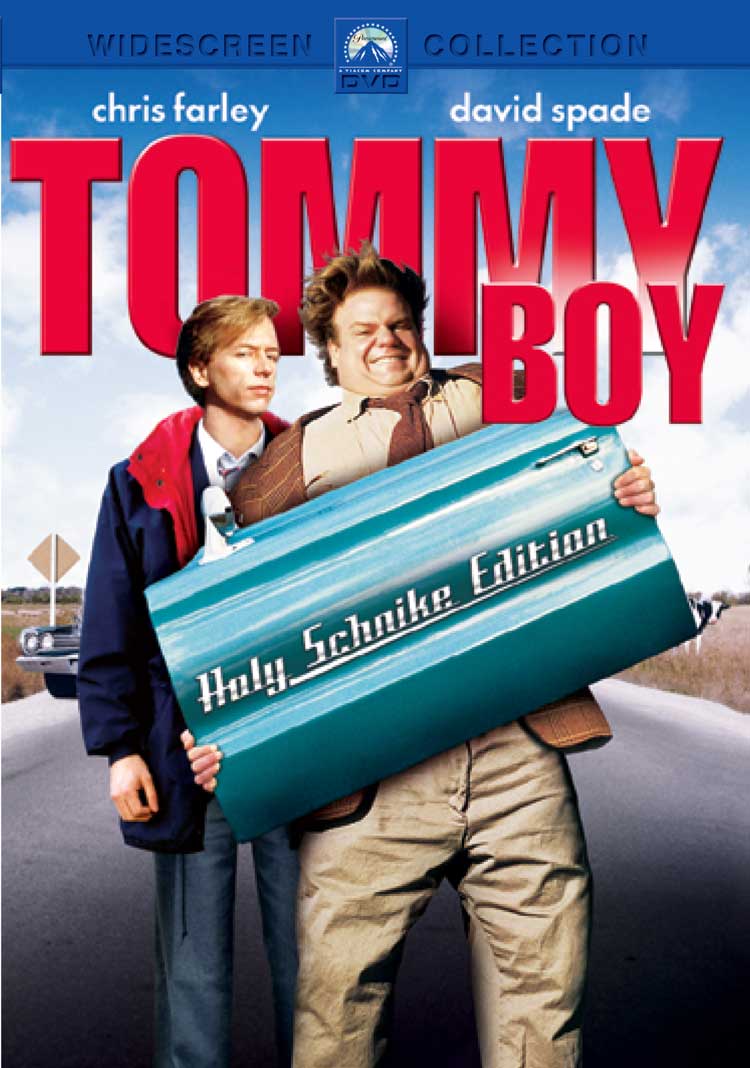 IMDB Link: Tommy Boy
DVD Relase Date: 2005-08-30
DVD Aspect Ratio: 1.85:1
DVD Extras: Audio Commentary, Featurettes, Deleted Scenes, Storyboards, Trailers, Gag Reel
DVD Producer: Paramount Home Entertainment