The Simpsons: The Complete Sixth Season review by Mike Long
As a critic, my job is remain objective when reviewing material. Sure, I can get passionate when stating why I do or don't like something, as long as I remain an outside observer. That's why it's probably not a good idea for me to be reviewing the latest
The Simpsons
release, for I'm such a junkie for the show that I would be hard pressed to find something wrong with it. Each year, so called "fans" of the show claim that it's run its course and call for it to be cancelled. Yet, I feel that the show has remained solid over the years and is still the best show on TV. (Although
Arrested Development
has been giving it a run for its money.)
Fox has just released The Complete Sixth Season of The Simpsons on DVD and while many will say that the show was already past its prime at this point, I say that this season contains many classic episodes. In fact, while watching this DVD set, I was amazed by how many episodes that I consider to be classics were included here -- many episodes that I would have guessed were much older than Season 6. By Season 6, The Simpsons had long since moved past the controversy surrounding the mischievous Bart Simpson (voiced by Nancy Cartwright), and the show had planted its focus squarely on the oafish Homer Simpson (voiced by Dan Castellaneta). (A move that I've never agreed with. Sure, Homer is funny, but there's a dumb dad on every sitcom. Of course, to compensate for this, the series writers have made Homer seemingly dumber with every passing season.) Anywho, here is a list of the episodes included in this four-disc set:
Bart Of Darkness
Lisa's Rival
Another Simpson Clip Show
Itchy & Scratchyland
Sideshow Bob Roberts
Treehouse Of Horror V
Bart's Girlfriend
Lisa On Ice
Homer Badman
Grandpa vs. Sexual Inadequacy
Fear Of Flying
Homer The Great
And Maggie Makes Three
Bart's Comet
Homie The Clown
Bart vs. Australia
Homer vs. Patty And Selma
A Star Is Burns
Lisa's Wedding
Two Dozen And One Greyhounds
The PTA Disbands
Round Springfield
Springfield Connection
Lemon Of Troy
Who Shot Mr. Burns? (1)
Once again, I don't agree with those who say that The Simpsons has lost its moxy and I argue that the show continues to do what few others can: it guarantees at least one cough-inducing belly laugh per show. Just looking over that list of episodes, I spot many shows that had me in tears when I first watched them and still produce generous laughs today. For example, there's the skewering of Jurassic Park in "Itchy & Scratchyland". Or the moment in "Treehouse of Horror V" when Homer claims to be the first non-Brazilian to travel back in time. (To this day, I'm not sure what that mean, but it always makes me laugh.) Or the manipulation of Homer's interview in "Homer Badman" where he keeps repeating the seemingly non-sensical "Sweet Can". Who can forget The Stonecutters? How about Mr. Burns failed attempts to have a bio-pic made in "A Star is Burns"? And of course, we have the season finale, "Who Shot Mr. Burns?". This was The Simpsons first cliffhanger and it got national attention. Sure, when Season 7 rolled around, we got one of the worst explanations ever, but it certainly defined this shows unorthodox attitude.
These examples aren't meant to demonstrate how The Simpsons is funny and brash, but the thing which has kept the show going is its heart. The Simpsons may be an incredibly dysfunctional family, but the show always demonstrates that love and loyalty are very nice attributes to have. So, let the naysayers (Tom) say that the Sixth Season of The Simpsons is yet another example of how the show declined. I think it's another stellar year from a fantastic show.
The Simpons: The Complete Sixth Season comes to DVD courtesy of 20th Century Fox Home Entertainment. This four disc boxed set contains all 25 episodes from Season 6 of the show. All of the episodes are presented in their original 1.33:1 aspect ratio. The transfer looks very good, as the episodes are very sharp and clear, showing essentially no grain and no defects from the source material. The colors are outstanding, as the bright hues are bold and practically leap off of the screen. There are some occasional "ghosting" effects when objects or characters move quickly across the screen, and the digital transfer has revealed some unfinished lines in the animation. Other than those flaws, this looks great. The shows carry a Dolby Digital 5.1 audio track which provides clear dialogue and music reproduction. The stereo effects are fine, but for a 5.1 track, there is little input from the surround or LFE channels. These tracks don't begin to compare with the bombastic action from Fox's Buffy the Vampire Slayer or Angel DVDs.
As with previous DVD releases for The Simpsons, this one is packed with extras. As usual, the animated menus are very funny. Each episode contains an audio commentary, and there is a mixed group of staff from the program represented in these commentaries. While they vary in how much essential information about the show that they offer, most are quite entertaining, as the participants prove that they can be funny on their own, even when Homer and Bart aren't speaking for them.
The rest of the extras are spread out across the four discs. Of the 25 episodes included here, 20 of them sport deleted scenes. These can be watched with the individual episodes, or as a group on Disc 4, where they are accompanied by commentary from David Mirkin. Disc 1 contains an introduction to the set from series creator Matt Groening, where, as usual, he proclaims that season that you're watching to be his favorite. Disc 1 also sports an animatic for "Treehouse of Horror V, Act One". Similarly, Disc 3 has a Picture-in-Picture Animatic or Storyboard for "Lisa's Wedding". Disc 4 has a 2-minute segment with video of The Simpsons plane, with comments from Groening and Mirkin. This Disc also has three commercials featuring the characters, one from 1-800 Collect and the other two from Church's Fried Chicken. The rest of the extras relate to the "Who Shot Mr. Burns, Part 1" episode. "Springfield's Most Wanted" is a 21-minute show which actually aired before the season premiere of Season 7. This John Walsh hosted program is a spoof of America's Most Wanted and profiles all of the suspects in Springfield. The "Who Shot Mr. Burns, Part 1" episode can be viewed in a variety of languages. The "Suspect Profiles" are incredibly detailed text files on many of the characters from the show. Finally, we have animatics, storyboards, and sketches for the episode.
The first 5 season boxed sets of The Simpsons arrived in the average rectangular box, but Season 6 comes in a box shaped like Homer's head. I must say that I'm not crazy about the packaging. It's the same width and depth as a standard box, but it is taller. The box is difficult to open the cardboard insert constantly falls out.











8 out of 10 Jackasses
blog comments powered by

Disqus
Search
The Simpsons: The Complete Sixth Season

IMDB Link: The Simpsons: The Complete Sixth Season
DVD Relase Date: 2005-08-16
DVD Aspect Ratio: 1.33:1
DVD Extras: Audio Commentaries, Deleted Scenes, Featurettes, Sketches, Storyboards
DVD Producer: 20th Century Fox Home Entertainment

Related Reviews
---
---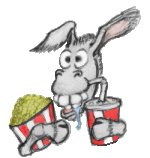 ---
---
Interested in writing for Jackass Critics?
E-mail Matt