Scrubs: The Complete First Season review by Mike Long
As with many Generation X'ers, I grew up watching TV, especially situation comedies, such as the classics
Happy Days
,
Laverne & Shirley
, and
Mork & Mindy
. But, as I got older, and began to watch less and less TV, I became somewhat of a sit-com snob, only religiously watching
The Simpsons
and rarely checking out any new shows. This was due to the way that networks (especially FOX) generally over-hype their shows and the fact that many shows contain such bargain-basement humor. But, now that I've watched the first season of
Scrubs
on DVD, I may have to re-assess this stance, as I've now added a new show to my must-see list.
Scrubs tells the story of a group of newly graduated medical school students who are starting as interns at Sacred Heart Hospital. J.D. (Zach Braff) is a slightly-neurotic young man who wants to be a good doctor, but he also wants to please everyone. Elliot (Sarah Chalke) is a poor little rich girl who followed in her father's footsteps as a doctor, and has incredibly bad social skills. Turk (Donald Faison), who works in surgery, is incredibly cocky and never seems nervous. On their first day at the hospital, J.D. and Elliot (who always work on the same unit) meet the Chief of Medicine, Dr. Kelso (Ken Jenkins), who seems like a nice guy, but is actually only interested in making money, and Dr. Cox (John C. McGinley), a scary, tyrannical man who may actually be the best educator that the interns can find. Outside of work, J.D. and Turk live together and find that their competing views (medical vs. surgical) often weighs on their friendship. Also, both try their hands at romance on the job, with varying results. As the interns make their way through their first year, they learn a great deal about medicine, and even more about themselves.
As I remember, NBC has always marketed Scrubs as a very goofy comedy. And at times, it is, but it's so much more. I was very pleasantly surprised to find that Scrubs mixes very broad, often physical humor with clever sight gags, bizarre fantasy sequences, and strong dramatic pieces. The show, from Spin City creator Bill Lawrence, contains all of the trappings of a traditional medical show -- doctors, nurses, medical crises, hospital politics, inter-office romances -- but it turns all of these conventions sideways, creating a show that feels familiar and fresh at the same time.
Again, the show's humor is very impressive and it definitely rises above what passes for jokes on most shows. The writing contains many funny lines, some of which are straight "jokey-jokes", but many are clever double-entendres and plays on words. Of course, there is physical comedy, with someone falling down at least once an episode, but these gags are used sparingly and at unexpected times. The most surprising factor in Scrubs are the fantasy sequences. These scenes are very similar to what one would find in The Simpsons or Family Guy, except they are live-action. When the characters, especially J.D., are faced with an odd or surprising situation, they often imagine the outcome, and the show offers these fantasies in all their glory. These scenes are typically quite funny and help to further separate the show from its contemporaries. Along with this humor, we get a nice amount of drama, as the characters interact with their patients and each other. It would be impossible to set a show in a hospital and have it be free of pathos, and Scrubs certainly has its share. The stories are never heavy-handed, but they are often touching, and add another dimension to the show.
The show is also notable for its cast. Scrubs does a good job of taking its time introducing us to the characters and giving a solid backstory for everyone -- all of the characters have at least two good dimensions, if not more. Star Zach Braff has become very well-known for his film Garden State, but he's very good here as the jittery J.D. His balance of humor and naivety make him appealing, and he shows an excellent sense of comic timing. Braff plays very well with John C. McGinley, he steals every scene that hes in. The man can roll off rapid-fire medical jargon and then segue into a cold-blooded insult without hesitation. His portrayal of Dr. Cox makes the character one of the most complicated and intriguing on TV. Sarah Chalke is good as Elliot, as she balances sly femininity with a personality which borders on insanity. Donald Faisons antics get a bit tired at times, but he handles the serious moments quite well. Scrubs is a very well-rounded sit-com which rises above the medium. The show is very clever and funny, and the Season One cliff-hanger is a killer! Bring on Season Two!
Scrubs arrives on DVD courtesy of Buena Vista Home Entertainment. This 3-disc set contains all 24 episodes from the first season of the show. The episodes are presented in their original 4:3 aspect ratio. The pilot episode doesnt look very good, as it is slightly dark and shows a great deal of grain and artifacting. After that, things improve, as the image is sharp and clear, showing only the slightest amount of grain. The picture does show some shimmering and artifacting at times, but these arent that distracting. The colors are good and the image is well-balanced for brightness. The episodes have a Dolby 2.0 Surround audio track which provides clear dialogue and sound effects with no hissing or distortion. The stereo effects are good, as are the surround effects which show off the numerous fantasy sound effects in the show, as well as the series (lite) alt-rock soundtrack.
The Scrubs: The Complete First Season DVD set features many extras. There are six audio commentaries spread across the three discs; My First Day with series creator Bill Lawrence (Disc 1); My Old Lady, with Lawrence and star Zach Braff (Disc 1); My Fifteen Mintues, with Lawrence and actor Neil Flynn (Disc 1); My Blind Date, with Lawrence and Braff (Disc 2); My Sacrificial Clam, with Lawrence and actors Sam Lloyd and Robert Maschio (Disc 3); and My Hero, with Lawrence and John C. McGinley (Disc 3). For the most part, the commentaries are pretty good, although they could certainly be better. Lawrence comes off as quite a perfectionist and is constantly pointing out all of the problems that he notices. The chats with Braff are entertaining, as hes funny on them, as if the one with McGinley. Overall, the commentaries are informative if nothing else. Disc 1 contains a featurette entitled Newbies (29 minutes) which gives an overview of Season One, examines the writers, and profiles the main cast. This featurette is broken up into chapters which can be accessed from a main menu. Here, we get interviews with Bill Lawrence as he describes the origin of the show, and we get to meet the real-life J.D. Each actor talks about their character and touches on how they got the role. On Disc 2, we have a music video for the shows theme song, Superman by Lazlo Bane. The Doctor is In is a 5-minute interview with Zach Braff as he talks about how he got the part and what it was like working on a TV series. There is clearly a lot of improv on the set of Scrubs, as evidenced by Alternate Lines: A Second Opinion (9 minutes) in which we get to see several scenes done in different ways. Disc 3 starts off with Not Just Another Medical Show (6 minutes) which focuses on the location shooting (the show is shot in a building that was a working hospital) and the look of the show. The actors discuss their favorite shows in Favorite Moments (9 minutes). The Outtakes Reel (4 minutes) is disappointing, as I thought there would be moments from the fantasy sequences when the actors are often in odd costumes. And finally, we have 18 Deleted Scenes, which encompass 11 minutes. There are some solid laughs to be had here. I must comment on the packaging for the Scrubs: The Complete First Season DVD set, as it isnt very user friendly. The tri-fold box inside of the slip-case has a fake X-ray which is constantly coming off and wont stay in place. Inside, Disc 2 is underneath Disc 1, which is just plain odd.











8 out of 10 Jackasses
blog comments powered by

Disqus
Search
Scrubs: The Complete First Season

IMDB Link: Scrubs: The Complete First Season
DVD Relase Date: 2005-05-17
DVD Aspect Ratio: 1.33:1
DVD Extras: Audio Commentaries, Deleted Scenes, Featurettes, Outtakes, Music Video
DVD Producer: Buena Vista Home Entertainment

Related Reviews
---
---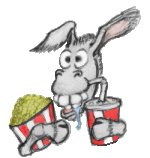 ---
---
Interested in writing for Jackass Critics?
E-mail Matt