Mr. 3000 review by Mike Long
See this movie compete in Jackass Critics Tournament of Sports Movies
I've said it before and I'll say it again; The only film genre more cliched than porn is the sports film. They say that there's nothing new under the sun and there's rarely anything new in the sports film. From the stereotypical down-and-out jock to the underdog team, these movies seem to revel in brining nothing new to the screen. In the past few years, films like Dodgeball , which ups the ante with an absurd sense of humor, have tried to change this mold. But, any progress that has been made has been brought crashing back to Earth with Mr. 3000, one of the most cliched sports films ever made...and that's saying a lot!
Set in 1995, Mr. 3000 tells the story of Stan Ross (Bernie Mac), one of the most talented, yet hated men in baseball, as his self-serving nature has alienated him from his teammates and the media. Stan's reputation is further sullied when he retires from baseball once he gets his 3000th hit, despite the fact that his team (the Milwaukee Brewers) are in playoff contention.
The film then leaps ahead 9 years. Stan is now a successful businessman who owns a string of shops (all with "3000" in the name) in a strip-mall. Stan has been upset as of late, because he's yet to be voted into the Baseball Hall of Fame. Things get even hairier when the Hall of Fame committee discovers an error in Stan's record -- three of his hits were recorded twice. Thus, Stan only got 2,997 hits in his career. Inspired by this news, Stan re-joins the Brewers, determined to reach the 3000-hit mark (again). But, he finds that getting back into baseball isn't as easy as he'd hoped. Not only must he get back into physical shape, but he must also curb his ego as he goes up against players half his age. During this time, Stan must decide if he's playing only to get those three hits, or does he actually want to contribute to the team.
At the outset, it appears that Mr. 3000 is going to set itself apart from other sports films, as it's unusual to see a movie where the main character is highly unlikable for the first half of the story. In the beginning, the egotistical Stan Ross is very difficult to like, even if we are supposed to admire him for his talent. This part of the film is notable, as Stan's character is a very accurate depiction of the kind of "me, me, me" athlete that we see on TV everyday. But, once Stan begins playing again, and gets his comeuppance, the movie becomes riddled with cliches -- Stan struggles, the Brewers (of course) are in a slump, and Stan is distracted by an old flame (Angela Bassett) who has come into his life. By the time that the finale rolls around, Mr. 3000 has checked every box on the cliched sports movie checklist.
It's really sad that the script for Mr. 3000 falls into the "seen it before" pit, because there's some good talent involved in the film. I've never been a huge Bernie Mac fan, but he does a fine job here and actually leans more towards the dramatic side of things than that comedic. Bassett, who's known for playing strong women, goes toe-to-toe with Mac and holds her own. Of Stan's teammates, Brian White, as "T-Rex", emerges with a good performance as a young man who reminds Stan of his more self-indulgent days. Director Charles Stone III brings some flair to the film and does a fine job shooting the baseball scenes. However, these devoted individuals can't overcome the fact that nearly everything in Mr. 3000 has been done before, and much better, by other movies. The film isn't a complete strike out, but it's very close.
Mr. 3000 hits a line-drive onto DVD courtesy of Touchstone Home Entertainment. The film is coming to DVD in two separate editions, one full-frame and the other widescreen. For the purposes of this review, only the widescreen edition was viewed. The film has been letterboxed at 1.85:1 and the transfer is enhanced for 16 x 9 TVs. The image looks very good, as it's nicely sharp and clear, although there is some notable grain on the image in some shots. The picture has a nice depth, which comes through in the baseball game sequences. The colors are very good and there are no defects from the source material. The disc carries a Dolby Digital 5.1 audio track which provides clear dialogue and sound effects. For the most part, the audio is contained to the center and front channels, but the surround sound speakers certainly come to life during the games.
The Mr. 3000 DVD houses a fairly standard set of extras. We start with an audio commentary from director Charles Stone III. This talk is OK, as Stone does a good job of pointing out locations and commenting on certain scenes, but he also gets off-topic at times and opens the commentary by essentially saying that the doesn't like commentaries. "The Making of Mr. 3000" is a 15-minute featurette which starts with the history of the script and a discussion of the other actors who were considered for the lead role. The segment also contains comments from the cast and crew and some behind-the-scenes footage, including the baseball "boot-camp" that the actors went through. "Spring Training: The Extra's Journey" (10 minutes) illustrates the rigorous tryouts that the baseball player extras had to go through in order to be in Mr. 3000. "Everybody Loves Stan" is an odd 3-minute segment which contains clips from the film and comments about Stan Ross from real-life big leaguers. The DVD contains 3 "Extended Sequences", 3 "Deleted Scenes" (with optional director commentary) and a 3-minute "Outtakes" reel.







4 out of 10 Jackasses
blog comments powered by

Disqus
Search
Mr. 3000

IMDB Link: Mr. 3000
DVD Relase Date: 2005-02-01
DVD Aspect Ratio: 1.85:1
DVD Extras: Audio Commentary, Featurettes, Deleted Scenes, Outtakes
DVD Producer: Touchstone Home Entertainment

Related Reviews
---
---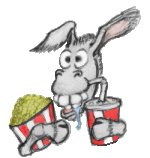 ---
---
Interested in writing for Jackass Critics?
E-mail Matt