Dawson's Creek: The Complete Fourth Season review by Mike Long
If you've ever visited the website www.jumpingtheshark.com and looked up any show, you've seen that there can be many different opinions on if and when a given show "jumped the shark". (For those of you who are out of the loop, "jumping the shark" is term which refers to the point where a TV show begins to take a turn for the worse. It is derived from an episode of
Happy Days
when Fonzie jumped over a shark while on water skis.) While watching the third season of
Dawson's Creek
, I was convinced that the show had jumped the shark. But, the makers of the show did a good job of taking a very surprising plot twist from Season 3, and smoothing it over for Season 4, which has just come to DVD.
(I'm not going to do my usual spoiler warning where I tell you not to read this review if you aren't familiar with the show. By this point, if you aren't familiar with the show, you wouldn't be reading this review.) As Season 4 of Dawson's Creek opens, Pacey (Joshua Jackson) and Joey (Katie Holmes) are returning to their hometown of Capeside after sailing up and down the East Coast on a sailboat for the entire summer. They are both anxious about coming home, as they are both thinking about facing Dawson (James Van Der Beek). That previous spring, Joey and Pacey had fallen in love, keeping their relationship from Dawson, who had previously dated Joey. Meanwhile, in Capeside, Dawson is attempting to move on with his life and has taken up photography. He is delighted when he runs into Gretchen (Sasha Alexander), Pacey's older sister, a girl whom he's had a crush on since childhood. For the other main characters on the series, Jen (Michelle Williams), Jack (Kerr Smith), and Andie (Meredith Monroe), they are watching their summer wind down as they gear up for their senior year at Capeside High.
And what a senior year it will be. Most of the characters begin to face the pressure of applying for college and facing their future education, save for Pacey, who learns that he's in danger of not graduating. As Pacey and Joey settle back into Capeside (no real spoiler here), their relationship with Dawson begins to calm down some and Dawson and Pacey are able to do some things together. A bad-boy from Jen's past, Drue (Mark Matkevich), comes to Capeside and begins to make trouble for her, and everyone else in town. Much to Dawson's surprise, he and Gretchen become fast friends and start to get very close. Jack, who's never been comfortable with his homosexuality, meets Tobey (David Monahan), a militant gay man who confronts all of Jack's fears. But, the most emotional aspect of the season goes to Pacey, as he watches all of his friends, and the woman that he loves, moving away from him as they prepare for college.
According to one of the producers of Dawson's Creek, the crux of the show is the relationship between Dawson and Joey. But, I've never felt that way, for many reasons, probably most notably that as a male, I don't get into the romantic side of the show as much as others. For me, the friendship between Dawson and Pacey was the glue that held the show together. (Most likely because it reminds me of my best friend from high school and myself. I won't say which character I am.) Having that friendship torn asunder in Season 3 was a gutsy move on the show's part, but I felt that it also took the show's soul with it. I was certainly glad that the animosity between Pacey and Dawson diminished somewhat in Season 4, but the show still wasn't the same without them being best friends. While this evolution may be realistic, it put a damper on a moderately-entertaining TV series. As for the rest of the story arcs in Season 4, they're interesting, but only the one involving Pacey's feelings of inadequacy is compelling. Dawson's Creek remains the same trashy and unrealistic guilty pleasure that it's always been in Season 4, but the show has lost some of its edge and this places it squarely into mediocre territory.
Dawson's Creek: The Complete Fourth Season comes to DVD courtesy of Columbia/Tri-Star Home Entertainment. This four-disc DVD boxed set contains all 23 episodes from Season 4. The shows are all presented in their original 4:3 aspect ratio. The episodes look very good as the images are sharp and clear. The colors look very good and the picture show very little grain. There is some momentary artifacting at times and some mild video distortion if a character or the camera moves very quickly, but otherwise the video transfer rivals digital broadcast quality. The DVDs contain Dolby 2.0 Surround audio tracks which provide clear dialogue with no hissing or distortion. The tracks are well-balanced and the show's constant pop-rock score never overpowers the actor's speech.
With each Dawson's Creek DVD release, we get fewer special features. For this set, executive producer Paul Stupin provides audio commentary for the episode "Coming Home" and he is joined by producer Alan Cross for the episode "The Graduate". Both of these commentaries are good, as they go back and forth between talking about the story arcs in Season 4 while also discussing the day-to-day production of the show. Disc 4 contains a set-top trivia game which has several categories and some pretty tough questions that examine the first four years of Dawson's Creek.









6 out of 10 Jackasses
blog comments powered by

Disqus
Search
Dawson's Creek: The Complete Fourth Season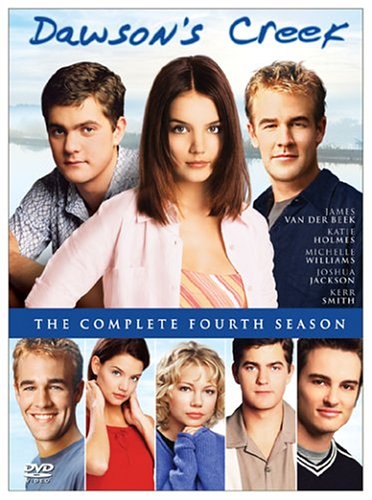 IMDB Link: Dawson's Creek: The Complete Fourth Season
DVD Relase Date: 2004-10-05
DVD Aspect Ratio: 1.33:1
DVD Extras: Audio Commentaries, Trivia Game
DVD Producer: Columbia/Tri-Star Home Entertainment