Saved! review by Mike Long
Ever since
Fast Times at Ridgemont High
created the modern high-school comedy in 1982, there has been little change in the formula to these films. Sure, we've seen the gross-out films like
American Pie
and the serious ones like
The Breakfast Club
, but the setting is usually a suburban public high school.
Saved!
puts a slight spin on the familiar by placing the action at a private Christian high school. The movie then explores the angst-ridden traumas of adolescence with a religious backdrop.
Jena Malone stars in Saved! as Mary, a rising senior at American Eagle Christian High School. She and her best friend, Hilary Faye (Mandy Moore), are "Christian Jewels", and are involved in many facets of their school. Mary has a stable boyfriend named Dean (Chad Faust) and is very close to her mother, Lillian (Mary-Louise Parker). But, Mary's world come's crumbling down around her when Dean reveals to her that he's gay. Mary then has a vision where Jesus tells her to help Dean. She interprets this to mean that she must have sex with Dean in order to save him from homosexuality. But, after that, Dean's parents send him to a re-programming camp.
As school starts, things get even worse for Mary. She begins to suspect that she may be pregnant. Her mom can't stop flirting with the school's principal, Pastor Skip (Martin Donovan). A Jewish girl, Cassandra (Eva Amurri), disrupts things at school and begins to torment Hilary Faye. Cassandra is attracted to Hilary Faye's wheel-chair confined brother, Roland (Macauly Culkin), and this action further enrages Hilary Faye. As Mary becomes more and more convinced that she's pregnant, she begins to withdraw from Hilary Faye and starts to see the hypocrisy around her.
Given the indie-cred that Saved! garnered during its theatrical release, due to its themes and the fact that Michael Stipe is one of the producers, I was very surprised by how straight-forward and somewhat generic the film is. If you remove the religious elements from the film, you would have a fairly mundane film that we've all seen before. Mandy Moore's character would easily fit into the world of Mean Girls, and Mary's "pregnancy scare the first time you have sex" sub-plot could have come straight out of Fast Times at Ridgemont High. (I can't help but think that Hilary Faye's obsession with guns was taken directly from Drop Dead Gorgeous.) As Mary withdraws from the "Christian Jewels", she is replaced by other girls, ala Heathers and Jawbreaker. The story progresses at the rate one would expect it to and there are few surprises here.
So, the only original thing to grasp onto in Saved! is the religious angle. This is where the film gets somewhat confusing. Many of the characters in Saved! are shown to be zealots and are often blind to the needs of others. Thus the film exposes the hypocrisy that exists in many religious organizations. The ultimate example in the film is Hilary Faye, a self-centered girl who feels that she's doing God's work, but often focuses only on herself. But, after 80-minutes of saying "look at these hypocrites", the film ends with a message of "It's OK to have faith as long as you are realistic about it". For me, Saved! doesn't seem to know what it wants to be -- is it satirizing Christian schools, saying that a few overachieving bad apples can ruin that sort of school, or both?
From those comments, it should be clear that I wasn't crazy about the story in Saved!, but the movie isn't a complete failure. For one thing, the cast is amazing, and once again, Jena Malone proves that she can carry a movie. The typically angelic Mandy Moore is great as the bitchy Hilary Faye. And the movie does have some very funny lines. But, I went into Saved! expecting something completely new and different. However, except for the fact that part of the story was motivated by a religious vision, this is a fairly typical high-school film.
Saved! raises its hand to DVD courtesy of MGM Home Entertainment. The film has been letterboxed at 1.85:1 and the transfer is enhanced for 16 x 9 TVs. The transfer is OK, as the image is very clear, showing no grain and no defects from the source print. However, there is some noticeable edge enhancement on the image and haloes (?!) are visible around many characters (most notably Martin Donovan's dark clothes). The colors are good, but the image is slightly washed out at times. Overall, the visuals are acceptable, but not great. The DVD's Dolby Digital 5.1 audio track fares much better, as it delivers crystal clear dialogue with no distortion. The film has a great soundtrack and the music comes through very well here. The surround sound effects are sparse, but they add to the film when they are used.
The Saved! DVD contains many extras. There are two audio commentaries, with the first featuring director & co-writer Brian Dannelly, producer Sandy Stern, and co-writer Michael Urban. This is a pretty good commentary as this trio combines anecdotes about the film's history (and the difficulties getting it off the ground) with stories about the production of the movie. The second commentary has stars Jena Malone and Mandy Moore. This track is far better than I could have ever imagined, as things of this nature are usually "giggle-fests". But, Malone and Moore relay many, many memories about the making of the movie and provide some good insight into their characters (and their character's hairstyles). "Heaven Help Us" is a 4-minute behind-the-scenes featurette of the "electronic press-kit" variety, as it contains clips and brief comments from the cast and crew, but no real insight. There are 11 deleted and extended scenes on the DVD, most of which are very short and don't provide much extra material. Much more interesting are the "Saved! Revelations" which are essentially six deleted shots which reveal more of what was happening in key scenes. There are four short bloopers. The problem with all of these extras is that there is NO PLAY ALL feature, thus, when one watches the 11 deleted/extended scenes, one must constantly press "enter" as they are taken back to the menu. The final extra is the theatrical trailer for Saved!, which is letterboxed at 1.85:1.









6 out of 10 Jackasses
blog comments powered by

Disqus
Search
Saved!

IMDB Link: Saved!
DVD Relase Date: 2004-10-05
DVD Aspect Ratio: 1.85:1
DVD Extras: Audio Commentaries, Deleted Scenes, Bloopers, Trailer
DVD Producer: MGM Home Entertainment

Related Reviews
---
---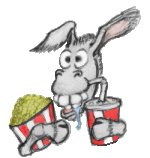 ---
---
Interested in writing for Jackass Critics?
E-mail Matt