Mean Girls review by Mike Long
I don't know if I went to boring high schools (that's "schools", as I transferred to a different school for my junior and senior years), but my high school experience were nothing like what I see in movies. In these films, everything seems to be greatly exaggerated, and the students are doing the kind of exciting things that most of the people I know didn't do until college. This distorted image of high school often bothers me, but it did not in
Mean Girls
, where the exaggeration only adds to the clever and quirky humor in this slick comedy.
Lindsay Lohan stars in Mean Girls as Cady Heron, a teenaged girl who has spent her entire life in African with her anthropologist parents. Her family has now moved to Evanston, Illinois and Cady will be attending public school for the first time in her life. Once there, she quickly learns that high school can be a cruel and lonely place. She makes friends with Janis (Lizzy Caplan) and Damien (Daniel Franzese), two artsy-outsider types, who educate her about the high school hierarchy, and warn her to stay away from "The Plastics", three ultra-chic girls who rule the school. They are; the Queen Bee, Regina George (Rachel McAdams), the insecure one, Gretchen Wieners (Lacey Chabert), and the dumb one, Karen Smith (Amanda Seyfried). Through a twist of fate, Cady is invited to have lunch with "The Plastics", and has an opening to join their world. Janis insists that Cady should hang out with Regina and learn exactly what "The Plastics" do so that they can make fun of them. Cady goes along with this plan, but finds herself becoming one of "The Plastics", especially when it gets her closer to Aaron (Jonathan Bennett). As Cady learns more about Regina, she begins to see that everything about "The Plastics" is truly fake and that she must decide for herself who her true friends are.
Although I'm probably way too old to be admitting this, but I'm a connoisseur of sorts of high school films, and Mean Girls is one of the best that I've seen in a while (at least since Cant Hardly Wait). The movie is successful because it works on several levels. On the most basic level, we have a fun high-school comedy, which offers the stereotypical characters of the new girl, the bitch, the jock, the nerds, etc. and tells a story of trying to find your niche in school that many can relate too. There is some broad humor in the film which will appeal to a mass audience. On the next level, screenwriter Tina Fey based her script on the non-fiction book "Queen Bees and Wannabes", which describes the hardships that girls face in high school and the cruel way girls bully one another. The movie does a great job of illustrating this. Every high school film has that bitchy girl who is incredibly evil, but in Mean Girls, we learn more about the subtle ways that girls sabotage each other's success. The part of Mean Girls that I truly enjoyed was the sly and clever humor that Fey and director Mark Waters have inserted into the film. For example, Saturday Night Live's Amy Poehler appears are Regina's mom, a pathetic woman who wants to look young and be a "friend" to her daughter. She plays the role totally over-the-top and anyone can laugh at the Chihuahua which chews on her breasts. But, look a little deeper and youll see the truth in that character. There are real moms out there who are just like the one in the film, and thats truly scary and funny. The highlight in the film is the confessional scene where everyone has to do a trust fall.
Along with the multi-layered script, the actors lend a great deal to the film. Lindsay Lohan was placed in a very similar situation in the recent Confessions of a Teenage Drama Queen, but she fares much better here. She is still a bit too cutesy when she reaches the Plastic phase, but her energy helps the film. Rachel McAdams is excellent as the evil Regina, and the viewer cant help but hate her. Tina Fey appears in the film as math-teacher Ms. Norbury, and has some good lines. With Head Over Heels, Freaky Friday, and now Mean Girls, director Mark Waters in on a winning streak with chick flicks that contain a wicked sense of humor. Mean Girls can be enjoyed as a typical high-school film, but dig deeper and youll find a great comedy.
Mean Girls bullies its way onto DVD courtesy of Paramount Home Entertainment. The film is coming to DVD in two separate versions, one full-frame and the other widescreen. For the purposes of this review, only the widescreen version was viewed. The film has been letterboxed at 1.85:1 and the transfer is enhanced for 16 x 9 TVs. The transfer looks great, as the image is very sharp and clear, showing virtually no grain and no defects from the source material. The bright colors used in the film look fantastic, and there is only some minor oversaturation of the darker tones. There is some occasional edge-enhancement visible on the picture, but otherwise the video transfer looks fine. The DVD carries a Dolby Digital 5.1 audio track which provides clear dialogue, with no hissing or distortion. The constant rock music soundtrack sounds great, and there is some nice usage of surround sound to punctuate certain scenes.
The Mean Girls DVD comes with a few extras. We start with an audio commentary from director Mark Waters, actor/writer Tina Fey, and producer Lorne Michaels. This is an OK commentary, as the trio comments on the production of the film, talking about their cast and the choices in dialogue and costumes. The most interesting moments are when they talk about things that had to be changed or cut in order to avoid an R-rating. The DVD contains three featurettes. Only the Strong Survive is a 25-minute making of that avoids the usual clichs by focusing more on the story and the characters, and through comments from the cast and crew, we learn more about how the film came together. Author Rosalind Wiseman talks about her book Queen Bees and Wannabes in The Politics of Girl World (10 minutes). She speaks about the themes in the film and what her research has shown her about the behavior of girls. (Although, my sources tell me that Odd Girl Out by Rachel Simmons is a better book.) Costume designer Mary Jane Fort talks about the look of Mean Girls in Plastic Fashion (10 minutes). Word Vomit is a 6-minute blooper reel that contains some funny moments. So Fetch -- Deleted Scenes contains 9 scenes which can be viewed with or without commentary from Waters & Fey. All of the scenes are short, but there is some good stuff here. Interstitials are usually mini-movies, but the 3 contained on this DVD are simply TV spots that dont contain clips from the film. Finally, we have the trailer for Mean Girls, which is letterboxed at 1.85:1.











8 out of 10 Jackasses
blog comments powered by

Disqus
Search
Mean Girls

IMDB Link: Mean Girls
DVD Relase Date: 2004-09-21
DVD Aspect Ratio: 1.85:1
DVD Extras: Audio Commentary, Featurettes, Deleted Scenes, Gag Reel, Trailer
DVD Producer: Paramount Home Entertainment

Related Reviews
---
---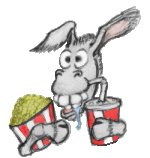 ---
---
Interested in writing for Jackass Critics?
E-mail Matt