The Simpsons Gone Wild review by Mike Long
Check out any on-line message board where DVDs are discussed, and you'll find someone complaining about the length of time between releases of
The Simpsons
season boxed sets. In what can be construed as an attempt to quell such rumblings amongst the fan-base, Fox has been releasing single-disc compilations of
The Simpsons
from time-to-time, beginning with the holiday-themed
The Simpsons: Treehouse of Horror
, which was followed by
Christmas with The Simpsons
. The latest release,
The Simpsons Gone Wild
doesn't have as clear-cut an overriding theme as those holiday releases, and may not please die-hard fans that way that the other DVDs have.
The Simpsons Gone Wild contains four episodes from the long-running hit series. The set opens with "Homer's Night Out" (Episode 10 from Season One, original airdate: 3/25/90), in which Homer (voiced by Dan Castellaneta) goes to a bachelor party at a local restaurant. Unbeknownst to Homer, Marge (voiced by Julie Kavner) has decided to take the kids, Bart (voiced by Nancy Cartwright), Lisa (voiced by Yeardley Smith), and Maggie (?) to that same eating establishment. Bart, who's just received his mini-spy camera in the mail, sneaks into the back room and snaps a picture of Homer strutting his stuff with a belly-dancer. Soon, copies of the scandalous photo are all over Springfield, and Homer is in big trouble.
Next up is "Sunday, Cruddy Sunday" (Episode 12 from Season Ten, original airdate: 1/31/99). In this show, Homer runs into Wally Kogen (voiced by Fred Willard), a man he'd previously met when they were both bilked by a pyramid scheme. Wally runs a travel agency and asks Homer to help recruit people for a trip to the Super Bowl. Well, for once, Homer excels at something and the tour bus is soon full and the guys on their way to the "Big Game", and many problems. Meanwhile, Lisa and Marge enjoy the "Vincent Price Egg-Painting Kit". This show is full of celebrity appearances, by the likes of Dan Marino, Troy Aikman, John Madden, Pat Summerall, and Dolly Parton.
Mr. Burns (voiced by Harry Shearer) decides that he needs a check-up in "The Mansion Family" (Episode 12 of Season 11, original airdate: 1/23/00) and he takes a trip to the Mayo Clinic. In his absence, he leaves the Simpsons in charge of his estate. While living in the huge house, Homer begins to feel that he's rich and, against Marge's wishes, decides to throw a party on-board Mr. Burns' yacht. But, Homer's plan goes astray and he's soon besieged by fighting monkeys and pirates. (But, no fighting monkey pirates...)
In the final episode "Homer the Moe" (Episode 3 of Season 13, original airdate: 11/18/01), Moe the Bartender (voiced by Hank Azaria) feels that he's stuck in a rut, so he decided to visit his alma mater bartending school, Swigmore University. Once there, he speaks with one of his old professors, who inspires Moe to re-model his bar. The resulting establishment (now known as just "M") attracts trendy yuppy types, which makes Homer, Carl (voiced by Hank Azaria), Lenny (voiced by Harry Shearer), and Barney (voiced by Dan Castellaneta) feel unwelcome, so Homer decides to open his own bar in his garage, and convinces REM to play there!
The first two single-disc DVD releases of The Simpsons had a certain appeal to both collectors and casual fans because of their overriding themes. I'm not sure at whom The Simpsons Gone Wild is aimed. As "Homer's Night Out" is already available on The Simpsons: Season One set, most loyal fans will already have this one. And while the other three episodes are much more recent, and thus, won't be available in season sets for quite some time, that doesn't guarantee that The Simpsons-philes can't wait. But, while the excuse to group together these episodes may be flimsy, that's not to imply that the episodes themselves aren't good -- let's face it, if it's The Simpsons, it's got to be pretty good at worst. While "Homer's Night Out" certainly shows how dated the animation from Season One is, the show still contains some classic jokes, with "Cold Pet Rat" being my favorite. On the surface, "Sunday, Cruddy Sunday" is little more than an excuse to trout out a slew of celebrities, but the show does have some great lines ("Everybody likes dune buggies.") and the whole Vincent Price thing shows just how weird the show can get. I must admit that "The Mansion Family" is one of my all-time favorite episodes and that I would get this DVD solely for its presence. Mr. Burns physical at the Mayo Clinic is one of the funniest segments ever on the show and I sill laugh out loud at the scene. "Homer the Moe" is the weakest of the bunch, as it's basically a one-note episode. Still, "I believe I had a hat." gets me every time and the scenes with REM are funny. The Simpsons Gone Wild is most likely an attempt to cash in on The Simpsons DVD popularity, but as it can be had for around $10 in most locations, it's still a good buy for fans of the show.
The Simpsons Gone Wild parties onto DVD courtesy of 20th Century Fox Home Entertainment. The four episodes on this DVD are presented in their original 4:3 aspect ratio. Being the oldest episode, "Homer's Night Out" looks somewhat different from the others. The image is sharp, but it is somewhat soft and there is noticeable artifacting. Also, the animation stutters regularly. The other three shows look much better, as their images rival digital broadcast quality. The picture is sharp and clear and the colors look fantastic. All four shows feature Dolby Digital stereo audio track, which provides clear dialogue and music, but offers little ambience. The only extra on the disc is a 3-minute clip-reel called "Krusty the Clown: King of Comedy", which features many great Krusty lines.










7 out of 10 Jackasses
blog comments powered by

Disqus
Search
The Simpsons Gone Wild

IMDB Link: The Simpsons Gone Wild
DVD Relase Date: 2007-09-07
DVD Aspect Ratio: 1.33:1
DVD Extras: Clip Reel
DVD Producer: 20th Century Fox Home Entertainment

Related Reviews
---
---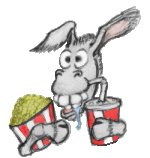 ---
---
Interested in writing for Jackass Critics?
E-mail Matt