Bill Cosby, Himself review by Mike Long
When I write reviews, I generally try to make them as useful to the reader as possible, by packing them with information about the movie (hopefully without spoilers) and by giving a clear, concise critique on why I though the film did or didn't work. Well, that won't be the case with
Bill Cosby, Himself
, as this film is simply a classic and there's not much else to say about it.
Bill Cosby, Himself is a stand-up comedy concert which was filmed in Hamilton Place, Hamilton, Ontario, Canada presumably sometime in 1982 or 1983, as the film was released in 1983. For one hour and forty minutes, Bill Cosby stands on stage and simply talks about life. There is nothing overly zany or far-fetched about his performance. Cosby opens the show by talking about drinking and drugs and then a trip to the dentist, two topics that most everyone can relate to. From there on out, he discusses the highs and lows of parenthood, beginning with the birth of his first child and moving on through many situations, such as dinnertime, bathtime, and general misbehavior. He also talks about gender differences and sibling rivalries. All of this is done in a very wholesome and genuine manner, but there is also a dry and sly mannerism to his performance, as Cosby clearly enjoys getting on stage and exorcising his personal demons.
Let's be honest, much of the material in Bill Cosby, Himself feels very dated today. That's because many of the film's one-liners and ideas found their way into The Cosby Show, and I've often heard that it was Bill Cosby, Himself that spurred the creation of that show. Having said that, Bill Cosby, Himself still contains some classic lines and is one of the few stand-up comedy performances that can be enjoyed by viewers of most any age (although kids won't get most of it). The film was a staple on HBO in the early 80s and thus has become a touchstone of sorts for Generation X'ers. Lines like "brain damage", "I don't know", "Smobak! Fibar!", and the immortal "Dad is great! Make us chocolate cake!" will most likely bring a smile to the face of anyone who's seen this film. Today, most people only know Bill Cosby as the star of an 80's TV series and as someone who isn't afraid to speak his mind. They shouldn't forget that the man began his career in stand-up and Bill Cosby, Himself shows that he truly mastered that art form.
Bill Cosby, Himself giggles its way onto DVD courtesy of 20th Century Fox Home Entertainment. The DVD contains both the full-frame and widescreen versions of the film. For the purposes of this review, only the widescreen version was viewed. The film has been letterboxed at 1.85:1 and the transfer is enhanced for 16 x 9 TVs. The image is sharp, but rather grainy, and there is a noticeable amount of artifacting on the image. Even worse are the colors. During the show, Bill Cosby stands (or rather sits) in front of a solid background which constantly changes colors. When it goes to red, there is a visible amount of oversaturation to the hues. But, the transfer still looks better than VHS. The DVD carries a Dolby stereo audio track which renders all of Cosby's jokes clear and audible and he is never overpowered by the audience laughter. The only extra on the DVD is the theatrical trailer for Bill Cosby, Himself, which is presented full-frame and features some bizarre animation which would feel at home in a Monty Python film.










7 out of 10 Jackasses
blog comments powered by

Disqus
Search
Bill Cosby, Himself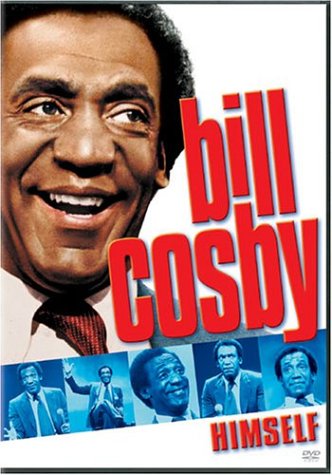 IMDB Link: Bill Cosby, Himself
DVD Relase Date: 2004-08-10
DVD Aspect Ratio: 1.85:1; 1.33:1
DVD Extras: Trailer
DVD Producer: 20th Century Fox Home Entertainment

Related Reviews
---
---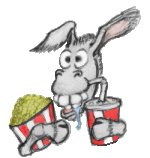 ---
---
Interested in writing for Jackass Critics?
E-mail Matt