The Princess Diaries review by Mike Long
If you've been anywhere near a Disney Store in the past few years, then you've probably noticed that the company has been milking (not literally) the female characters from many of its animated films with a line of products known as "The Princess Collection". And while Belle and Cinderella are recognizable and interesting characters, Disney has now started paying attention to what may be the best princess in their stable, Princess Mia from
The Princess Diaries
. That 2001 film has a new sequel arriving in theaters this month and is getting the royal DVD treatment in a new 2-disc set. And while this is ostensibly a fantasy for teenaged girls,
The Princess Diaries
proves itself to be a very entertaining film.
As The Princess Diaries opens, we meet Mia Thermopolis (Anne Hathaway), a very awkward 15-year old girl. Mia has frizzy hair, wears glasses, and is generally ignored by everyone at her private school, except for her best friend, Lilly (Heather Matarazzo) and Lilly's brother, Michael (Robert Schwartzman). The only other people at school who notice Mia are the evil Lana (Mandy Moore) and her group of popular girls. Mia lives with mother, Helen (Caroline Goodall), who is an eccentric painter, and her cat, Fat Louie. One day, Mia's mother informs her that her paternal grandmother, whom Mia has never met, has come to town and would like to meet Mia.
This simple meeting will change Mia's life forever. For you see, Mia's grandmother, Clarisse Renaldi (Julie Andrews) is the queen of a European country called Genovia, and her late son, Mia's father, was the prince of Genovia. This means that Mia is in line to be the princess of Genovia. As one can imagine, Mia is very shocked by this news. To make matters worse, Mia must accept the crown in a few short weeks, or Genovia will cease to exist. (I never really understood why.) This course of events changes Mia's outlook on life, just as a makeover changes her outward appearance. As the news of the new princess spreads around school and eventually around the city, Mia must deal with her newfound fame and try to decide what is really important to her in life.
It's no surprise that Disney would want to make The Princess Diaries, as the tale of a teenage girl who learns that she's a princess could have been plucked from many of their animated films. However, unlike those cartoons which often contain many subplots with witches and dragons and the like, The Princess Diaries wisely focuses on Mia. The film itself isn't done in diary form (I'm not familiar with the source novel, so I don't know if it reads like a diary), but Mia is in nearly every scene in the film, and rarely do we see the action from anyone else's point of view. This keeps the movie very focused on Mia and the main story, and discourages director Garry Marshall from straying.
Granted, the story in The Princess Diaries isn't very original and is much like many other fairy tale films. The thing that makes this movie refreshing is its star, Anne Hathaway. Not only is she beautiful, but she's instantly likable, and Hathaway shows the ability to work through Mia's many emotions in a convincing manner. Of course, it helps that Hathaway is surrounded by a great cast such as Julie Andrews and Hector Elizondo. For a chick flick aimed at teenage girls, The Princess Diaries shows off a great deal of heart and has interesting characters. The acting is good, and if one can get past some of Garry Marshall's odd direction (most every scene has a shot of some random object), then they will find a fun movie.
The Princess Diaries is anointed to DVD courtesy of Disney DVD. This 2-disc set contains both the widescreen and full-frame versions of the film. This new set replaces the original DVD releases of the film, which premiered in December, 2001. For the purposes of this review, only the widescreen version was viewed. The film has been letterboxed at 1.85:1 and the transfer is enhanced for 16 x 9 TVs. The image looks very good, as the picture is sharp and clear, displaying a very limited amount of grain and showing no video noise. The colors look very good and the image is stable. The picture is slightly dark at times, but that's the only real flaw here. The Dolby Digital 5.1 audio track sounds fine as it provides clear dialogue with no hint of distortion. Surround sound and subwoofer effects are limited mostly to musical cues and crowd noises.
The newly released The Princess Diaries DVD contains all of the extra features as the previous release, plus a few new ones. We start with an audio commentary from stars Anne Hathaway and Julie Andrews. The gimmick here is that they are having an English high-tea while doing the commentary. This talk isn't incredibly informative, but it is fun and the pair clearly have a great time doing it. They are able to relate some anecdotes about making the film. Much less coherent is the commentary from director Garry Marshall. This chat is entertaining as well, but it's also truly scary, as Marshall talks a-mile-a-minute, pointing out which cat is playing Fat Louie in a given scene and yelling about people having the same birthday. In between these rants, Marshall does give us some information about the production of the film. The remainder of the extras are split between the two DVDs. The Full-frame disc opens with "A New Princess Featurette" (24 minutes). This is a pretty in-depth making of featurette which offers comments from the cast & crew (including producer Whitney Houston, who has some meat on her bones, so this must be old). We get an entertaining look at the festivities from the set, such as a Thanksgiving parade. And based on Garry Marshall's comments, he's in his own featurette. Speaking of the zany Marshall, he offers introductions to the 8 deleted scenes contained herein, which total 18 minutes with the intros. Here, Marshall rambles some more, introduces his deleted cameo in the film, and finally gives tips on how to pick up women. This side is rounded out by two music videos, "Miracles Happen" by Myra and "Supergirl" by Krystal Harris. The Widescreen side offers "Livin' Like a Princess", a 3 1/2 minute short with Monty Pythonesque animation that describes the life of a royal. The 4-minute blooper reel doesn't contain many laughs. And finally, we have "Royal Engagement: A Princess Diaries 2 Sneak Peek" (5 minutes) which lets us know why this DVD was re-released to begin with.









6 out of 10 Jackasses
blog comments powered by

Disqus
Search
The Princess Diaries

IMDB Link: The Princess Diaries
DVD Relase Date: 2004-08-03
DVD Aspect Ratio: 1.85:1; 1.33:1
DVD Extras: Audio Commentaries, Featurettes, Deleted Scenes, Bloopers, Music Videos
DVD Producer: Disney DVD

Related Reviews
---
---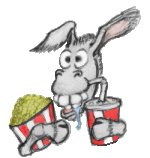 ---
---
Interested in writing for Jackass Critics?
E-mail Matt