Enemy at the Gates review by Jackass Tom
Stick to the Snipers
Enemy at the Gates opens with a moving map of the globe, queueing us to the area of action. Its moves us across the Soviet Union as a black cloud enshrouds it to the point of Stallingrad. It looks much like a bit of Indiana Jones clipart. Then it takes us to Stallingrad where the main character Vassili (Jude Law) is a young confused looking Russian soldier. He is hurried onto a boat with a sardine crew of fellow soldiers and shipped immediately to the war. Before they even reach land, soldiers are shot by planes, men in the water are killed (by their own commander), and the bodies begin to pile in an explosion of surround sound majesty. As the men get on land more begin to fall. They are finally given guns and told to shoot. If they dont have a gun, they can pick one up from a corpse. Men are left without limbs. Shot down before they know what hit them. It all lasts for a good 20 minutes. Sounds a bit like Saving Private Ryan. By this time I realize that the director (Jean-Jacques Annaud) must have been doing his Spielberg homework. It makes me wish I had a better setup. Its is unfortunate the rest of the film doesn't play out as well.
Vassili falls behind enemy lines untouched and quickly displays a keen ability for picking his targets with a rifle. He is discovered by a printer, Commisar (Joeseph Fiennes), and becomes a rallying point for the losing Soviet army. They might have gotten their asses kicked last time but at least this kid nailed ten of their guys. He graces the headline of these miliitary newspapers day after day; each one shows the number of kills multiplying and the Nazi bodies stacking up. The German army begins to learn of this legendary sharp shooter and others like him, so they attempt to counter with their own. Enter Major Konig (Ed Harris holding his own) who has been sent to Stallingrad with the sole purpose of taking down Vassili.
Konig quietly plays mind games with the Russian Wondershot. There is a cat and mouse play between the two where the venerable assasin tries to pull out the younger one out of hiding, time and time again. The roles reverse and double over each other but more often than not the more seasoned gunman knows better than to take bait. He knows how to rely on his information. Instead of shooting at a helmet poking out of a window, he waits until Vassili moves past an open wall (which he learns from a Russian prisoner he frequently does). He plays patiently. Konig sits in his position watching, taking in clues he gets from decoys. Because he is experienced and he knows that patience is the key to being the hunter. This little mind game is what keeps me watching the movie. There is a real element of suspense when you see the view through a sniper's riffle.
Enemy at the Gates seems to miss another key to being a sniper is secrecy. A sniper should remain hidden and unknown...unknown...UNKNOWN!! Do you see what I am getting at? His face is printed in the newspapers as the all-star Russian sniper. They print how many kills he has amassed like Pavel Bure goals. Commisar creates a little bio of him ("In this weeks TIGER BEAT, the cutest gunmen in the Russian army: What are they really like?? and Kirk Cameron!"). They might as well place a target on the poor guy and parade him around the hotzone in hot pants. They know who to kill. They know who is knocking down their guys like RAID on roaches. Way to go Red Army, give away your intelligence. Guess security was never really an issues back in the 40s.
What also amazes me about movies like this is how accents seem to come and go. One minute you are Russian, the next you are damn British. Actually most of the actors in this movie end up keeping their accents. Instead of being the Russians versus the Germans, it looked like the English (Fiennes, Weisz, and Law) versus the Americans (Harris). Instead they toss in the word 'comrade' as if this familiar term that among American filmgoers clicks as Russian seals the deal. Yeah, I buy it. While you are at it drink Vodka and talk Marx; that'll seal the deal.
Apparently I missed the intro to the love story between Vassili and Tania Chernova (Rachel Weisz). Probably the scene where I blinked, because it seemed to just appear all of a sudden. Number one, a love story has little place in a war film, it ends up looking silly and overextends the narrative. Number two can we really see any chemistry between the two if the true emphasis is supposed to be on two snipers? Do we even want it? The answer to that should be 'no'. If you answered 'yes' then what are you doing in a war film in the first place? But at one point Rachel Weisz does say "Well I'm the donkey" which makes me laugh on levels you can't imagine. Or maybe you can. If so join me in a chuckle ...HA HA!
I can't tell if I had seen this in the theatre whether I would have enjoyed it more. To be honest, my setup sucks. The pluses are there (the sets, the sounds, the gunplay, the planning, the anticipation), but the rest of the movie slows that down to a bunch of clips that you can skip to on DVD. Its really hard to care about any of the characters. Beyond their situation and their occupations they just aren't interesting (except maybe the bad guy Konig) and the drama is a little silly. If action and war is your thing you might enjoy sections of the movie but there is a lot of snoozin' time left with its lengthy 131 minute timestamp.





5 out of 10 Jackasses
blog comments powered by

Disqus
Search
Enemy at the Gates

IMDB Link: Enemy at the Gates
DVD Aspect Ratio: 2.35:1
DVD Extras: Cast and Crew Interviews, Behind the Scenes Featurette, Additional Scenes

Related Reviews
---
---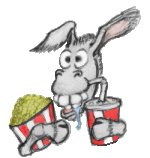 ---
---
Interested in writing for Jackass Critics?
E-mail Matt