Eating Raoul review by Mike Long
The recent hullabaloo with Janet Jacksons breasts, the FCC, and the outcry for decency has the entertainment industry on a strange course, which will no doubt create new (or reinstate old) taboos for films and TV. And this bizarre moral frenzy will only serve to suppress the memories of those films which broke the taboos in the first place, such as Paul Bartels low-budget comedy,
Eating Raoul
.
Paul Bartel and Mary Woronov star in Eating Raoul as Paul and Mary Bland, a very conservative and uptight couple. Mary is a nurse and Paul is a frustrated wine connoisseur, but their dream is to open their own restaurant, which they plan to call Paul and Marys Country Kitchen. The only problem is that they dont have enough money to place a down payment on the building. One night, a drunken man who is on his way to a swingers party, inadvertently comes into the Blands apartment and attacks Mary. Paul acts quickly and kills the man with a frying pan. As they are examining the body, they realize that the dead man has a great deal of cash on his person. Surmising that the filthy swingers who inhabit their apartment building all have money to burn, Paul and Mary begin luring horny men to their apartment, killing them, and taking their money -- all for the sake of buying their restaurant. In the course of this scam, The Blands meet Raoul (Robert Beltran), a burglar who begins assisting them in disposing of the bodies. But, can Paul and Mary trust this crook, and what intentions does Raoul have towards Mrs. Bland?
Eating Raoul is a great example of how a once edgy film can feel very, very dated. When the movie was first released in 1982, its portrayal of sex and sexual repression in such a darkly comic manner was most likely very unsettling to many viewers. Today, the movie is somewhat funny, but many of the jokes will feel quite tired to those who are seeing the movie for the first time. Still, one must admire how Bartel, who along with Woronov is an alumnus of Roger Cormans world of low-budget filmmaking, is able to squeeze a feature-film out of his miniscule budget. In many ways, the film could have been staged as a play, as most of the scenes take place in the Blands apartment. Bartel does try to spice things up by including a large party scene (which remains the funniest moment in the film) and one (sad) action scene.
While the film does contain a fairly large cast and some interesting cameos (including Buck Henry, Ed Begley, Jr., Edie McClurg, and if you look fast, John Landis), this is essentially Bartel and Woronovs film. The movie may suffer from outdate jokes and a low-budget, but The Blands are truly inspired characters. The fact that two sexually repressed people would live in L.A. in the early 80s is a great source of comedy, and the outlandish nature of their uptight behavior may be lost on todays audiences. When the Blands consult a dominatrix, who is also a housewife, the movie begins to let us in on the joke that people shouldnt be judged by their overt sexual behavior. Eating Raoul still contains some funny moments (a sight-gag involving the Blands stuffed animals) had me rolling, but most of the jokes havent held up very well over the years. Yet, in our new climate of decency, a comedy which involves murderers who pose as prostitutes and a drunken orgy may find a new audience who are looking for something wild.
Eating Raoul swings onto DVD courtesy of Columbia/Tri-Star Home Entertainment. The film has been letterboxed at 1.85:1 and the transfer is enhanced for 16 x 9 TVs. If the jokes in Eating Raoul dont remind you of how old the movie is, then this transfer will. The image is very grainy and soft. The picture is littered with defects from the source print, such as scratches and black & white spots. During the action scene, a black obstruction is seen at the bottom of the screen, which resembles Tom Servos head, for you MST3K freaks out there. The colors vary from good to very washed-out. The image is blurry at times, and the picture jitters occasionally. Artifacting is very noticeable throughout the movie. The DVD carries a Dolby Digital Stereo audio track, which comes off wonderfully when compared to the video. The audio provides clear dialogue and there is no hissing. The music in the film sounds fine, and the infrequent stereo effects are good. But, the video transfer is a true shame considering the fact that many consider this film to be a classic. The DVD contains no extra features.








5 out of 10 Jackasses
blog comments powered by

Disqus
Search
Eating Raoul

IMDB Link: Eating Raoul
DVD Relase Date: 2004-04-13
DVD Aspect Ratio: 1.85:1
DVD Extras: None
DVD Producer: Columbia/Tri-Star Home Entertainment

---
---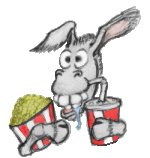 ---
---
Interested in writing for Jackass Critics?
E-mail Matt