Splash (20th Anniversary Edition DVD) review by Mike Long
I miss Tom Hanks. I know that he's still out there making movies, so allow me to elaborate. I miss the old Tom Hanks. I miss that goofy, average Joe who made comedies and wasn't afraid of dumb, physical comedy. The Tom Hanks of today seems to be much more interested in serious dramas. Ah, how I long for the days of
Bachelor Party
and
Big
. And who can forget Tom's first foray into big-screen comedy,
Splash
, which is now available in a new 20th Anniversary Edition DVD.
In Splash, Hanks stars as Allen Bauer, a man who runs a produce company with his wild brother, Freddie (John Candy). Allen's girlfriend has just left him and in order to fight his depression, he heads for one of his favorite spots, Cape Cod. Once there, he's involved in a minor boating accident, and is rescued by a beautiful and naked woman (Daryl Hannah), who promptly disappears into the water, revealing to us (the audience) that she is a mermaid. Bewildered, Allen returns to the city, and is delighted when he receives a call from the police, learning that this strange woman has come to New York and is looking for him. Despite the fact that this woman, whom Allen names Madison, is quite odd (she acts as if she's from another planet), Allen finds himself irresistibly drawn to her. However, an encounter with an embittered scientist (played by Eugene Levy) forces Allen to learn that Madison is indeed a mermaid. How will the man who thought he'd never love again take this news?
Forget the mermaid concept. Forget that Splash comes from director Ron Howard. This is Tom Hanks' movie. The man who'd been seen on TV in Bosom Buddies and on-screen in He Knows You're Alone takes the rein of this movie and simply runs with it. The kooky comedic touches which would save movies like Joe Versus the Volcano and the romantic quality of Sleepless in Seattle were born in this film and it could be said that Splash shaped Hanks' career. Many viewers may not remember or may have never experienced Hanks going all out for laughs, but once you see his "Mr. Mango on my shoulder!" routine, you won't forget it.
But, that's not to say that the rest of the cast are slouches. John Candy also gets his share of laughs in the film. And while many love the racquetball court scene, I still enjoy the scene in which Candy explains Allen tour of duty in Vietnam to a potential customer. Eugene Levy also has some good moments. And of course, there's Daryl Hannah. And while her career may have never taken off like Hanks, she is good here, exuding a unique blend of innocence and confidence. The story in Splash comes across as somewhat lame -- it never gets beyond the "she's a mermaid, now what" aspect -- but the movie does contain some great comedic moments. Howard takes a hands off approach to directing the film, allowing the actors to bring the comedy to the audience, while deftly steering the emotional side of the story. Splash may not have all of the makings of a classic, but there are some truly memorable scenes here and one can't ignore the performance of a little known actor named Tom Hanks.
Splash comes to DVD courtesy of Touchstone Home Entertainment. The film has been letterboxed at 1.85:1 and the transfer is enhanced for 16 x 9 TVs. Splash was previously released to DVD 5 years ago, so one would expect this new, 20th Anniversary Edition to be perfect. Yet, it's not. The image is clear, but there is noticeable grain in many of the shots. Some of the shots actually look blurry. Defects from the source material, such as black spots and minor scratches, are visible in many scenes. Ringing artifacts are visible in some scenes. The colors do look good and the image is stable in the sense that it's never too dark. The DVD carries a Dolby Digital 5.1 audio track, which, unfortunately, sounds like a re-mix. The bulk of the audio comes from the center and front speakers, with only musical cues and minor sound effects coming from the rear. There are basically no subwoofer effects. The stereo effects are OK, but overall, this track sounds flat.
The DVD contains three extra features. We start with an audio commentary which features director Ron Howard, producer Brian Grazer, and writers Lowell Ganz and Babaloo Mandell. This is a fun commentary, as this quartet reminisces about the making of Splash. They talk about the challenges of making the film -- working on a low budget with unknown actors -- and what contributed to the film's success. Listening to this talk makes it clear that the movie was a true labor of love, and we get an appreciation of that from this chat. Next up is a featurette entitled "Making a Splash" (24 minutes). This is one of the best "making ofs" that I've seen in a while. (It always seems that older films yield better featurettes, as the participants aren't afraid to be honest.) This segment features comments from Hanks, Hannah, Howard, Grazer, Levy, Ganz & Mandell, as they discuss how Splash was made. Many interesting tidbits are revealed here, such as the fact that Warren Beatty was working on a competing mermaid movie at the time and that Michael Keaton and John Travolta were considered for the lead roles in Splash, or that Splash was the first film to be released by Disney under the Touchstone banner. This featurette offers a great deal of behind-the-scenes footage and snippets from a deleted scene from the film. The extras are rounded out with the original audition tapes for Tom Hanks and Daryl Hannah.










7 out of 10 Jackasses
blog comments powered by

Disqus
Search
Splash (20th Anniversary Edition DVD)

IMDB Link: Splash (20th Anniversary Edition DVD)
DVD Relase Date: 2004-03-23
DVD Aspect Ratio: 1.85:1
DVD Extras: Audio Commentary, Featurette, Audition Tapes
DVD Producer: Touchstone Home Entertainment

Related Reviews
---
---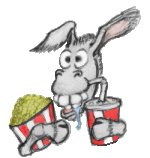 ---
---
Interested in writing for Jackass Critics?
E-mail Matt