In America review by Mike Long
The characters in the film
In America
struggle to against the odds to succeed. And as those brave souls fight, the movie itself is facing a similar struggle. There are several elements in
In America
which should doom the film, but the movie is somehow able to overcome. This Oscar-nominated work will soon be available on DVD.
In America comes for filmmaker Jim Sheridan and is a fictionalized account of his immigration to the United States. Johnny (Paddy Considine) and Sarah (Samantha Morton) are an Irish couple who illegally immigrate from Canada to the United States, along with their daughters, Christy (Sarah Bolger) and Ariel (Emma Bolger). The family has little money, so they take a ramshackle apartment in the Hell's Kitchen section of New York City. Aside from being low on money, the family is an emotional wreck, as they have lost a child who was named Frankie. Johnny is an aspiring actor, but can't get any roles, so he an Sarah are forced to take on menial jobs. As the family struggles to survive, Christy and Ariel learn about America and befriend a reclusive artist, Mateo (Djimon Hounsou). The girls are the heart of the family, and no matter how bleak things get, their wide-eyed innocence keeps their parents going.
To say that In America is a depressing movie would be the understatement of the decade. The story of the poor immigrant family who must move into the crappy apartment building which is riddled with junkies and who can't get good jobs and are forced to scrape for every penny is incredibly depressing and it's difficult to believe that any good can come of this situation. This is one movie that many will feel compelled to turn away from, as the problems and indignities continue to mount against these pitiful souls. Yet, the characters are so genuine and spirited that we can't take our eyes off of them. How can these people keep going when all of the odds are against them? I don't know the answer to that question, but they do keep going, and we want to see if A) they finally win, or B) a world-record amount of crap gets tossed onto them. But, once again, the downtrodden mood of the film will be too much for some viewers and the movie does deal with some touchy subjects, even beyond the death of a child. Also, if you are obsessed with details, you may have some problems with In America, because Sherian is not. There are many things about the family and their plight that we don't learn, but they ultimately aren't important, as the movie is only concerned with the present, not the past.
As a matter of fact, some may say that the plot of In America is too simplistic. If that is the case, then it's the characters which drive the film, and those characters are piloted by some amazing actors. Considine is terrific as the guilt-ridden Johnny, although I found the fact that he looks like the love-child of Clive Barker and D.B. Sweeney distracting at times. Samantha Morton is good, and it's obvious why she got the Oscar nod, but the fact that her hair never grows made me crazy. Hounsou's role is important, but quite small, still his screen presence is undeniable. But, it's the Bolger sisters, Sarah and Emma, who steal the film. These two young actresses are incredibly good here, as they are able to drive home the believability of the emotional scenes. The girls are very cute, and their angelic appearances, coupled with the trying situations, creates the guts of this film. In America is a challenge to watch, but the viewer will be rewarded with a moving film which features some excellent acting.
In America immigrates to DVD courtesy of 20th Century Fox Home Entertainment. The DVD offers both the widescreen and full-frame version of the film. For the purposes of this review, only the widescreen version was viewed. The film has been letterboxed at 1.85:1 and the transfer is enhanced for 16 x 9 TVs. The image looks very good, as it is free from grain for the most part, although a trace amount can be seen in the daytime scenes. Sheridan has shot the film in a very natural style, and the colors look fine in this transfer, although they are slightly diffused at times. The fleshtones look realistic and the image is never too dark. Some edge enhancement is visible, but not enough to be distracting. The DVD carries a Dolby Digital 5.1 audio track which delivers clear dialogue and shows no distortion or hissing. The bustling sounds of the city come to life through the surround speakers and the track also displays good stereo effects. The dynamic range is perfect as the film's frequent quiet moments are never overrun by the city noise. Overall, a solid transfer.
The DVD contains three extra features. We start with an audio commentary from co-writer/director Jim Sheridan, who speaks at length throughout the film. Sheridan, who sounds amazingly upbeat for a man who made such a sad film, does a good job of balancing stories about the making of the film, while pointing out which aspects of the movie were taken from his real life. It's too bad that his daughters, who shared script-writing credit with Sheridan, didn't appear on this track. The DVD contains 10 deleted scenes, which can be viewed with or without commentary from Sheridan. (And there is a "Play All" selection.) Those of you hoping to learn more about the family won't find those answers in these scenes, but we do get a few more moments with Mateo. Finally, there is a 5-minute "press-kit" style "making-of" featurette, which contains comments from the cast and crew, as well as behind-the-scenes footage. This is worth watching, as Morton relays a plot-point concerning the family's migration, which isn't in the finished film.











8 out of 10 Jackasses
blog comments powered by

Disqus
Search
In America

IMDB Link: In America
DVD Relase Date: 2004-05-11
DVD Aspect Ratio: 1.85:1; 1.33:1
DVD Extras: Audio Commentary, Deleted Scenes, Featurette
DVD Producer: 20th Century Fox Home Entertainment

Related Reviews
---
---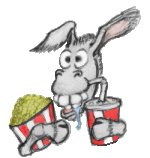 ---
---
Interested in writing for Jackass Critics?
E-mail Matt