The Critic: The Complete Series review by Mike Long
I typically don't watch a lot of network television. (Usually because I'm watching DVDs!) This has to do with the fact that I find so many of the shows redundant and interchangeable, particularly when it comes to the character's professions. How many cop, lawyer, and doctor shows do we need? (Especially when you consider that these shows have been around since TV began.) I want a show which features a different type of job, and what better show to appeal to me than
The Critic
, a show whose complete two-season run has just arrived on DVD.
The Critic focuses on Jay Sherman (voiced by Jon Lovitz), a film critic who hosts a TV show called "Coming Attractions" Jay is divorced and lives alone in Manhattan. He is bullied by his boss, Duke Phillips (voiced by Charles Napier) and belittled by his make-up lady, Doris (voiced by Doris Grau). Jay does get positive attention from his son, Marty (voiced by Christine Cavanaugh) and his sister, Margo (voiced by Nancy Cartwright). Jay's mother, Eleanor (voiced by Judity Ivey) is a true upper-crust blue-blood, who can't be bothered by negative thinking, and Jay's father, Franklin (voiced by Gerrit Graham) is insane. Handsome Australian actor Jeremy Hawke (voiced by Maurice LaMarche) is Jay's only true friend. When Jay isn't watching or reviewing movies, he's usually caught in some predicament which further damages his self-esteem. In Season 2 of the show, Jay gets a girlfriend named Alice (voiced by Park Overall).
The Critic premiered on ABC in 1994 and ran for 13 episodes before being cancelled. The show was then picked-up by Fox, who produced 10 more episodes before the show was dropped again. On the DVD box, Jay Sherman proclaims "It stinks!" (which was his trademark phrase), while that may be a bit harsh, looking back, it's very easy to see why the show wasn't accepted. I can easily see most people being turned off by Jay, and any show with an unlikable main character is doomed for failure. Jay is a short, fat, balding, insecure, gluttonous, pretentious, know-it-all who alienates nearly everyone he meets. Surround Jay with a supporting cast of characters who constantly point out his flaws and you've got a show that is a challenge to like. This DVD set contains all 23 episodes of the show from its two seasons. It's great that Columbia/Tri-Star released this as a package, so that we can witness the changes that Jay went through for Season 2 to make him more likable. He was re-designed, making him less angular, and he got a girlfriend. If you pay close attention to the opening credits, you may even notice that the exterior of Jay's apartment has changed from a high-rise to a more moderate brownstone. Still, these changes didn't help with the show's popularity.
So, why is The Critic worth watching? It's the jokes, folks! The show comes from executive producer James L. Brooks, and producers Al Jean & Mike Reiss, all of whom worked together on The Simpsons. And while The Critic is not as funny as The Simpsons, it does contain a wild sense of humor that is infectious. The bulk of the jokes come from two sources; making fun of Jay, or making fun of Hollywood. The jokes which insult Jay are usually pretty obvious, except for a "Willy Wonka" reference -- I didn't see that one coming. But, the lampooning of Hollywood is always a hoot. Jay reviews at least one fake film per episode (if not more) and the spoofs are always dead on. Even though some of the references may seem dated now, the movie in-jokes are great. There is also a great deal of comedy derived from the supporting cast, especially the egomaniacal Duke Phillips and Jay's insane father (the Mrs. Doubtfire gag still kills me). The Critic may have never garnered the mainstream appeal of The Simpsons, but it clearly had its fans, as Gene Siskel and Roger Ebert (who definitely influence the look of Jay Sherman) lent their voices to the show. And with this DVD release, maybe The Critic can now find a new audience.
The Critic eats its way onto DVD courtesy of Columbia/Tri-Star Home Video. The 3-disc set contains all 23 episodes of the show. The episodes are presented in their original 1.33:1 aspect ratio. The video quality of the shows varies throughout this set. Some of the episodes look perfect, showing no problems whatsoever. However, some shows, especially those from Season 2, look as if the source material could have used a cleaning, as black and white spots are visible throughout. Also, the digital transfer has highlighted every mistake and paint-brush stroke in the animation cels, giving the image a swirling effect at times. The show's muted color palette comes across well here, although some of the later shows look a bit washed out. There are some momentary artifacting problems, but they pale in comparison with the source material issues. The DVDs carry a Dolby Digital Stereo audio track. These tracks provide clear dialogue and music reproduction with only a slight amount of hissing. The audio quality is fairly standard, with the occasional impressive stereo effect.
The set contains several extras, although, none are listed on the DVD box. Disc 1 contains audio commentary on the episodes, "Pilot", "Miserable", "Eye on the Prize", and "Every Doris Has Her Day". Commentaries appear on the Disc 2 shows, "L.A. Jay", "A Pig-Boy and His Dog", "Sherman, Woman, and Child", and "Sherman of Arabia". Disc 3 has commentaries for "Siskel & Ebert & Jay & Alice". These commentaries feature producers Al Jean & Mike Reiss, producer/animation supervisor Rich Moore, and voice actors Maurice LaMarche and Nick Jameson, while some feature special guests, such as actor Charles Napier. These commentaries are both enlightening and great fun. As these guys have had 10 years to reflect on The Critic, they are brutally honest in their assessment of the show and how they were treated by the networks. The brutally honest commentaries are always the best. Disc 2 contains a special feature for the episode "A Pig-Boy and His Dog" in which an icon will lead the viewer to see storyboards and animatics for the episode, accompanied by commentary by Rich Moore and art director David Cutler. Disc 3 offers two features, "Trailer Parodies" (5 minutes) and "Top Ten List" (6 minutes), which feature most of the movie spoofs from the series. (One of the best parts here is the menu, which spoofs the trivia-filled slide presentations which most theaters now run prior to movies.) "Creating the Critic" is a 12-minute featurette in which Jean, Reiss, and Moore discuss the origins of the show, from designing Jay to hiring Jon Lovitz to getting the show on the air. Finally we have 10 "Webisodes" of The Critic, which were seen on-line in 2000. These brief segments feature Jay commenting on movies from 2000 while still experiencing all of the indignities that followed him on the series. The animation is good, although jittery at times, but the image is incredibly clear, and there are some great lines here.











8 out of 10 Jackasses
blog comments powered by

Disqus
Search
The Critic: The Complete Series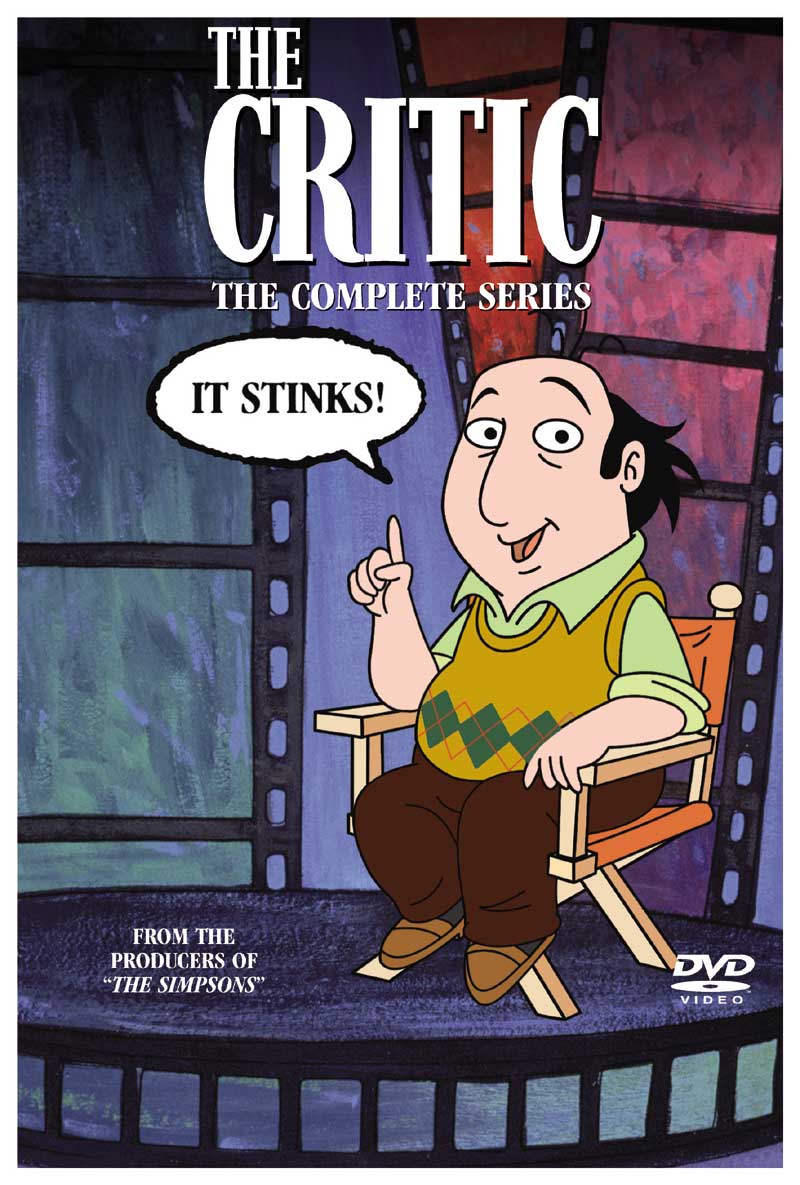 IMDB Link: The Critic: The Complete Series
DVD Relase Date: 2004-01-27
DVD Aspect Ratio: 1.33:1
DVD Extras: Audio Commentaries, Featurette, Webisodes, Storyboards
DVD Producer: Columbia/Tri-Star Home Video