Something's Gotta Give review by Jackass Tom
Forced, Long-winded, Disappointing
Harry Sanborn (Jack Nicholson) is a 63-year old playboy who has never settled down and never dated a woman older that thirty. His current friend is the free-spirited Marin (Amanda Peet) who is dating him because he is fun. Sixty-three and fun. Peets mother Erica Berry (Diane Keaton) is around the same age as Nicholson, but does not have the same dating success as old Jack. She is an attractive and very successful playwright who spends her spare time bettering herself (French and cooking lessons). But the problem seems to be men her age tend to date women her daughters age.
During a visit to Keatons house in the Hamptons, the aging Nicholson has a mild heart attack while engaging in a little bit of fooling around with Amanda Peet (heck, a little fooling around with Peet might give me a heart-attack). He doesnt want to stay in a hospital but he cant go back home to the city so where does he go? Just where Hollywood fate wants him to: in the hands of Diane Keaton. From the previews, you can guess that the objective of this movie is to put Nicholson and Keaton together somehow.
She is a bit of a prude, and he is a bit outrageously wild, not to mention promiscuous. Add to that, he is dating her daughter. To make matters better she becomes involved with (get this) a younger doctor played by Keanu Reeves. She cant stand them; he cant stand her they are made to be together apparently. These multiple obstacles seem to take forever to overcome, and as a movie viewer you will notice. They could have and should have ended the movie in the Hamptons as Nicholson leaves; recovered from his heart ailments and Keatons character feels better about herself. That would have made Somethings Gotta Give about 100 minutes long; the standard for a romantic comedy. But instead the story absurdly extends into a New York restaurant where Keaton finds Nicholson with another younger woman, back to the Hamptons where Keaton puts together a hugely successful play fueled by her weaping emotions, Jack goes back to New York again, Keaton gets together with Reaves and finally to Paris where you know what happens. By the time the two embrace, my bum is numb and I am in disbelief of the extra miles they tacked on to this 128 romance marathon.
What kills me in the end is how Keanu Reeves gets the shaft. Here is a nice, calm, good-looking doctor who is 20 years younger than Keaton, respects her work, loves her, takes her to Paris on her birthday and even gets stood up at least once, and in the end gets dumped. For who? The womanizing, 63-year old guy coming off a heart attack, who has already left her a number of times and has proven day after day that he is a commitment-phobiac. DONT GIVE ME THAT! Im not buying it. I dont want to be a kill-joy and throw out the red flags on movie realism, but the cards arent stacked in Nicholsons favor here. But the movie Gods in Hollywood have spoken, and Jack is there guy.
The final result is highly disappointing. It pains me to rip to shreds a movie where Jack Nicholson makes one of the funniest bare-assed appearances since Will Ferrall in Old School. It also hurts to see Diane Keaton act so well in particular scenes, only to see her follow a flawed script in the next. But you have to call a pig a pig, and this one doesnt have wings big enough to fly. Dont see this movie in the theatre. Rent it one night if you want, but dont come crying to me, because I told you so.


2 out of 10 Jackasses
blog comments powered by

Disqus
Search
Something's Gotta Give

IMDB Link: Something's Gotta Give

Related Reviews
---
---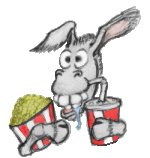 ---
---
Interested in writing for Jackass Critics?
E-mail Matt