Dawson's Creek: The Complete Second Season review by Mike Long
If I were to list my favorite things, I doubt that "teenage soap operas" would appear, but for some inexplicable reason, I've always been intrigued by
Dawson's Creek
, and occasionally watched the show when it was on. I was originally drawn to the program due to the involvement of
Scream
writer Kevin Williamson and the fact that it was filmed in my home state of North Carolina. But, I soon found the preposterousness of the show appealing and I'm now reveling the DVD releases, such as the recent
Dawson's Creek: The Complete Second Season
.
(SPOILER WARNING!: In order to describe Dawson's Creek Season 2, I must divulge some of the plot-lines for the shows, as well as discuss events from Season 1. So, if you haven't seen Season 4 and want to be surprised by Season 2, read with caution.) Season 1 of Dawson's Creek ended with life-long friends Dawson (James Van Der Beek) and Joey (Katie Holmes) finally recognized their romantic feelings towards one another and begin "dating". But, can any relationship stand up to years of preparation? Jen, who loved and lost Dawson, must also deal with the death of her grandfather. These events cause her to revert back to her "wild" ways, as she becomes friends with the evil Abby Morgan (Monica Keena). Siblings Jack (Kerr Smith) and Andie McPhee (Meredith Monroe) move to Capeside and try to fit in. Jack gets a job at the restaurant owned by Joey's sister, and begins to find that he and Joey have a lot in common. Andie and Pacey (Joshua Jackson) meet on the streets of Capeside and strike up an antagonistic relationship which eventually leads to love. Dawson's parents (Mary-Margaret Humes and John Wesley Shipp) are still dealing with the infidelity which rocked their marriage in Season 1, but they are trying to move on. But, of course, all of these promising new directions...well, I guess Jen's isn't that promising...anyway, good things never last in a town like Capeside, and all of these characters will find their lives on a collision-course with break-ups, heartache, turmoil, and disaster.
The great thing about Dawson's Creek is that it exists in some sort of alternate universe in which teenagers don't act like teenagers. The young people on this show act more like the characters on Dynasty. I think we knew from the very frist episode for Dawson's Creek, in which Pacey flirts (successfully) with his gorgeous English teacher, that the show was taking place in fantasy land. But, that's OK, and that's what makes the show worth watching. Some of the problems that Dawson and his friends face, such as school problems, peer pressure, and dating, are realistic. But most of the events on the show are blown so far out of proportion that they border on camp. These 15 year olds talk about love and relationships like they will be together forever. (And I realize that it can feel that way at 15, but adults know the reality of these feelings.) I don't know how these kids have time for school, what with all of tragedies befalling them. But, of course, without this heightened drama, there'd be no show. (My biggest tragedy in high school was the beige dress my date wore to the prom.) And we can't forget about the language of Dawson's Creek. The kids say words that most adults wouldn't understand and the hyperbole and double-entendres are overwhelming. Simply put, nobody talks like this, but it's fun to watch. (***HUGE SPOILER! DO NOT READ IF YOU HAVEN'T SEEN SEASON 2!! Dawson's Creek Season 2 may actually be the best season of TV ever, as the annoying character, the one that you wish would die, actually does die. This creates an incredibly odd feeling in the viewer and makes for great TV. *** END SPOILER WARNING!!!.) Teeny-bopper aesthetics aside, Dawson's Creek is entertaining and can be very addictive.
For me, the best part of watching Dawson's Creek, which is set in Capeside, Massachusetts, is spotting all of the North Carolina items which they couldn't/didn't hide. The North Carolina state flag is often visible over the harbor and North Carolina license plates can be seen on the cars. Those familiar with Wilmington will recognize many landmarks, my favorite begin the Wilmington Hilton, which is in the background of one shot. Why would the little town of Capeside have a Hilton?
Dawson's Creek: The Complete Second Season rows onto DVD courtesy of Columbia/Tri-Star Home Entertainment. The 22 episodes included in this 4-disc set are all presented in their original 4:3 aspect ratio. The shows look very sharp, but there is a noticeable amount of grain, especially during the night-time scenes. These dark moments also boast some video noise. The colors are good, and the image is stable for the most part, save for some occasional artifacting. The shows contain a Dolby 2.0 Surround audio track, which provides clear dialogue, good music reproduction and some occasional surround effects -- mostly musical cues. Overall, the transfer is good, and rivals digital broadcast quality.
The only extra features on the DVDs are two audio commentaries from executive producer Paul Stupin, for "The Kiss" (Disc 1) and "Parental Discretion Advised" (Disc 4). Stupin is a rambler, but he tells some good stories and is genuinely appreciative of the Dawson's Creek fans. He talks about the making of the show and the camaraderie of the cast and crew. He also speaks at length about life in Wilmington. Not exactly film-school, but still fun.










7 out of 10 Jackasses
blog comments powered by

Disqus
Search
Dawson's Creek: The Complete Second Season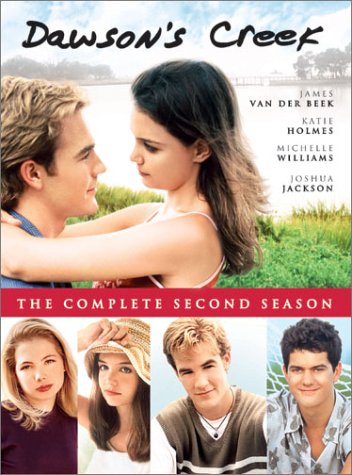 IMDB Link: Dawson's Creek: The Complete Second Season
DVD Relase Date: 2003-12-16
DVD Aspect Ratio: 1.33:1
DVD Extras: Audio Commentaries
DVD Producer: Columbia/Tri-Star Home Entertainment