Freaky Friday review by Mike Long
So, I guess the next time that Lindsay Lohan signs on for a Disney remake, there won't be any questions or doubting. First, there was 1998's
The Parent Trap
, a remake of the 1961 Hayley Mills classic, in which Lohan (making her feature film debut) played (both) twins and held her own with Dennis Quaid and Natasha Richardson. Now, Disney has brought back
Freaky Friday
, which has been made twice before. And once again, we have a seemingly needless remake which reveals itself to be a fun and refreshing movie.
In Freaky Friday, Tess Coleman (Jamie Lee Curtis) is a successful psychotherapist who has a thriving practice, a new book, and an adoring fiance, Ryan (Mark Harmon). The only weak link in Tess life is her daughter Anna (Lindsay Lohan), who is rebellious and independent. Anna dresses like a slob, lives to play with her rock band (The Pink Slips), and is upset that her Mom is planning to re-marry (Anna hasnt fully recovered from her Dads death). Tess and Anna are in a constant power-struggle as they battle for control of the relationship.
This all changes when they are given magic fortune cookies which causes them to switch bodies. After they deal with the initial shock of finding themselves switched, Tess decides that they must attempt to go about their lives as normal, as Anna has an important exam at school, and Tess has clients to keep. But, of course, things do not go as planned. Fascinated by the sudden power of being an adult, Anna takes Tess body on a shopping spree. Meanwhile, Tess gets a first-hand look at the brutal and competitive high-school world in which Anna must survive. As they are learning about one another, Anna and Tess must maintain the status quo so as not to arouse the suspicions of Ryan, Tess Dad (Harold Gould), or Annas brother, Harry (Ryan Malgarini), until they find a solution to their dilemma.
One of the challenges of reviewing movies is that there is no exact science or equation to it. The only way to critique a film is to gauge ones personal reaction to the movie and to compare it to other movies that one has seen. Freaky Friday certainly isnt a masterpiece, but its a very satisfying film that does exactly what it sets out to do, and its hard to knock a movie for accomplishing that goal. Even those who are familiar with the previous movies or the source novel will find something to like about this latest incarnation, most notably the performances of Curtis and Lohan. Curtis shows a perfect combination of control and wildness, as she goes from being the uptight Tess to the care-free Anna. (Although, Im still not on-board with the new clothes that Anna buys for Tess body.) Curtis has always displayed a certain natural immaturity in her roles and that pays off in spades here, and its clear that shes having a great time. On the same token, Lohan has to go from spunky teenager to intolerant mother and does a great job of reacting to the bizarre and unpredictable nature of Annas world. Of course, the story is predictable (except for a love-triangle sub-plot that I didnt see coming), but director Mark Waters (The House of Yes, and the underrated Head Over Heels) keeps things moving along at a very nice pace. (Although, the films constant continuity flaws are still easy to spot.) Young Ryan Malgarini is given some great lines, but Mark Harmon honestly looks as if he wandered onto the wrong set and barely utters a word. (And I hope that he didnt pay for that haircut.) Freaky Friday may be the perfect film for mothers and daughters to share together, but I think that most anyone wil appreciate its quirky nature and good performances.
Freaky Friday clamors onto DVD courtesy of Disney DVD/Buena Vista Home Entertainment. The DVD contains both the widescreen and full-frame versions of the movie. For the purposes of this review, only the widescreen version was screened. The film has been letterboxed at 1.85:1 and the transfer is enhanced for 16 x 9 TVs. The image looks very good, as it is sharp and clear, showing only a fine amount of grain at times. Director Waters has shot the film in a very natural style and the colors look fantastic, especially Annas colorful wardrobe. There are some very minor defects from the source print, and some noticeable edge enhancement, but otherwise the transfer is fine. The DVDs Dolby Digital 5.1 audio track is surprisingly potent, especially when Annas band plays. The dialogue is always sharp and clear, and the surround sound effects really kick in when Anna and Tess undergo their transformation.
Given the success of the film, the DVD contains few extra features. Backstage Pass with Lindsay Lohan (8 minutes) is a behind-the-scenes featurette in which a camera follows Lohan around the set. There are some clips from the film and interviews with the cast and crew. Freaky Bloopers is a 2-minute gag reel. Director Mark Waters introduces the alternate endings, which dont change the conclusion, but simply offer subtle variations on the denouement. Waters also trots out a deleted scene, which is incredibly short, like 20 seconds. Finally, we have two music videos, What I Like About You by Lillix and Me vs. the World by Halo Friendlies.










7 out of 10 Jackasses
blog comments powered by

Disqus
Search
Freaky Friday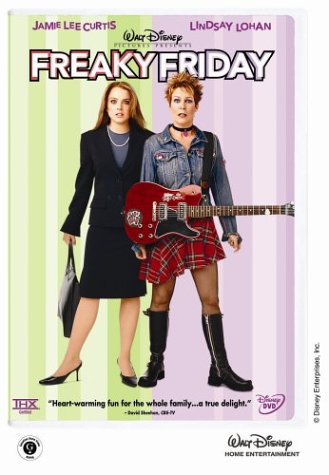 IMDB Link: Freaky Friday
DVD Relase Date: 2003-12-16
DVD Aspect Ratio: 1.85:1; 1.33:1
DVD Extras: Featurette, Bloopers, Deleted Scenes, Music Videos
DVD Producer: Disney DVD

Related Reviews
---
---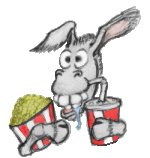 ---
---
Interested in writing for Jackass Critics?
E-mail Matt