Finding Nemo review by Mike Long
Unlike so many others, I'm not prepared to jump on the bandwagon and proclaim that traditional hand-drawn animation is dead. Last year's
Lilo & Stitch
was surprisingly good, and 2004's
Home on the Range
looks promising. But, that's not to say that computer-generated animation hasn't taken the upper-hand, with Pixar Studios leading the way. Pixar's latest effort,
Finding Nemo
has just hit DVD, and extends this company's domination of the field.
Finding Nemo
opens on the Great Barrier Reef off of the Australian coast. A clownfish named Marlin (voiced by Albert Brooks), and his mate, Coral (voiced by Elizabeth Perkins), has just found a new home on the reef, where they oversee their eggs. Tragedy strikes when a barracuda attacks this pair and Coral is killed. Marlin survives, as does one egg. The story then jumps ahead a few years. The young fish from the egg has grown up to be Nemo (voiced by Alexander Gould), and, despite Marlin's protests, Nemo is off to his first day of school. Nemo's class is taken by their teacher, Mr. Ray (Bob Peterson), to the "Drop-Off", which leads to the deeper ocean. Fearing for Nemo's life, Marlin follows the class, only to witness Nemo being captured by a human diver. Marlin pursues the diver's boat, but can't catch it.
Desperate for help, Marlin meets Dory (voiced by Ellen DeGeneres), a blue fish who has a short-term memory problem. Despite her handicap, Dory agrees to help Marlin, and they begin to make their way through the ocean, looking for Nemo. Meanwhile, Nemo has been taken to an aquarium in a dentist's office. There, he meets a variety of odd characters, including Gill (voiced by Willem Dafoe), a fish who's determined to escape from the fish-tank. As Marlin races to save his son, Nemo learns that he is destined to go with the dentist's niece, who has a history of killing fish.
OK, let's go with the good news first --
Finding Nemo
is a technical marvel. The computer generated material offered here is simply breath-taking. Realistic representation of water has always been a challenge for animators, but the water looks very real in
Finding Nemo
. The undersea vistas are incredible, and the amount of detail and color will have you searching each shot attempting to take it all in. Whereas liberties were taken with the ants in
A Bug's Life
, the fish and other sea-creatures in
Finding Nemo
look very realistic, except for their eyes, of course, which are needed to emote. The movie looked great in the theater, and it loses little of its luster on this DVD. (More on that in a moment.)
The bad news about
Finding Nemo
is the story. All of the Pixar films can be accused of being light in the story department, most notably
Toy Story
, but they always had clever central ideas and enough action and comedy, combined with the animation, to carry the film. Apparently, the creative minds at Pixar were determined to give
Finding Nemo
a detailed story, and this has resulted in a very top-heavy film, which has too many characters, and too little emotion. The biggest problem with
Finding Nemo
is the lack of a true villain. Nemo and Marlin are both facing a race against time, and they meet characters who aren't nice, but there is no central villain, such as Hopper in
A Bug's Life
or Randall from
Monsters Inc.
. This leaves a giant hole in the film. The other main problem with the film is its length. Pixar's films have gradually grown longer, but at 100 mintues,
Finding Nemo
is about 20 minutes too long. Both in the sense that the movie runs out of gas, and that despite the beauty of the visuals, the film probably won't hold the interest of youngsters for that length of time. The movie has at least three conclusions, and the "suspense" is dragged out too long. Still, the movie has some great moments, and Dory is a fantastic character -- be sure to listen to every word that she says. Even though
Finding Nemo
is easily the weakest of Pixar's releases thus far, it's still better than most films out there. It's just that Pixar has not only raised the bar for animated films, but for their own creations as well, and
Finding Nemo
isn't as good as their previous works.
Finding Nemo
comes to DVD courtesy of Disney DVD. This Collector's Edition disc contains both the full-frame and widescreen versions of the film. For the purposes of this review, only the widescreen version was viewed. The film has been letterboxed at 1.78:1 and the transfer is enhanced for 16 x 9 TVs. This THX-certified transfer was mastered directly from a digital source, therefore the image is basically free from any defects. The picture is crystal-clear, and the image has an amazing amount of depth. The colors are spectacular, and every shade stands out in this transfer. Overall, a fantastic transfer. The disc carries a Dolby Digital 5.1 audio track, which sounds great, although it's not as good as the Disney Enhanced Home Theater Mix which was featured on the recently released
The Lion King
. The track offers clear and audible dialogue, with no distortion. The surround effects are nearly constant, and add a great deal of atmosphere to the film. The bass response is impressive, most notably during the shark scene. The
Finding Nemo
DVD will serve you well as a demo disc for your home theater.
This 2-disc set contains an ocean-full of extra features. Disc 1 starts with an Introduction from director Andrew Stanton and co-director Lee Unkrich, in which they urge the viewer to watch the widescreen version first. Yea for them! This duo, along with screenwriter Bob Peterson, is featured on the Visual Commentary for the film. This unique product is made up of an audio commentary, which diverts into short behind-the-scenes sequences from time-to-time. The audio commentary portion is good, as Stanton, Unkrich, and Peterson divulge a ton of information about
Finding Nemo
and have a great time doing so, as they crack many jokes along the way. The extra goodies presented in the segues are good, as it contains 47 vignettes, comprised of 30 minutes of footage, including 7 deleted scenes (which are in animated storyboard form). These extras can be viewed individually from a separate menu. But, you can't hear the commentary without these distractions, which disrupts the flow of the talk. More secrets are revealed in "Making
Nemo
, a 26-minute behind-the-scenes featurette which shows the progression of the film's production from research on real-life animals, to the animation process. Unfortunately, there is no footage of the voice-actors here. Disc 1 also contains 4 design galleries -- Art Review, Characters, Environments, and Color Script.
The extras are continued on Disc 2, which starts with "Exploring the Reef", a 7-minute segment hosted by Jean-Michel Cousteau, who attempts to educate the viewer about undersea life, but he's constantly interrupted by the cast of
Finding Nemo
. Next up is "Mr. Ray's Encyclopedia", which gives the viewer the opportunity to learn more about 13 of the animals featured in the film. The silverfish from the film, which were voiced by John Ratzenberger, are featured in "Fisharades", in which the viewer must guess what shape the fish will form. There is also a storytime read-along for younger viewers. The "Behind the Scenes" section contains a humorous interview with the characters (2 minutes), as well as a tour of Pixar Studios (6 minutes), hosted by Alexander Gould, the voice of Nemo. This section also contains 4 trailers, 3 TV spots, and a poster art gallery. The 1989 short-film, "Knick Knack", which was screened before
Finding Nemo
in theaters, is included here, but as many animation aficionados will point out, this version is edited. Finally, both discs features a Virtual Aquarium mode, in which the viewer can turn their TV into either an undersea view (Disc 1) or a fish-tank (Disc 2), but the animation on these segments is limited.







7 out of 10 Jackasses
blog comments powered by

Disqus
Search
Finding Nemo

IMDB Link: Finding Nemo
DVD Relase Date: 2003-11-04
DVD Aspect Ratio: 1.78:1; 1.33:1
DVD Extras: Audio Commentary, Deleted Scenes, Featurettes, Trailers, TV Spots, Galleries, Games
DVD Producer: Disney DVD

Related Reviews
---
---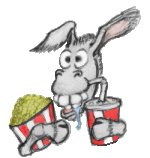 ---
---
Interested in writing for Jackass Critics?
E-mail Matt