Family Guy: Volume Two review by Mike Long
"If something is popular once, it will probably be popular a second time." That was most likely the thinking when Fox gave the greenlight to
Family Guy
, an animated prime-time program that bears more than a passing resemblance to
The Simpsons
. However, the two shows aren't exactly cut from the same cloth, and
Family Guy
never became a ratings winner for Fox (although, it developed a huge cult following). Now, the show can be experienced in all its glory, as 20th Century Fox Home Entertainment has brought Season 3 of
Family Guy
to DVD.
Family Guy tells the story of the Griffin family, who live in the fictional town of Quahog, Rhode Island. Peter (voiced by Seth McFarlane) is a loud-mouth jerk who works in a toy factory. He rarely thinks before he acts or speaks, and is always getting into trouble. Lois (voiced by Alex Borstein) attempts to be a good mother, but spends most of her time helping bail out Peter. Oldest child Chris (voiced by Seth Green) is a dim-witted and overweight boy, who has many personal issues. Middle-child Meg (voiced by Mila Kunis) is awkward and longs to be popular at school. Baby Stewie (voiced by McFarlane) is actually an evil genius, who is bent on killing Lois and taking over the world. And finally, family dog Brian (voiced by McFarlane) may be an alcoholic, but he's Peter's best friend, and often the only rational member to the family. The show features the entire family in every episode, but most of the emphasis falls on Peter, as it's typically his idiotic exploits which drive the stories.
Does all of this sound familiar? The family of five which is led by an moronic patriarch who is always getting into trouble? If you know anything at all about The Simpsons, then you have to admit that the similarities are too obvious to dismiss. And the humor in Family Guy definitely has a Simpsons-like tone to it. There are times when one has to wonder why Fox would've allowed this show to be made.
But to say that Family Guy is simply a rip-off or clone would be unfair. Family Guy is similar The Simpsons, but it is definitely a different breed of cat. Both shows spoof everyday American life and show satires of pop culture icons, but Family Guy allows takes things one step further. The show revels in pushing the envelope and exploring many taboo subjects, such as sex and racism. And every time you think that the show has gone too far, it does a little further with the next joke. But, the show isn't just shock value. In-between the off-color remarks, are clever and insightful jokes -- many of which come in cut-aways that have nothing at all to do with the show's main story. There are many times when the "joke" will deal with a flashback or an event which is occurring in an unrelated location. The Simpsons is hardly realistic, but Family Guy often spills over into a fantasy world where anything can happen. Also, as with The Simpsons, this mindset, along with the fact that the show is animated, allows Family Guy to incorporate many celebrity appearances, some of which are voiced by the actual person.
But, is it funny?, you may be asking. The easiest answer is, sometimes. Family Guy reminds me a lot of the Airplane! or Naked Gun films from the ZAZ team. It throws jokes at you right and left, but only a handful of these are truly funny, while the others will make you groan or roll your eyes. But, there is at least one true "gut-buster" per episode. Whatever the case, Family Guy will get a response from the viewer, whether that be in laughter or disgust, the show is hard to ignore. And, if you haven't gotten the hint by now, many will find the show vulgar and tasteless. But, if you're open to crude jokes and razor-sharp satire, then Family Guy may be for you.
The Family Guy Volume 2 DVD actually contains Season 3 of the show. (Confused? Volume 1 contained Seasons 1 and 2, as Season 1 was very brief.). The three DVD set contains all 21 episodes from Season 3, plus an unaired show. The shows are presented in their original full-frame (1.33:1) aspect ratio. With the Volume 1 set, there had been complaints about the image quality of the programs, but these issues have been solved here. The picture is very sharp and clear, showing no grain or defects from the source material. The show's colorful palette comes through well here and the image is stable for the most part, although there is the occasional shaky frame, or a picture where one can see that the lines weren't filled in completely. Otherwise, the transfer here looks quite good. The DVDs carry a Dolby 2.0 Surround track which is impressive as well. The dialogue is always sharp and clear, as is the music and sound effects. Stereo and surround effects are by no means constant, but when they do emerge, typically during musical cues or action scenes, they sound fine.
The Family Guy Volume 2 set carries a few nice extras. Audio commentaries, featuring series creator/star Seth McFarlane and various members of the creative staff can be found on "Mr. Griffin Goes to Washington", "Death Lives" (both on Disc 1), "Mr. Saturday Knight", "Ready, Willing, and Disabled" (both on Disc 2), "Brian Wallows and Peter's Swallows" and "When You Wish Upon a Weinstein" (both on Disc 3). "When You Wish Upon a Weinstein" is an episode which was completed, but never aired, as Fox felt that it was too controversial, so it's being seen on this DVD set for the first time. And, now having seen it, I can say...yeah, I can see why Fox found it too controversial. (In the show, Peter is convinced that Chris will be smart if he becomes a Jew.) The remainder of the special features can be found on Disc 3. There are deleted scene animatics (rough pencil animation set to dialogue) for 22 scenes from 9 separate episodes. (I really love the one with ALF.) The 7-minute "Pilot Pitch", which is a sample of the show's first episode which was made for Fox executives. The 7-minute featurette entitled "Uncensored" allows McFarlane to discuss his battles with the censors at Fox and features some of the show's wildest clips (but nothing that hasn't been seen elsewhere on the DVDs.) Finally, the 17-minute "Series Overview" looks at the development of the series and features interviews with much of the vocal cast.










7 out of 10 Jackasses
blog comments powered by

Disqus
Search
Family Guy: Volume Two

IMDB Link: Family Guy: Volume Two
DVD Aspect Ratio: 1.33:1
DVD Extras: Audio commentaries, Featurettes, Deleted Scenes, Unaired episode
DVD Producer: 20th Century Fox Home Entertainment

Related Reviews
---
---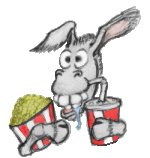 ---
---
Interested in writing for Jackass Critics?
E-mail Matt