Futurama: Volume Two review by Mike Long
Despite the outrageous success of
The Simpsons
, and of his earlier work in print, one couldn't help but wonder if Matt Groening would be a one-hit wonder. That all changed when Groening's second animated TV show,
Futurama
, premiered in March of 1999. Unfortunately, the show failed to attract viewers, and has subsuquently been cancelled. But, fortunately, 20th Century Fox Home Entertainment has shown a dedication to the show, and recently released the complete second season of
Futurama
to DVD.
Futurama is set in 31st century New New York (as old New York was destroyed in an alien invasion). Philip J. Fry (voiced by Billy West) is the "fish out of water" character in Futurama -- a man who was accidentally cryogenically frozen in 1999 and revived in the year 3000. Fry works for his only living relative, the incredibly old Professor Hubert J. Farnsworth (voiced by Billy West), a crack-minded inventor, who also owns a courier service called "Planet Express". Leela (voiced by Katey Sagal), a humanoid alient who has only one eye, pilots the "Planet Express" ship and is the object of Fry's affection. Fry's best friend is Bender (voiced by John Di Maggio), a foul-mouthed, ill-tempered robot who is fueled by alcohol. Also employed by "Planet Express" are Amy (voiced by Lauren Tom), a clumsy, spoiled rich girl; Hermes (voiced by Phil LaMarr), a Jamacian bureaucrat; and Dr. Zoidberg (voiced by Billy West), a lobster-like alien who knows nothing about human anatomy. The show's storylines typically focus on an adventure which occurs while delivering a package to a distant planet, or from Fry's misunderstanding of future customs.
It would be very easy to accuse Futurama of being a bastard step-child of The Simpsons, as each contains that trademark Groening artistic style and humor. But, Futurama is really its own show. The Simpsons works best when it is spoofing everyday American life, especially the family unit. Futurama takes this idea one step further. As the show is set in the future, in a world which is inhabited by humans, robots, and aliens, it has the freedom to take shots at many facets of society, either directly, or by disguising it as some futuristic oddity. If anything, the humor here is even more subversive than The Simpsons. One of the conceits of Futurama is that the technology exists to keep the heads of famous people from the past alive. So, historical figures such as Richard Nixon (who is a recurring character) and Chester A. Arthur, make appearances on the show. Also, as Futurama has a science-fiction slant, it spoofs many sci-fi movie and TV shows, so those who have a knowledge of this genre will enjoy the show even more. But, Futurama isn't all about political satire and nerdy references. The show offers a broad range of humor, and each character is funny in their own way. And while Bender may be the robot version of Homer Simpson, he is still hilarious and makes the show worth watching.
Futurama: Volume Two comes to DVD in a four disc-set, containing all 19 episodes from the show's second season. (For those of you who already own the Region 2 version of this set, the contents are identical, save for the packaging.) The shows are presented in their original full-frame format. Unlike The Simpsons, the majority of Futurama is made up of computer generated images. This lends a very clean and sleek look to the show, which comes across well on these episodes. The images are very sharp and clear, showing no grain, distortion, or defects from the source material. The colors look excellent. There are some moments where the animation looks jerky or incomplete, but these are rare. The primary audio track on these discs is a Dolby 2.0 Surround mix. This offers clear and audible dialogue, and nice sound effects. Surround effects are put to good use, most notably for the spaceship sounds.
The set contains many good extras. Each episode is accompanied by an audio commentary, featuring creator Matt Groening, producer David X. Cohen, and a variety of others, such as writers, directors, and voice actors. These commentaries are very educational and very entertaining as well, as many of them had me laughing out loud. (The one drawback of this set is that the Region 2 set offered subtitles for the commentary tracks.) There are deleted scenes for 15 episodes. Disc 1 features an animatic for the "Why Must I Be a Crustacean in Love?" episode. This is essentially an animated version of the rough pencil drawings for the show. Disc 2 offers storyboards for "A Bicyclops Built for Two". Disc 4 contains a still gallery with concept art, a guide to the alien hyroglyphics seen in the show, clips from the show in four foreign languages, and ads for four alien products (which appear as bumpers on the show.)
As Futurama was shuffled around to different time-slots and was often pre-empted by NFL football, the show never got the chance to find its audience. But, these DVD collections for fans of The Simpsons or sci-fi fans to re-discover this hysterical show.












9 out of 10 Jackasses
blog comments powered by

Disqus
Search
Futurama: Volume Two

IMDB Link: Futurama: Volume Two
DVD Aspect Ratio: 1.33:1
DVD Extras: Audio Commentaries, Deleted Scenes, Concept Art, Animatic
DVD Producer: 20th Century Fox Home Entertainment

Related Reviews
---
---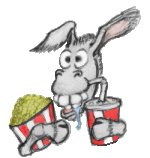 ---
---
Interested in writing for Jackass Critics?
E-mail Matt