King of the Hill: The Complete First Season review by Mike Long
Let's get something straight right up front;
The Simpsons
is the greatest TV show of all time. Period. Now, given that fact, it must be very intimidating to be asked to create a new animated series to run after (or before)
The Simpsons
. But, that's the challenge which was given to
King of the Hill
, and the show met the challenge, and now the first season of the show is available on DVD.
King of the Hill takes place in the town of Arlen, Texas, and this is home to the Hill family. Patriarch Hank Hill (voiced by Mike Judge), is a propane salesmen who have a very conservative view of life. Hank's wife, Peggy (voiced by Kathy Najimy), is a substitute Spanish teach, who likes to speak her mind. Their son, Bobby (voiced by Pameal Segall), is a meek boy who can be very passionate about very strange things. And finally, Luanne (voiced by Brittany Murphy), Hank's niece lives with them as well, as she makes her way through cosmetology school.
The Hill's try to have a "normal" American life, but Hank, who is very set in his ways, seems to be shocked by everything that happens around him. Fortunately, he has three buddies that he can bounce ideas off of -- Bill (voiced by Stephen Root) is a timid divorcee; Dale (voiced by Johnny Hardwick) is an exterminator who is full of conspiracy theories; and Boomhauer (voiced by Mike Judge) is a good-old-boy who speaks in a nearly incomprehensible mutter. This quartet enjoys drinking beer and discussing their own unique views of life.
Despite the success of Beavis & Butt-head, the show cast creator Mike Judge as someone who was limited -- limited animation style, limited sense of humor. Thankfully, King of the Hill shows a (nearly) completely different side of the man. While Beavis & Butt-head lampooned teenagers and frequently relied on gross-out humor, King of the Hill, like The Simpsons, focuses on the American family, and all of the crazy things that can happen in everyday life.
And while the show is full of quirky characters, with Bobby arguably being the strangest, it's Hank that anchors the show. While many would label Hank a "redneck", he is simply a decent, honest man with an average IQ, who is trying to make it through life. But, as all of us know, life is much easier if you accept the fact that things can get out of control at times. It's Hank's determination to stick to his guns and his trademark cry of "Baaah!" when things go wrong that make King of the Hill a truly funny show. But, I must be honest and confess that it's Boomhauer who I find to be the funniest character. Everytime he talks, I just crack up.
King of the Hill: The Complete First Season comes to DVD courtesy of 20th Century Fox Home Entertainment. This 3-disc set contains all 13 episodes of the show's first season. Each episode is presented in a 1.33:1 format. The images are sharp, but the digital transfer has revealed some defects from the source print, such as dirt and black specs, but the picture is free from grain. Also, the colors on the show, which aren't the most pastel to begin with, vary in tone at times, giving the image a washed-out appearance in some scenes. In addition, the ability to view the show in a digital format reveals how crude the animation was on some of the earlier episodes. Now, having said all of that, these shows still look very good, with the image rivaling digital broadcast quality, but this is simply a case where the clarity reveals certain flaws. The discs contain a Dolby 2.0 surround audio track. These tracks provide clear dialogue and music, and display no hissing or distortion. But, they lack any real oomph! in the surround sound department, as only musical cues and the occasional sound effect come from the rear speakers.
The set contains several extra features. Series co-creator Greg Daniels lends audio commentaries to two episodes ("Pilot" and "Hank's Unmentionable Problem"), as does director Klay Hall ("Luanne's Saga" and "The Company Man"). These commentaries are informative and contain some nice background info on the show. And then, in a very odd move, there are commentaries supplied by characters from the show. Dale and Bill supply commentaries for "Westie Side Story" and "King of the Ant Hill", while Peggy and Bobby chat over "Shins of the Father" and "Plastic White Female". These commentaries are very funny, especially when the "characters" point out their own character flaws from the show. Oddly, neither Mike Judge, nor Hank Hill, provide any comments. But, Hank does provide a brief introduction for Disc 1, with Bobby and Dale kicking off the other two discs.
Disc 1 contains a 24-minute featurette on the making of King of the Hill. This segment offers interviews with the primary cast and crew (some from the present and some from 1996), and provides a nice history of the show. Disc 2 contains "Do's and Don't's" pages used by the show's staff as guidelines for the characters. Also included here are bios for each character. Disc 3 features a music video by Barenaked Ladie, and 13 promo spots for the show. Each disc contains deleted scenes from various episodes, either in complete form or in storyboards.
As with The Simpsons, King of the Hill works on many levels. While the show offers bizarre characters and silly humor to impress the masses, it also presents a subversive sense of humor and a cynical, yet realistic view of life. For those of you who have yet to discover this show, or any of the great animated programming that his out there these days, this DVD set is a great place to start.











8 out of 10 Jackasses
blog comments powered by

Disqus
Search
King of the Hill: The Complete First Season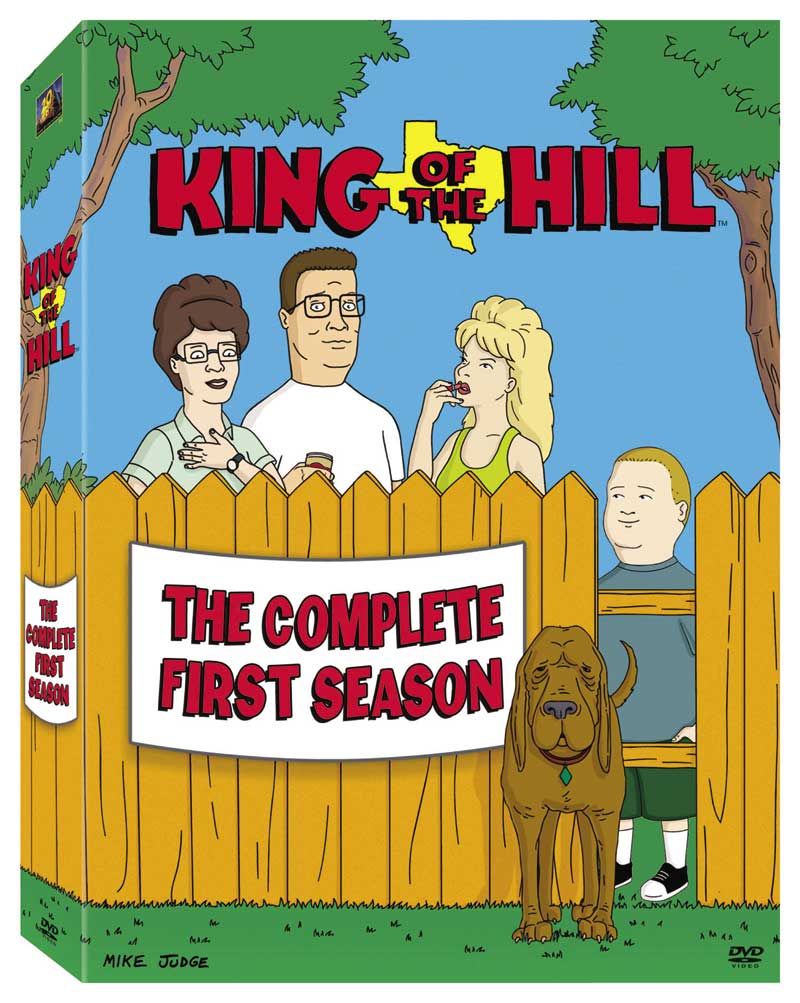 IMDB Link: King of the Hill: The Complete First Season
DVD Aspect Ratio: 1.33:1
DVD Extras: Commentaries, Featurette, Deleted Scenes, Music Video, Promos
DVD Producer: 20th Century Fox Home Entertainment