Spongebob Squarepants: Tide and Seek review by Mike Long
Since the dawn of the DVD revolution, many companies have jumped into the fray to become digital movers and shakers. However, as one of the last major companies to release product on DVD, Paramount can certainly be labeled conservative when it comes to the format. (A good example of this would be their late entry with the "Indiana Jones" films.) But, Paramount apparently does know a good thing when they see it, as they have released six DVD volumes thus far of the popular Nickelodeon TV show
Spongebob Squarepants
(with another on the way). The latest Spongebob release is entitled "Tide and Seek".
As with other Spongebob DVD releases, "Tide and Seek" contains ten episodes from the show, each of which last about 12 minutes. Here's an overview of the segments included on this DVD.
"Mermaidman and Barnacleboy III" -- Spongebob (voiced by Tom Kenny) and Patrick (voiced by Bill Fagerbakke) get the opportunity to look after the secret lair of their heroes, the aging super-duo Mermaidman (voiced by Ernest Borgnine) and Barnacleboy (voiced by Tim Conway). Of course, Spongebob and Patrick are told to not touch anything, and of course, they do.
"Big Pink Loser" -- When Patrick realizes that he's never won any awards, unlike Spongebob, who is constantly being showered with accolades, he decides that he must be like Spongebob in order to gain a trophy. So, Patrick begins to copy Spongebob's every move.
"Opposite Day" -- Spongebob's uptight neighbor, Squidward (voiced by Rodger Bumpass), decides that he can no longer live in Bikini Bottom, and places his house up for sale. But, his real-estate agent warns him that bad neighbors can kill a sale. Thus, Squidward convinces Spongebob and Patrick that it's "Opposite Day", and therefore, they must act quiet and normal. But, the two friends take opposite to the extreme!
"Squirrel Jokes" -- When local restaurant The Krusty Krab begins an open-mic comedy night, Spongebob becomes an overnight sensation with his jokes about squirrels. But, this doesn't sit very well with his friend Sandy the Squirrel (voiced by Carolyn Lawrence). Will Spongebob stop making fun of his friend, or is the draw of the spotlight too much for him?
"Rock-a-bye Bivalve" -- After Spongebob and Patrick find an abandoned baby scallop, they decide to raise it themselves, and immediately fall into the stereotypical mother and father roles.
"Dumped" -- Spongebob enters an emotional abyss when his pet snail Gary (voiced by Tom Kenny) leaves him to live with Patrick. What can Spongebob do to win Gary back?
"Bossy Boots" -- Mr. Krabs (voiced by Clancy Brown) decides to let his daughter, Pearl (voiced by Lori Alan) take over The Krusty Krab in order to bring in new business. But, her first decision is to get rid of the premiere entree, The Krabby Patty. Spongebob must find a way to set this injustice right.
"The Bully" -- A flounder named Flats joins Spongebob's driving class, and soon begins terrorizing Spongebob. You see, Flats' favorite hobby is kicking butts!
"Sleepy Time" -- After falling out of his own dream (?!), Spongebob finds that he can enter the dreams of his friends, and begins to explore the noctural subconscious' of the residents of Bikini Bottom.
"Squidsville" -- Similar to the action in "Opposite Day", Squidward decides to leave Bikini Bottom and moves to Tentacle Acres, a community designed just for squids. But, will peace and quiet be too much for Squidward?
As you've probably heard, Spongebob Squarepants is popular among kids and college students (and I'm sure that drugs and alcohol don't play a role there). But, does the show have anything to offer anyone outside of those demographics? Well, yes and no. As with any comedy program, Spongebob Squarepants, is very hit-or-miss. For starters, one must accept the fact that the humor on the show is very silly, and that Spongebob and Patrck are very, very stupid. These jokes more often elicit eye-rolls instead of laughs. However, the show can also be very clever, and there are subtle and subversive jokes here that make me laugh out loud.
As for the episodes included on this DVD, they are hit-or-miss as well. There have been odd rumors flying about that Spongebob is an icon to the gay community. Well, the "Rock-a-bye Bivalve" episode will only fuel that flame, as Spongebob is way too comfortable in his role as the mother. "Sleepy Time" is the highlight of this collection, as it not only shows the imagination of the show's writers, but also is a classic example of the lack of realistic boundaries in cartoons. Spongebob Squarepants certainly isn't the best animated show on television, but it definitely has its moments.
The episodes on this DVD are presented in their original full-frame format. The picture is incredibly sharp and clear here, as the shows display no grain or defects. The colors are excellent -- the reds and greens almost leap off of the screen. This transfer certainly rivals digital broadcast quality. The DVD features a Dolby 2-channel surround audio track. This track offers clear dialogue and music, but the surround sound effects consist mostly of musical cues.
The past Spongebob Squarepants DVDs have varied in the amount of extras that they featured, but "Tide and Seek" has some unique ones. Voice actor Tom Kenny and series creator Stephen Hillenburg contribute audio commentaries for the episodes "Sleepy Time" and "Dumped". These talks are very funny, but don't offer a great deal of insight into what makes Spongebob tick. The other special features consist of a behind-the-scenes look at the Nickelodeon mailroom (?!) and the storyboards for the episode "Mermaidman and Barnacleboy III".










7 out of 10 Jackasses
blog comments powered by

Disqus
Search
Spongebob Squarepants: Tide and Seek

IMDB Link: Spongebob Squarepants: Tide and Seek
DVD Aspect Ratio: 1.33:1
DVD Extras: Audio commentaries, storyboards
DVD Producer: Paramount Home Entertainment

Related Reviews
---
---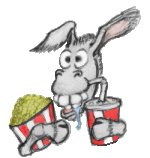 ---
---
Interested in writing for Jackass Critics?
E-mail Matt