Wet Hot American Summer review by Jackass Tom
Funny if you have seen the State
Back in the early 90s there was a little sketch comedy show called The State. It was a generation-X version of Saturday Night Live; a little bit like Kids in the Hall but much less Canadian. At the time, this 30 minute show was the only reason for me to watch MTV. I didnt like the Real World, and Headbangers Ball was cancelled (along with all the music videos they 'could' have played). The State was fresh and funny. The actors knew what made them funny and played to it. They piled 10 mini sketches into each show and there was always 2-3 that made you laugh really hard...at least two or three. The show was on the air for maybe 3-4 years and was cancelled (probably a lot of people didnt get the humor, or MTV felt like pulling the plug in favor of more reality rubbish), and since then, the only State humor I have had has been on an old VHS which has been copied more times than a Rodney Dangerfield impression.
So that leads us to the current film: Wet Hot American Summer. WHAS is an independent film written and directed by a pair of State alums, Michael Showalter and David Wain. The movie also 'stars' Showalter along with three other State members, Michael Ian Black, Joe La Truglio, and Ken Marino (actually Wain and another State member, Kerri Kenney were also filmed as characters but cut). The film is a spoof on 80s camp and coming of age movies like Meatballs and Porky's. We join the campers on their last day of camp, the morning before the talent show.
Its hard to describe a plot for this film, because it is like an unfinished jig-saw puzzle. Beth (Jeneane Garafalo) plays the granola girl camp director who watches everyone but her hook up. She falls for Henry (David Hyde Pierce), the dorky physicist who lives next door to the camp. There is also a love triangle between the squeamish Coop (Showalter) Katie (the camp hottie) and her asshole bofriend Andy. There are a few more mini-romances taking place for the sake of comedy, but none of them really take center stage. Like I saidjigsaw puzzle.
The whole movie plays like sketch-to-sketch rather than scene-to-scene. Many of the scenes even end awkwardly like a State sketch (ie for no reason after going into town everybody jumps out the truck and then faces a barn wall). Some of the scenes are downright funny on their own or they are at least funny if you are familiar with the old show.
Despite its ad hoc arrangement the filmmakers did a great job with many details of the film. The clothing for example, is hysterical. All the campers are running around in colored stripe tube-socks and Larry Bird/John Stockton basketball shorts. The swimsuits some of the women wear are atrocious. Its amazing that with the clothes everyone wore, that people got laid back then. There is also a good selection of really bad 80s music on the soundtrack. We are talking Loverboy bad!
To someone who is looking for a standard comedy (that meets all the requirements of the formulaic comedy) I would not recommend this movie. If you are a fan of sketch comedy, have seen the The State or were obsessed with it like I was, I would say go rent this movie at least once and get your laughs out of it. Otherwise, you probably won't enjoy this movie.




4 out of 10 Jackasses
blog comments powered by

Disqus
Search
Wet Hot American Summer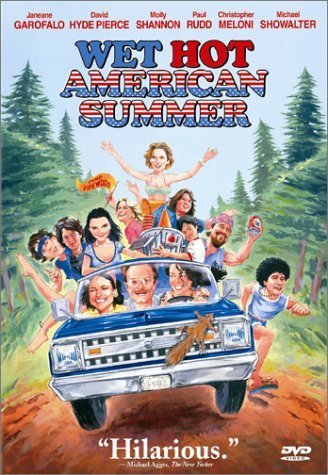 IMDB Link: Wet Hot American Summer
DVD Aspect Ratio: 1.85:1
DVD Extras: (The walrus is YOU!)

Related Reviews
---
---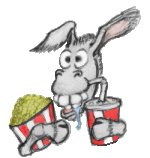 ---
---
Interested in writing for Jackass Critics?
E-mail Matt