Y Tu Mama Tambien review by The Grim Ringler
Y Tu Mama Tambien
Growing up is perhaps the hardest, most heartbreaking thing a person can ever go through, a completely personal hell that everyone encounters but few can share. The lucky are the few that find someone to share their hell with, a comrade in arms to confide in. But sometimes in sharing this hell those that shared it are lost along the way. Welcome to growing up kids.
Y Tu Mama is a very bittersweet coming of age drama/comedy about two boys – Julio and Tenoch – just out of high school and anxious to break the monotony of a long, hot summer without their girlfriends. By chance they happen upon the wife of Tenoch's cousin at a family wedding and the three agree to go together to a beach named Heaven's Mouth (a beach the boys have concocted so they can be alone with this stunning older woman) during the summer. This plan seems to be a pipe dream as the summer wears on and the boys forget all about it until Luisa, the cousin's wife, calls Tenoch one day to see if they are still going to the beach and within hours the three are off in search of a lake that doesn't exist and each begins a terribly personal journey in which they will find out more about themselves than they might wish to know.
At the surface this is a very much like an eighties American comedy – two goofy teenage friends meet a hot older woman and said woman teaches them how to be lovers. Thankfully director Cuaron has taken what could be a terribly easy scenario and has added a depth and sadness to it all that really resonates through the entire film. The film is as much about sexual maturing as it is about emotional maturing and about what might happen if you were to see deep into the darkest corners of your closest friend's heart. These two friends, as close as they are, we find out, hide the things that mean the most to them, the truths about who they are, and yet are open about their conquests, their bodies, and in their boyish lusts. They are as close as two men can be until Luisa happens along and then things are suddenly much more complicated as each of them tries to seduce her before the other can. All the while Luisa is onto their game and goes along with everything willingly, hoping to forget a husband who cannot be faithful to her and perhaps even to forget a secret even she does not want to face about her future.
This is a very beautiful, very sweet film that is as sad and bitter as the death of any adolescence is and it's a testament to all involved that the film is so affecting. The performances are wonderful all around and the three leads have truly created three real, honest characters that gives life to a film that could have, in other hands, been nothing more than a low class sex romp. What we have though is a stunning tour of Mexico and its back roads, making the country itself a prominent character in the film, each passing section of the film annotated by an unseen narrator that reminds us of the lives lost and found along the way during this journey. The film is wonderfully acted and beautifully shot and, miracle of miracles is well written. The dialogue reveals the characters without lessening them or making them cutouts, and which adds depth and tension to the film without preaching to the viewer. Heck, even the sex scenes reveal something about the characters and who they are and where they are in their lives, the last one resonating with a sadness as we learn what the ramifications of it are, deepening its impact, as well as the film's.
The extras are pretty decent actually and include a commentary, a documentary, some deleted scenes, and a short film by the director. The film looks wonderful on DVD and truly shows how beautiful Mexico is when seen through the lens of this director and through the eyes of his characters.
This is one of those movies that really lives up to the hype. It is a wonderfully aching look at the death of adolescence and at those we leave behind. As insightful and poignant as any American film I can consider and even more so than the usual standard bearers of teen angst ala John Hughes. This is the real deal kids, and deserves to be on your 'to see' list. Even if it is one them their foreign movies where they talk all funny.
…c…












9 out of 10 Jackasses
blog comments powered by

Disqus
Search
Y Tu Mama Tambien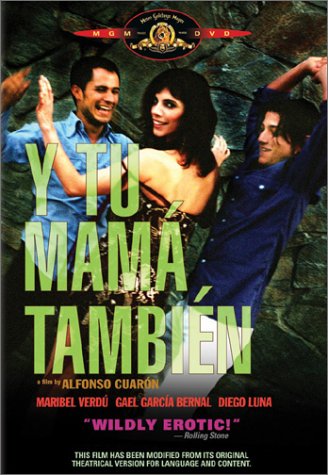 IMDB Link: Y Tu Mama Tambien
DVD Aspect Ratio: 1.85:1
DVD Extras: commentary, deleted scenes, making of featurette, short film by director Cuaron, extra pack of condoms...just in case baby, just in case