Rebecca (1940) review by Captain Video
Time to play the word association game, I will go first. "Hitchcock". What comes to mind? For many people it is Psycho, The Birds, North by Northwest, or a line drawing cameo of a portly Englishman.
Rebecca
probably isn't on the top of the list of most peoples Hitchcock films, but it certainly deserves a prominent place nonetheless.
Rebecca
might not be exactly what you think of when you think of an Alfred Hitchcock film. It is not horror or an edge of the seat thriller. Some people might call it suspenseful, but I would call it intriguing. From the voice over flashback opening sequence, to the climatic ending, the viewer is drawn in as the mysteries all unravel layer by layer. No lunatics with a knife, no ravenous birds, just a story that is suspenseful, intriguing, and well, Hitchcockian.
Some people might think that Blu-ray is overkill for a black and white film from the 40s. Those would be the same people that turn both the treble and bass all the way up on their radios thinking it will sound better. They just have no respect for the medium. Seeing a well lit, beautifully printed film by a master director is really a joy. The tonal range, use of highlights and shadows is all the more amazing when the distraction of color is not part of the equation. Sadly, the high quality also means that some of the weaknesses of the old days of film become more apparent. Matte shots, out-door scenes shot in the studio in front of a painting, miniatures and the other old visual tricks can take you out of the film momentarily. But then again this was 1940, when it was all about the story and not about special effects.
Rebecca
is based on a
novel of the same
name by Daphne Du Maurier. This film was Hitchcock's first American film, and produced by David Selznick. The disc includes an extras section with interviews that discuss the tensions between a director with his very own style and a strong-willed producer who was dedicated to a literal interpretation of the novel. In some ways Hitchcock go the upper hand by only shooting on camera exactly what he wanted in the film and not giving David O. Selznick any extra footage to use in the editing room.
The story begins with a flashback voice over describing a dream visit to Manderley. Manderly is the estate or mansion of the recently widowed Maxim de Winter (Laurence Olivier). The estate plays a key role, in fact it is a character in itself. After tragically losing his first wife
Rebecca
, Maxim falls in love again and has a whirlwind romance with a girl he meets while on vacation in Monaco. They quickly get married, and the new Mr & Mrs. de Winter (Joan Fontaine - we never learn the first name of his bride) return home to Manderley.
This new marriage means lots of change. Change for the new Mrs. de Winter, normally mild mannered, accustomed to accepting direction, she must now learn to give direction as her new role in society requires. There is change for the staff at the estate as well, they have to accept a new Mrs. de Winter. The biggest change isn't for Max, it is for the head housekeeper - Mrs. Danvers (Judith Anderson) who is extremely loyal to Rebecca,in fact Mrs. Danvers is keeping Rebecca's memory alive in many ways. Tensions rise between the new Bride and the overbearing and creepy housekeeper Mrs. Danvers.
Mrs. de Winters needs to learn the ins and outs of the household, as well as determine if she can ever really fill the massive shoes of the much loved
Rebecca
. The memory of
Rebecca
has a grip on everyone. Learning the truth about
Rebecca
's death leads to even more intrigue and suspense. Maxims true feelings for
Rebecca
are revealed (and his feelings for his new wife), and he finds himself at the heart of a murder investigation.
As Maxim travels with the local officials to get to the bottom of this mystery, Mrs. de Winter is left alone at Manderley with the sinister and increasingly creepy Mrs. Danvers. Exactly how obsessed is Mrs. Danvers? Will she try to kill the new Mrs. de Winter? All these questions get answered, and there are no loose ends.
Rebecca
is an example of great film-making. The tension is maintained throughout the film, not by using melodrama, but by a well crafted story with enough twist and turns that keep you engaged in the story as you wait to get to the bottom of the mysteries.
For a more discerning review of
Rebecca
check out this
previous Jackass Critics review.
OK, back to the word association game. If you say "creepy" I will say Mrs. Danvers.









9 out of 10 Jackasses
blog comments powered by

Disqus
Search
Rebecca (1940)

IMDB Link: Rebecca (1940)
DVD Aspect Ratio: 1.33:1

---
---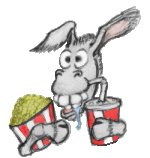 ---
---
Interested in writing for Jackass Critics?
E-mail Matt