Dr Who: Season 6 review by Captain Video
Full disclosure - I'll be upfront about things, firstly I am a huge fan of all the Dr. Who series from the early black and white episodes to the current day offerings. Secondly, I will avoid any puns about "Who" as a name or pronoun.
With all the recent news about allegedly faster-than-light Neutrinos being discovered, surely time travel is just around the corner. Right? Step 1 make things go faster than light. Step 2 time travel. Well ok, maybe we aren't ready to re-write all of reality based on just one or two experiments. It is going to take a lot more evidence to convince me that particles can travel faster than light. But wouldn't it be nice to think about what would be possible if you could travel through time? Well, there is no shortage of television and film stories to explore those possibilities and one of the best is the Dr Who franchise. Doctor Who is the
longest running science fiction
television show in the world. Dr. Who began in 1963 (if you take a linear approach to time).
Even if you are not a Dr Who fan, here is a list of reasons to pick up this Blu-ray set:
From a purely technology point of view:
You can fast forward through the upcoming movies and adverts section of the DVD. This alone should always be rewarded
Decent audio mixing between dialogue and the rest of the sound track
Removing the Blu-ray disc from the packaging doesn't make you feel like you are about to crack the disc
The discs load up pretty fast in my Blu-ray player, yet another feature that should be support. No waiting ten minutes to load up the Blu-ray
Support the Gingers! Despite Cartman's smear campaign gingers are people too and we should support the forward thinking and the use of a Ginger as a lead character. Besides, Amy Pond is cute.
Support the BBC or BBC America , in the U.K. and the U.S. they are producing some great stuff
OK well, maybe you make your purchase decisions on things like plot and content, we will get to that momentarily.
The Complete Sixth Series
Blu-ray set includes 6 discs
. The final disc is entirely extras. The first 5 discs also include extras as well, these extras range anywhere from monster files, cast interviews, prequels and trailers to other things like a mini series, comedy sketches, and the Dr Who Confidential. Even with all these extras, I still wanted more. They are all watchable and entertaining not just out-takes or filler materials. My favorite extra was a bit that included what would happen if the Tardis (the Dr.'s time travelling ship -- Time And Relative Dimensions In Space T.A.R.D.I.S.) landed within itself. A little recursive thinking is always a fun thought exercise. And that little segment had it's very own bonus material explaining how that segment was shot.
Series Background
If for some reason you are not familiar with the Dr. Who TV series, here is a quick refresher. Dr. Who (who goes by the moniker "The Doctor" his real name is a tightly held secret) is a time traveling alien, the last of his kind, from a planet of time travelers. He travels through time and space in his time machine, the TARDIS. Of all the beings in all the planets of all the galaxies, the Doctor has a soft spot for the human race and is often stepping in when needed to save humankind. Even though the Doctor looks human, he is in fact very old, in the current series he is over 900 years old. If he is killed or if his current body wears out, he can regenerate taking on a whole new body while retaining all previous memories and experiences. This is pretty handy to keep a TV franchise going strong. Luckily the Dr Who world avoids other time traveling cheats. The doctor does not interfere within his own timeline, this means that he doesn't simply go back 3 minutes in time to avoid getting shot. And speaking of getting shot, the Doctor avoids another gimmick that would be easy for a time traveler. He doesn't go into the future and get the biggest baddest gun. He only uses a tool called a sonic screwdriver to help him open doors, disable computers etc. In particular he hates guns. The plot is moved forward by quick thinking and dialogue not big guns or advanced technology. Ultimately the stories are morality stories including what it means to be human and the basics of right and wrong.
Production values for Dr. Who have come a long way since the early b+w episodes with low budget effects and monsters. The most recent Doctors (Dr's 9,10 and the current one Dr 11) are part of BBC big budget series with state of the art special effects and very high production values all around. Gone are the days of enemies that looked like upside down garbage cans painted silver with a plunger tacked on. Despite the modern budgets and special effects, the story itself is still center stage. Each episode it well written, thought provoking and character driven. Speaking of well written, one wonderful episode this series was written by Neil Gaimon, be sure to look out for that episode.
Series 6 is as strong as the rest of the recent ones, and clearly Steven Moffet and the other writers keep the Dr Who universe fun, frightening and fascinating. This series has a mixture of two-part episodes and self contained single episodes, but throughout there are underlying unifying threads tying the whole season together.
Characters Amy Pond and Rory Williams are the Doctors adventurous companions for the majority of this season. This season is also when many secrets of River Song are revealed, although sometimes leading to more questions than answers. This season also introduces some new foes and even a frightening monster or two (although I won't provide any spoilers).
Episodes
Christmas Special - "A Christmas Carol": In line with the Christmas episode tradition, it is a very heartwarming tale of redemption and the Christmas spirit. It is a time traveler version of the Charles Dickens classic A Christmas Carol set in another world in another time but also strangely reminiscent of the original tales time and place. Special guest star Michael Gambon (aka Dumbledore) does a fantastic job of playing the curmudgeon that needs redemption.
"The Impossible Astronaut" and "Day of the Moon" - 2 part story that takes place in America (Utah and Washington D.C.) instead of the UK and introduces a new sinister foe "The Silence" (which was almost as frightening as the Angels in a previous series). The Doctor and team meet up on a beach in the US and have a deadly encounter with a mysterious Astronaut that emerges form the lake. The Doctor uses one of the most memorable moments of televised history (the moon landing) to umm, silence the Silence, or I guess I should say break the Silence.
"The Curse of the Black Spot" - this episode takes place in the 17th century on a "cursed" pirate ship. The swashbuckling Amy, along with Rory, help the Doctor resolve the curse affecting the pirates on the ship. Anytime a pirate was wounded, even something as simple as splinter, they received a black mark on their palm and they would fall prey to the siren's call. When Rory is marked as the next victim, the pressure is on to get to the bottom of this curse.
"The Doctor's Wife" - It's a Trap! The TARDIS gets trapped and the Doctor needs to work closely with a lifelong friend, one he has never spoken with before, to return himself and the TARDIS safe and sound.
"The Rebel Flesh" and "The Almost People" - 2 part story that explores what it means to be human. The Doctor and his companions land on a remote island in the 22nd century at a hazardous acid pumping station. In this risky workplace, expendable doppelgangers ("gangers") are used to perform the most dangerous work. These flesh clones are remotely operated (think "Avatar") by human workers that also provide the clones with memories and emotions. In the middle of a life or death situation, the gangers want rights of their own, and the sparks fly.
"A Good Man Goes to War" and "Let's Kill Hitler" - 2 part story that begins with the Doctor calling in favors and amassing an assault force to rescue Amy who has been kidnapped while pregnant. The quick and decisive win on the Doctor's part is in fact a trap and part of a much larger overall plan. We learn more about River Song and that generates even more questions. In "Let's Kill Hitler" we learn about River Songs early years, and we also cover the number one time travel dilemma. Even if you knew that certain points in history are fixed, and trying to change those events is futile, (the events will still happen despite any effort to change them), would you still try to kill Hitler anyway? Of course you would, and so Hitler would probably be the most visited figure in time traveler circles with every time traveler taking their stab at him.
"Night Terrors" - is there anything more terrifying than the monster in the closet? Of course there is, the kid that dreamed up the monster can be pretty terrifying. In this story the Doctor, Amy and Rory make a house call to a frightened child that is scared of many things, and especially scared of the things in his closet.
"The Girl Who Waited" - The Doctor and Rory get separated from Amy and she ends up stranded in a different timeline from them. The rescue is complicated since Rory has to work with 2 versions 0f Amy (insert multiple wife joke). Ultimately Rory has to make a difficult decision.
"The God Complex" - A bizzarre episode that finds Amy, Rory and the Doctor on a location that is meant to look like a 1980s hotel. But each room in the hotel has a special monster for one particular person. and that person has to face their greatest fear or fall prey to the monster that is trapped there with them. An interesting episode that keeps you guessing about what is truly going on and how are they going to escape.
"Closing Time" - Another stand alone episode with an overall comedic tone. This time the Doctor is travelling alone Amy, and Rory are back home in their own timelines. The Doctor pays a follow up visit to a character (Craig) from an earlier episode from the previous season. Craig is now married and is spending his first weekend taking care of his baby while his wife is out on a trip. This one is as much a buddy bonding story as it is a sci-fi monster battle. I would take this episode over "3 men and a baby" any day of the week. Curiously this is the second story of this season that explores the powers of family ties and the love of a father, it would be the third if you added in the lack of love from a father that was part of the Christmas episode.
"The Wedding of river Song" - The last episode in this season ties all the way back to the "The Silence" which we learned about in the "Impossible Astronaut" episode. Additionally, lots of stray threads that were scattered throughout the whole season are gathered and culminate around another fixed point in time, and that is the Doctor's death. Will the Doctor escape death one more time? Will his death truly be at the hands of a loved one? Will there be more questions than answers? There is only one way to find out and that is simply to get this series.
All in all this is a great series, some episodes are on the light side and some on the dark side, some are multipart, and some stand alone. There is consistency in the overall season long story arc and themes, with enough variety to keep it interesting. The only drawback for me was a shortage of extras, with 6 Blu-ray discs, I would have liked just a little more of the extras.









9 out of 10 Jackasses
blog comments powered by

Disqus
Search
Dr Who: Season 6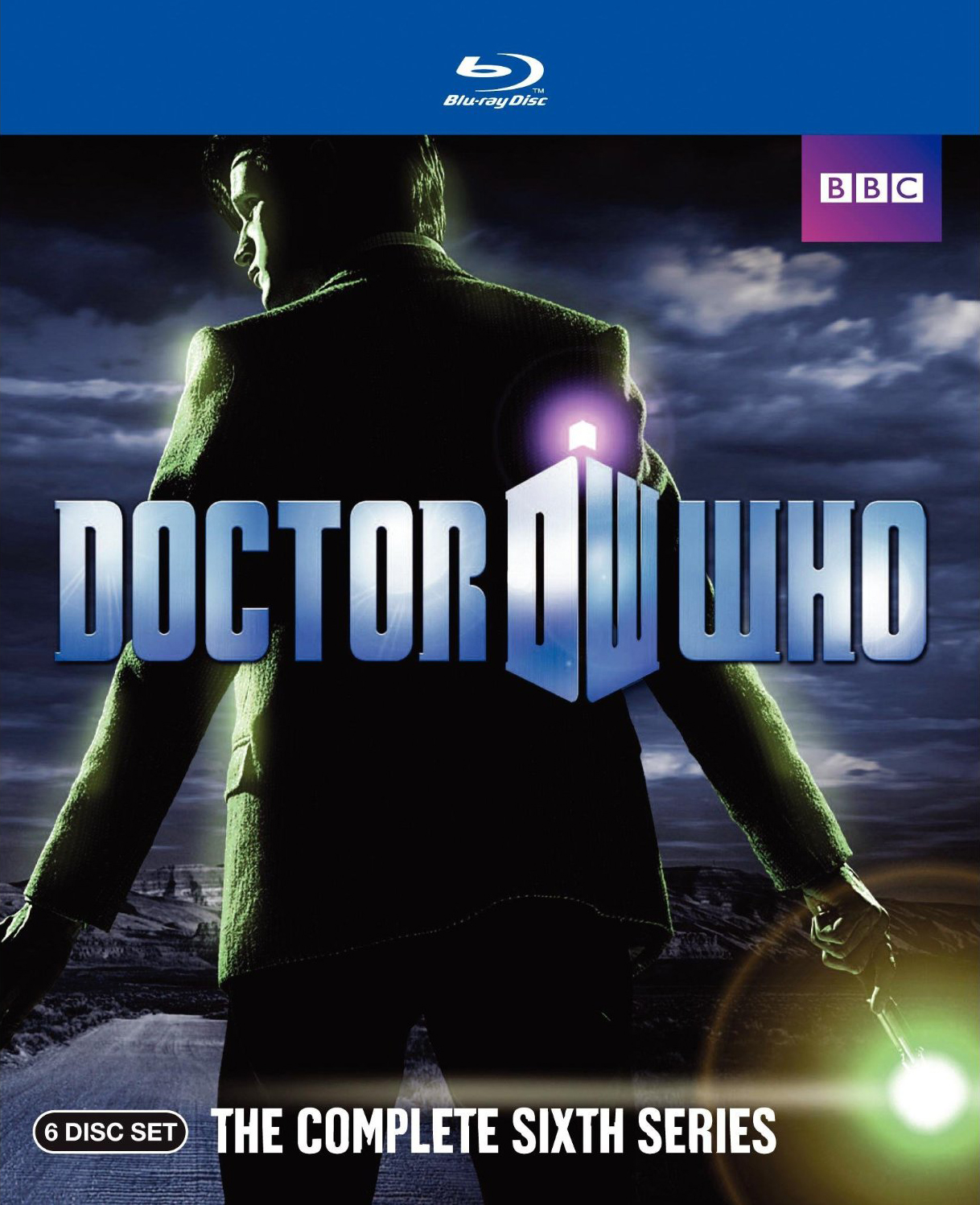 IMDB Link: Dr Who: Season 6
DVD Relase Date: 2011-11-22