Shine a Light review by Jackass Tom
Never has a movie about a music docu-concert-film polarized me in so many ways. The combination of Martin Scorsese and The Rolling Stones seems like a perfect fit. Scorsese has a fondness for the Stones that is reflected in a number of his films soundtracks over the years (Goodfellas, Mean Streets, and The Departed to name a few off the top of my head). Plus Scorsese has filmed concerts before in a similar manner i.e., The Bands Last Waltz and has done so to endless acclaim (although slightly more endless than Michael Wadleighs Woodstock and D.A. Pennebackers Dont Look Back.
The film begins with 10 minutes of Martin Scorsese trying to coordinate and plan out how he is going to film a Stones concert put on for Bill Clintons birthday put on by the Clinton Foundation (at my sixtieth birthday Ill be lucky if I have a rolling chair). There are shots of Marty talking to people, calling up Mick Jagger, shots of Bill Clinton meeting the band, people setting up the stage, troubleshooting issues, etc. Lots of work. The rest of the movie is the concert itself, photographed as beautifully as a concert could be photographed in crisp clear, sharp, images, with the camera moving flawlessly putting the viewer in the perfect position to get the full-on concert affect. I found myself thinking, many times, if I were at that concert, I would want to be standing right there. In between songs, there is a good round of stock stones interview and newsreel footage. With 40 years worth of stock footage at the filmmakers disposal, there are obviously some great stories to be told and I wonder if it would have been better to focus more on this aspect of the film. But thats another story for another day. The most enjoyable moment was listening to a baby-faced Mick Jagger probably age 20-22 at best being asked how much longer he thought the band had (before they stopped making money, became irrelevant, etc.) His answer, in a very frank tone was about a year.
Shine A Light never reaches that level of grandeur despite having what it would appear to be the right people involved and some beautiful shots. Part of the problem is that the filmmaking really exceeds the concert performance. Sure, I get that the Stones are old and probably dont have the same energy level. I also get that concerts dont always sound as good as the CD and there are gaffs, but because the filming is so damn good, it leaves less room for error. Something was off on a few of the songs and it was most likely the Stones not having their live-sound tweaked to perfection. Part of it might also have been Scorseses sound editor not getting the most out of the performance. But in this case, Martin Scorsese puts on a better show (for the DVD viewer) than the Rolling Stones.
And that brings me to my next disappointment. The focus on Martin Scorsese in the first part of the film seems completely unnecessary. I have yet to understand why he focuses on himself and his interactions with the band and the bands managers, stage-hands etc. before getting on with the show. Was it to show what a pain in the ass it was for him to get this concert filmed? Was it because he has vaulted himself to recognizable celebrity status over the past decade plus and figured he was a good addition to the documentary? The whole idea seemed slightly out of place and as much as I love listening to Scorsese in other documentaries talk about film and the history of cinema, Im not quite sure he had a place a Rolling Stones concert-movie.
Im sure if I were a die-hard Rolling Stones fan I would look past the issues I had with the intro and I would have most certainly looked past any issues I had with the concert sound itself. As I said, the pictures are crisp (even if they do reveal the Night of the Living Deads version of Keith Richards). But as a casual fan of the Stones, I felt there was probably a better sounding, recorded concert out there and a better documentary about the Stones back story. Unfortunately this movie doesnt really nail either.





5 out of 10 Jackasses
blog comments powered by

Disqus
Search
Shine a Light

IMDB Link: Shine a Light
DVD Relase Date: 2008-07-29
DVD Aspect Ratio: 2.35:1
DVD Extras: Four bonus performances, Behind the Scenes

---
---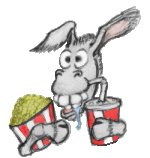 ---
---
Interested in writing for Jackass Critics?
E-mail Matt