Funny Face review by Juli Yuli
Apparently, Paramount decided that Anniversary edition DVDs of Audrey Hepburn films must have a neon "I want to puke it's so pink" covers. Just last year, Breakfast at Tiffany's sported its own Pepto Bismol 45th Anniversary cover design. Funny Face is no exception, and Audrey's elegance and grace gets completely lost to me in all that pink. It's unfortunate....
Funny Face is a musical, and showcases some of very well known songs written by George and Ira Gershwin, including "Bonjour Paris", "So Wonderful, So Marvelous", and "I Love Your Funny Face". The musical numbers are well balanced with the rest of the film and luckily dont feel as overwhelming as a lot of Hollywood musicals from the 40s and 50s. In addition to Gershwin's music, there are a few notable dance sequences, including the one that Hepburn performs to jazzy Parisian bar-room beat (seen recently on a GAP commercial).
It's a Hollywood happy end story about the plain mousy Jo Stockton (Audrey Hepburn) who works in a bookshop in Greenwich village and one day gets discovered by photographer Dick Avery (Fred Astaire). Dick works for a women's fashion magazine called Quality, and is trying to please his eccentric editor-in-chief Maggie Prescott (Kay Thompson), by looking for a "new fresh face" to represent the publication. Within a few days, the funny faced girl gets dressed in fabulous clothes, goes to Paris to model a new hot designer collection, and becomes glamorous! (Although I kept wondering why it is that Audrey Hepburn looked so much better as an "ugly duckling" in the bookshop). In between photo shoots in Paris she hangs out with intellectuals that she admired back in Greenwich Village. But her heart is soon captured by the photographer who discovered her. Its too bad that Avery is at least twice her age which makes the story even harder to believe. But we can't blame Paramount as Fred Astaire was probably still the best cast match considering his singing and dancing ability.
There isn't much else to the plot of the film. But then this movie is not about the plot. The scenes filmed in Paris are pretty breathtaking and any woman would want to watch this film just for the fabulous array of designer clothes. Hepburn's wardrobe is created by her long time friend and French designer Givenchy who was responsible for creating the Hepburn signature look throughout her career. Other notable films with his work include Sabrina and Breakfast at Tiffany's.
Kay Thompson's eccentric editor-in-chief character reminded me a lot of Merill streep's character in Devil Wears Prada. It is quite possible that streep used parts of Thomson's character to create her own. One of the best sequences in the film is a dance routine to the song "Think Pink" where a parade of beautiful Quality magazine employees march to the orders of their militant boss Maggie as they paint in pink, change all the interiors to pink, and change into pink clothes. This justifies Paramount's decision to think pink when designing the Funny Face DVD box.
The DVD has a few nice special features most notably the history of the Hepburn and Givenchy fashion collaboration.






6 out of 10 Jackasses
blog comments powered by

Disqus
Search
Funny Face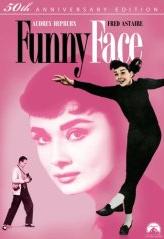 IMDB Link: Funny Face
DVD Relase Date: 2007-10-02
DVD Aspect Ratio: 1.85:1
DVD Extras: Photo Gallery, Fashion Designer and his Muse, Parisian Dreams

Related Reviews
---
---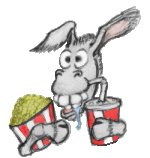 ---
---
Interested in writing for Jackass Critics?
E-mail Matt