Saturday Night Fever review by Jackass Tom
So the conversation with my wife over Saturday Night Fever went like this:

"Honey do you want me to wait before I view Saturday Night Fever?"
"No Thanks."
At this point I'm shocked. What woman doesn't want to see Saturday Night Fever. But for that matter what self respecting man wants to see it more than his wife could be the better question.
"So how much interest do you have in seeing this movie?" I ask.
She makes a circle with her hand to designate zero interest.
Can I blame her? When I was younger I thought Saturday Night Fever was all about music and disco dancing. Back in my high school days I found myself in the company of women who wanted to watch SNF for the first time. I didn't find myself in this company often so who was I to argue? Of course I thought it was going to be one long John Travolta Disco Inferno dance-a-thon. I braced myself for what appeared to be a painful night on par with the torturesome Grease. Boy was I wrong.
I don't know if I would say I was shocked by the movie, but I was definitely more impressed with the Travoltian effort than I thought I would be. Now its ten years later and I didn't remember much about the movie so I was curious to see how it aged after my first viewing.
As the story goes.... Tony Manero (John Travolta) is a 19-year kid in a blue collar neighborhood in Brooklyn. He works as a paint jockey by day but at night... well he just wants to dance baby! Tony Saturday night ritual includes blow drying his Italian style fro, wiggling into his tight fitting polyester pants and catching a drunken rider with his hoodlum buddies to the area disco night club called 2001. Dancing is Tony's escape from the real world. At home he encounters numerous family problems such failed expectations, a negative almost abusive father, and general lack of money, Tony is surrounded friends who are in the same situation. They merely get by enjoying their childish activities of drinking, fighting, and having dirty sex in the back of a car (which by the way, is the same back seat three of them sit in every night to get to the club).
When Tony hits the dance floor he transcends all the muck and grime and negativity of his world. He becomes somebody successful. One day he meets a girl not much older than him (but if you card her she is like thirty-two) who catches his eye. He begins dancing with her for a competition and finds himself in another world. When they arent dancing she has the same dirty Brooklyn accent and dirty teeth but works in Manhattan and aspires to be something greater.
Most of the movie takes place outside of the dance floor. A lot of it is shot on the streets of Brooklyn (like the flagship shot of the movie: Travolta walking down the street to the tune of Stayin Alive). Its not just about dancing about the dirty world that Tony is surrounded with and his attempt to escape it in someway. In a lot of ways the movie is more shocking than I realized. There are pretty graphic portrayals of sex, attempted rape, and drug use. Ill have to remember this for next time; its definitely NOT like Grease
So outside of the story there is also that matter of what is now quite comical. The disco dancing and styles of the time are so outdated and antiquated that it turns many of the movies scenes into inadvertent moments of laughter. Yes indeed, the late 70s didnt exactly have what we would call timeless style.
I will probably get laughed at for saying Saturday Night Fever not only isnt all bad but is actually rather good. The movie just turned thirty and for anyone born within those thirty years who hasnt seen it, but sees only the Disco ball DVD cover and skinny Travolta doing his best diagonal arm thrust be forewarned that this is not just a cheesy song and dance but actually a somewhat gritty drama.






6 out of 10 Jackasses
blog comments powered by

Disqus
Search
Saturday Night Fever

IMDB Link: Saturday Night Fever
DVD Relase Date: 2007-09-18
DVD Aspect Ratio: 1.85:1
DVD Extras: Director Commentary, Making of Stuff

Related Reviews
---
---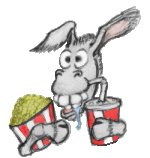 ---
---
Interested in writing for Jackass Critics?
E-mail Matt