Factory Girl review by Jackass Tom
Edie Sedgwick (Sienna Miller) came from a wealthy family. On her parents dime, she attended Cambridge to become an artist but decided to go to New York City and find herself. She found what she was looking for at an exhibition: Andy Warhol (Guy Pearce). The two are captivated by each other: Edie by Andys fame and wacky following, Andy by Edies beauty, free-spirit, endless cash supply, and many emotional issues. She joins Warhols community and gets wrapped up in his little society. Along the way Edie is tagged by as the new it girl by staring in his minimalist films and escorting to public events. The two are nearly inseparable but only in a friendly way. While they are never sexual together, there is a sort of tension where Warhol needs her and never wants her to leave for a romantic love.
Since its the 60s, drugs and alcohol were involved in Warhols decadent factory commune. Edies life spirals out of control. She loses touch with reality and support from her parents as she outspends her worth. Most ironic of all is that her only hope and savior is none other than the Bob Dylan (Hayden Christensen). You know that the problems in your life are many if Bob Dylan is telling you that your drug filled relationship with an artist is really unhealthy for you.
Factory Girl isnt so much a biopic about the life of Edie Sedgwick, as it is a tale about the complex relationship between Sedgwick and Warhol that starts out fun and crazy but quickly turns sour and deadly. Warhol is portrayed beautifully by Pierce as an irresponsible and jealous boy with internal conflicts so great that he has a hard time dealing with the outside world not to mention his homosexuality. As he is brushing off Edies cries for help, you never feel its completely malicious as it is childish. Sedgwick herself is also childish and has no understanding of responsibility. In their hey-day together she spent her money freely on him, and somewhat unprovoked. Its only when she really needed help that Warhol is shown pushing her away as sort of a revenge for leaving him for another celebrity.
I cant help it think that when a movie like Factory Girl is made, that there is some inspiration beyond the actual character. Edie Sedgwick is a girl gone wild who comes from a wealthy family and described as an heiress in the newspapers. Why did this story come to screen now? Because the public is so captivated with the exploits of Paris Hilton and Lindsay Lohan that they are willing to spend money to see it fictionalized (or at least bio-picd). The story of Edie Sedgwick could be viewed more like a cautionary lesson to someone like Lohan, more so than entertainment.
The inclusion of Hayden Christensen as Bob Dylan is a bithow should I put this distracting. I hated the guy as Darth Vaders whiny adolescent side, and now I feel like his Bob Dylan shtick is more like an extended impersonation of Dylans voice and maybe a few mannerisms but never looking authentic. Millers performance, on the other hand, was superb. Before seing this movie I just knew her as the girl who Jude Law cheated on. Now I see her as that talented actress that Jude Law cheated on. Guy Pearce gave a performance that should be awarded in someway. He wont get an Oscar (because the Academy is like a high school year book committee) but I sincerely hope he gets some sort of award or nod of approval.
Despite some great acting, the movie really never rose above being ok to me. The story is only interesting for so long and I cant help it think that Ive seen the whole drug binge in the 60s and 70s destroyed my life movie before. Factory girl is an interesting part of pop art nostalgia, with a few great performances but as a whole, I dont know if Id seek it out again.





5 out of 10 Jackasses
blog comments powered by

Disqus
Search
Factory Girl

IMDB Link: Factory Girl
DVD Relase Date: 2007-07-17
DVD Aspect Ratio: 1.85:1
DVD Extras: Director Commentary, one delete scene, Real life Edie Sedgwick, Pearce's Diary, Making of, Miller Audition Tape

---
---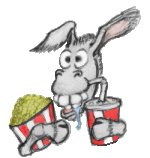 ---
---
Interested in writing for Jackass Critics?
E-mail Matt